Alaska Luxury Yacht Charter Itinerary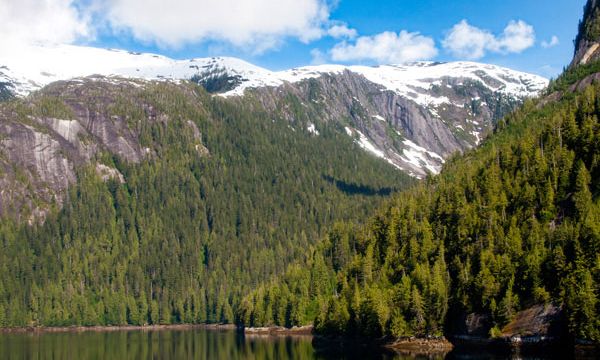 Amazing Alaska: A Luxury Yacht Charter Itinerary on classic yacht LONGHORN
See more about Expedition Yacht LONGHORN
Day 1 - Ketchikan to Boca de Quadra
Depart Ketchikan heading south, cruise past the coast guard base and leave town to rescind in the distance. Once past Mountain Point the roads come to an end and the wilderness begins. Breathtaking George Inlet comes into view followed by Thorne Inlet. As Misty Fjords looms large the yacht cruises into Boca de Quadra, Mink Arm to anchor for a peaceful night under a spectacular canopy of stars.
Day 2 - Hugh Smith Lake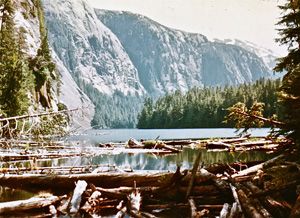 Awake in the morning to a hearty breakfast set against a background of awe-inspiring scenery. Disembark after breakfast for a short, easy hike to Hugh Smith Lake, a picture postcard vision in the soft light of morning, to spend an exhilarating day of exploration. Return to the yacht and as dinner is being prepared, LONGHORN pulls up anchor to get underway to Ella Bay. On the menu, fresh caught Dungeness crab and salmon accompanied by a delectable array of side dishes and perfect wine parings.
Day 3 - Ella Bay and Lake
Captain Josh helped to construct the Ella Lake trail over 25 years ago. Yet for him, the hike is always a surprisingly different experience. Press him just a bit and he will recount his adventures in this region, where there are plenty of bears to potentially encounter. Watching the wild mink clean themselves in the riffles is an especially charming delight. For anglers, the trout fishing along the river is known as some of the best around. After an exciting and memorable day, pull up anchor and prepare for the most spectacular destination yet to come.
Day 4 - Punchbowl Cove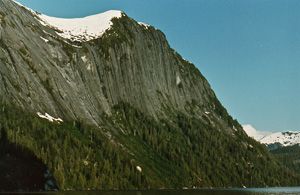 The amazing Rudyerd Bay and Punchbowl Cove is just across Behm Canal, extraordinary among canals for its length and depth. Boating through spectacular Punchbowl Cove has been likened to a cruise through Yosemite. Here the terrain of rock walls is not just steep it is straight up. After exploring the magnificent fjords for the day cruise into Manzanita Bay to anchor for the night. Before going to sleep Captain Josh gets busy setting a few crab pots to soak.
Day 5 - Manzanita Bay
A shore excursion along the lake trail, which is a little rough but well worth the hike, reveals breathtaking waterfalls that abound in this region, plunging down through narrow clefts and coursing across great granite shoulders. Superb fishing here helps reel in fresh catch for dinner, and on returning to the boat the crab pots also yield a bounty of fresh Dungeness crabs. The peaceful and relaxing bay is a superb setting in which to linger one last night.
Day 6 - Walker Cove
It is a short cruise to picturesque Walker Cove, another dramatic vista marked by stark 4000ft mountains rising straight out of the saltwater. Birdwatchers may catch a glimpse of trumpeter swans, herons, bald eagles, even humming birds.
Day 7 - Behm Canal and Burroughs Bay
Traveling farther north through Behm Canal past the Chikamin river cobalt waters gradually change from the clear deep blues of the depths to a surreal aqua imparted from the glaciers that feed the Unuk river and Burroughs Bay.
Day 8 - Bell Island Hot springs
Nothing is so soothing as a soak in the waters of a natural hot spring. Relax and enjoy the company of the resort guests and staff. Now is the perfect leisure time to sit and regale others with the exploits of the past week over cocktails and canapés.
Day 9 - Ketchikan
On the return trip to Ketchikan, past the glorious Alaskan scenery, take some final photographs of a pristine wilderness that few are fortunate enough to behold. Disembark and allow time to visit the city, nicknamed the Salmon Capital of the World, that also has the world's largest collection of standing totem poles.
Thanks for Captain John on LONGHORN for this fantastic Itinerary!
Yacht Charter in Alaska
If you would like to charter a yacht for an itinerary such as this, we would be happy to find you the yacht that meets your needs. There are a number of excellent expedition yachts that are tough enough for Alaska but are amazingly luxurious inside.
Other Articles of Interest
Charter destinations