Insurance, Fees and Extras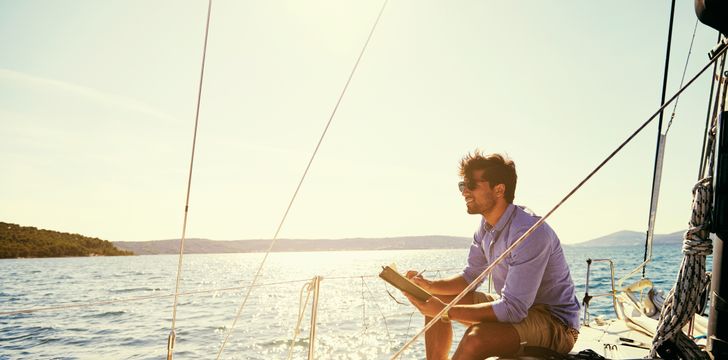 Mooring Fees, Extras, Insurance, and other Charter Fees
Charter Fees |Mooring and Berth Fees | Charter Security Deposits | Charter and Travel Insurance
We know you don't like surprises along the way on your charter, so we do our best to list or estimate as many of the costs as possible that you might incur. Here's a quick overview of the costs you may incur on your charter, and a bit about insurance as well so you can feel knowledgeable and not anticipate any catches around the corner!
---
Charter Fees
We attempt to list the costs as completely as possible on the site and in our proposals to you. However, some costs may change depending on your itinerary and desires. Here is a general guideline for estimating costs of a charter:
Sailing Boats: The charter fee generally covers the boat, charts/maps, and a dingy/tender. There is often a charge for linens (if you want to use theirs), and almost always a mandatory final cleaning fee, ranging from €50 to €150 depending on the size of the boat. In some cases you may also be charged a small amount if you want a motor for the dinghy (if you're not sure, ask us and we'll confirm). Beyond this, the major costs are provisioning, fuel and mooring fees.
Motor Boats: For small motor boats, the major additional cost beyond the base charter fee will be fuel - fuel is rarely included in the charter price, unless specifically stated. We try to list on the site the fuel consumption per hour for each boat - although this can only be a guideline because wind, waves, speed, etc all affect fuel consumption.
To better estimate your fuel consumption and cost we have developed a simple (yet extremely clever!) distance and fuel calculator - just click your route on the map, enter your boat's hourly consumption and fuel price, and you will have an estimate of the cost.
Other charges will be berth and mooring fees if you'll be spending the night in a port that is not your base port (anchoring is normally free) and any provisioning you request. These charges are normally paid via the APA (Advance Provisioning Allowance) system where you provide a provisioning account to the captain (see a full description of the APA on our Frequently Asked Questions page). When you're booking through us we'll do our best to stipulate any costs, and if you have any questions we're happy to provide estimates.
---
Mooring and Berth Fees
Mooring fees: Many people prefer to be in a dock suring the night rather than at anchor as it is calmer and you can hop onto land whenever you like. They can vary widely from port to port, but generally a mooring ball fee is quite reasonable. To get a mooring, you usually need to radio in on VHF 16 (for courtesy) just to be sure, on a crewed yacht speak to your captain about your preferences and he will sort it for you!
Berth fees: If you are looking for an actual berth in a port, there will nearly always be a cost. These vary wildly with the port - a berth fee during high season in St Tropez or Ibiza can cost thousands of Euros, if they're available at all. If your itinerary requires a berth, no matter where it is, please let us know well in advance so we can attempt to arrange it for you.
---
Charter Security Deposit
If you're chartering a bareboat, or a boat for an event, you'll normally be asked to pay a security deposit. This is usually done by taking a credit card impression (but not actually debiting it) and tearing it up when you return the boat in good condition. Similar to a rent a car - it is very important that you specify anything that is broken before you take the boat, or you might get charged for it. Examine the boat thoroughly before you shove off, and document anything that isn't right (with a camera if possible). The last thing we want is for you to have an argument with the charter operator at the end of your charter!
In some cases you will be asked for a deposit on a crewed yacht, although this is unusual - typically when you will be throwing an event where careless guests could harm the deck or furnishings.
---
Charter and Travel Insurance
Security Deposit Insurance. Many charter operators will allow you to insure against the loss of your security deposit in case you damage the boat. The cost will be €100 or so. If you're willing to pay a little for a guaranteed smooth return, it's a really good idea to do this.
Travel Insurance. We always recommend that you buy travel insurance as soon as you book your charter. "Stuff Happens" such as sickness, missed flights, work commitments, bad weather, etc. and travel insurance allows you to protect yourself against loss in these cases. A low-cost insurance policy can save you the stress (and wasted money) of trying to re-charter your boat at the last minute to get your money back.
More information on Charter Travel Insurance
More about Boatbookings Other Articles
---
Other Articles of Interest
Charter destinations