Being a charter guest onboard a luxury charter catamaran is an incredible experience, being able to cruise the world's oceans while being looked after by a professional crew with all the amenities. But, today, charter guests must consider the impact that boating is having on the environment.
This environmental impact of yachts can no longer be ignored, and at Boatbookings, we advocate for a more sustainable boating industry, choosing to work with yachts that implement sustainable initiatives into the build process and operations. 
Aside from choosing from one of our greener crewed charter catamarans, there are plenty of other ways to ensure you are a better, more eco-conscious and responsible charter guest.
Here are some tips on how to enjoy your yacht charter while minimizing your impact: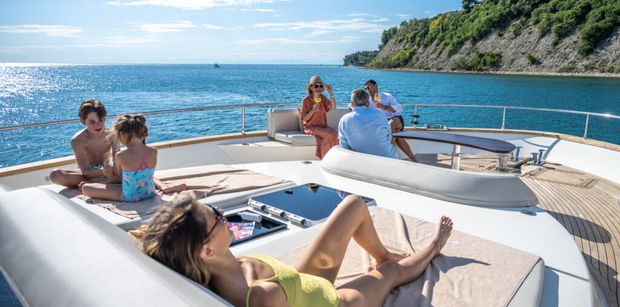 Better Preferences
Crews ensure they always go above and beyond when running a yacht charter, and this extends to ensuring guests have what they ask for onboard a crewed charter catamaran. When filling out a preference sheet, there are a few things to consider to have a greener charter. Minimize plastic waste by drinking from refillable bottles, and utilizing the onboard water filtration system instead of requesting branded water bottles. Toiletries are another factor to consider; you can request that there be reef-friendly and environmentally safe toiletries onboard.
When it comes to food, the chefs are heavily involved in preferences. If guests request something, they will be sure to fly it in, which contributes significantly to the yacht's carbon footprint. Be sure to request locally sourced and seasonal menus when onboard. Not only does this reduce the carbon footprint, but it also allows you to savor the freshest produce and local specialities. 
Respect the Underwater World
Getting underwater is a big part of a yacht charter, especially in tropical locations where the underwater world is pristine, such as Tahiti, the BVIs, and the Bahamas! To preserve these ecosystems, minimize your disruption when partaking in any watersport. Avoid feeding or touching marine life, and keep a safe distance when swimming.
Reduce Consumption
While crewed catamarans have an array of luxury amenities and facilities, this doesn't mean that there needs to be excessive use of them. Guests can easily conserve energy and resources by switching things off when not in use. This reduction in consumption can also help reduce the yacht's carbon footprint. You should also always embrace vacation mode and cruise at a leisurely pace; not only does this allow you to take in the destination better, but a slower cruising speed further reduces emissions.
Support Local
Practicing responsible sailing doesn't just stop on the ocean. When you step ashore, it is important to support the local economy. If you go on excursions ashore, consult the crew to ensure you participate in ones that benefit the community. There are always plenty of organizations and initiatives you can get involved with ashore that are helping minimize environmental impact, such as beach clean-ups.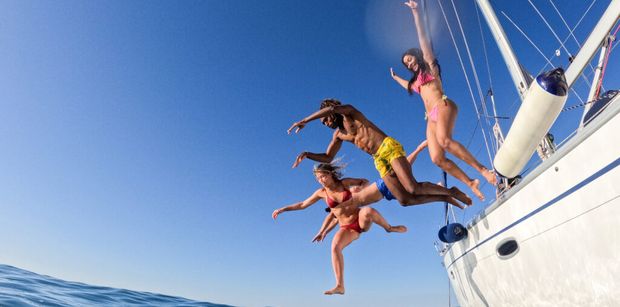 Listen to Your Crew 
The yacht crew onboard our charter catamaran ensure that the boats are run extremely safely to adhere to all rules and regulations, including the environmental aspect. The crew will ensure you recognize the environmental impact that the yacht and operations will have and the correct waste disposal practices you can do while onboard.
Spread Awareness
Never hesitate to ask the crew about any small changes you can make to minimize your impact onboard. You can inspire positive change throughout the charter community by spreading awareness about eco-friendly swaps.
Every small change contributes to a greener future for boating. It is a collaborative effort, and as guests, you can play a vital role in preserving and protecting our oceans. Contact the Boatbookings team today to find out which greener crewed charter catamaran you can book for your next vacation!