The Electric Yacht and E-boat Revolution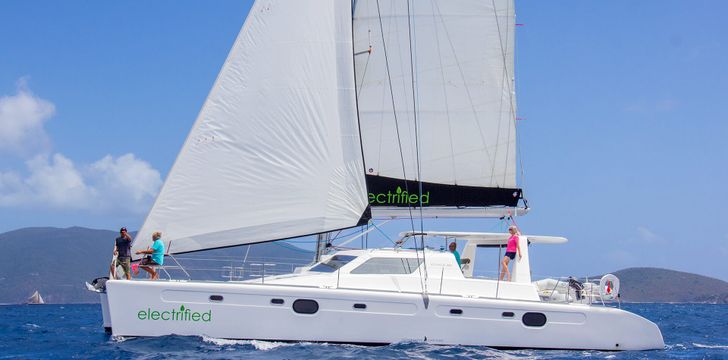 Yachting is beginning to move to more sustainable modes of power, including the first generation of fully electric boats
You've no doubt seen the almost daily announcements of new electric cars and trucks, but the yachting industry remains almost entirely diesel-driven (except for sailing yachts, of course!). And even most sailing yachts use noisy, smelly, and high-CO2 emitting generators and motors.
This is all beginning to change. Boatbookings has long been a leader in green-chartering, in fact, we coined the term and offered the first Carbon Offsets in the yacht charter industry. We've been eagerly watching as a new generation of e-boats and electric, zero-emission charter yachts are beginning to emerge. We are confident, just like in the auto industry, that soon the yachting world will be green and carbon-neutral. Praise be!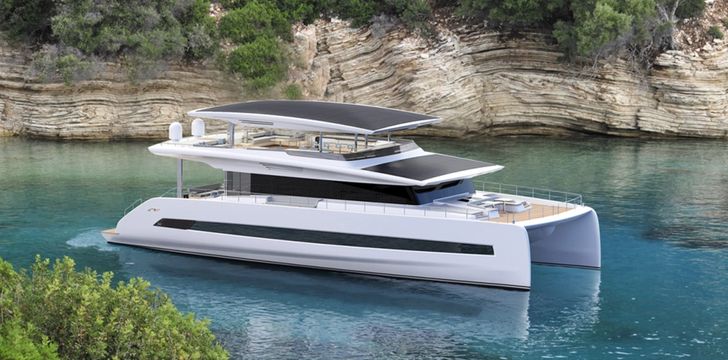 We have created this page to compile the news as it emerges and keep you up-to-date on trends and announcements in the electric boat world. And, of course, we are happy to put you on a low-emissions boat so that you can have an amazing charter and help take care of the world at that same time.
The Best Electric Charter Yachts
Emerging trends in Zero Emissions Yachting
There are many trends that are helping to reduce carbon emissions in the yachting industry, as many companies have sprung up worldwide to address the issue. We've outlined a few of them below.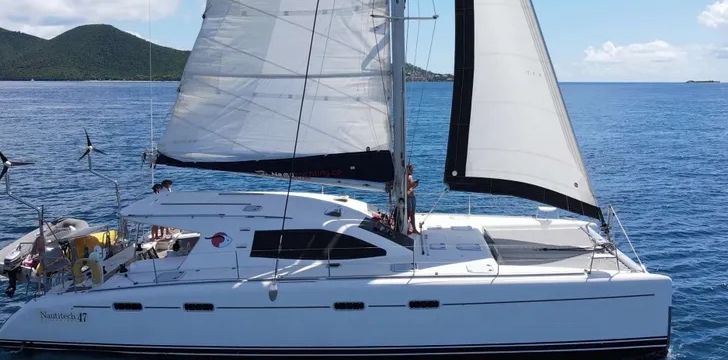 1) CO2 Reductions through the addition of solar panels and wind turbines
Solar panels and wind turbines are springing up on boats everywhere. They use the ample solar and wind found in all charter regions to reduce and at times replace the need for generators. These make the boats much quieter and reduce emissions. When paired with battery storage on board, they can largely power a sailboat or catamaran for their electricity needs such as lights, power, and aircon. They do not, however, produce enough power to replace the diesel motors that drive the boats when not under sail.
A good example of this is the Virgin Islands crewed catamaran NEMO which runs almost exclusively on solar and wind, including making its own fresh water. The catamaran is rarely under motor, so the boat runs almost carbon-free.
---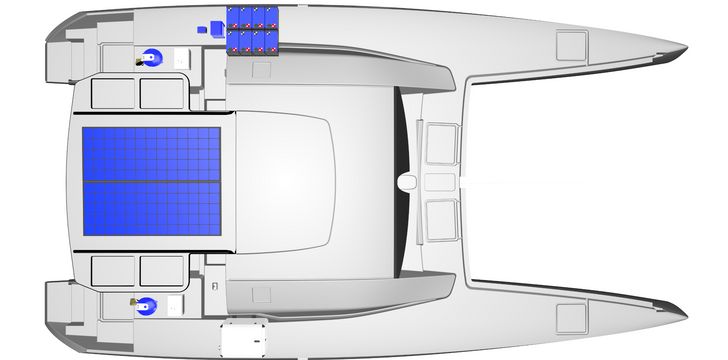 2) Electrification of Drive Trains and Hybrid Yachts
Many Super Yachts actually have electric motors, because they offer faster acceleration and more torque, but the electricity is provided by diesel generators. This is a great initial start, because the generators can ultimately be changed over to battery power in the future, and a hybrid system can be employed to run off of batteries for short distances.
Several innovative companies such as Oceanvolt are offering the ability for charter operators to electrify their yachts through the addition of battery packs, electric motors, and solar panels.
---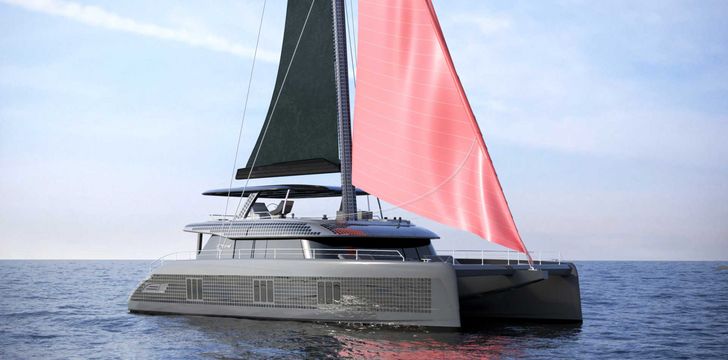 3) Fully Electric Sailing Yachts
As solar and battery technologies improve and become less expensive, the time is finally arriving for fully electric sailing yachts. The Voyage 480 Electric, pictured at the top of the article, is one of the first in what will be an avalanche of announcements in the coming years. This trend is driven by consumer demand for more sustainable (and quieter) yachts, as well as laws that demand more environmentally friendly means of propulsion.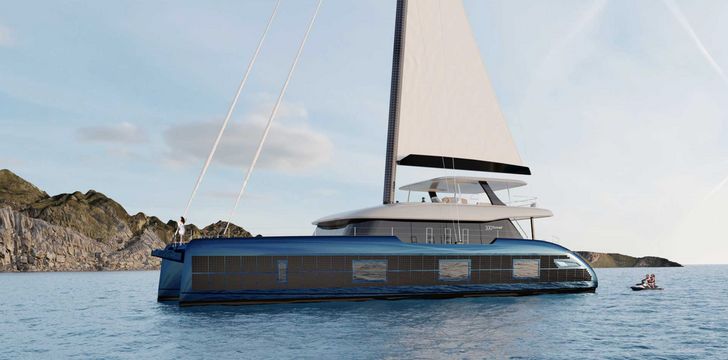 Sunreef Yachts. Sunreef Yachts, one of the most prestigious makers of luxury catamarans for the charter market, has developed an entire line of "Sailing Eco Yachts". They include electric engines, battery packs and solar panels integrated into composite surfaces throughout the yacht. They offer the Sunreef 50 Eco, Sunreef 60 ECo, Sunreef 70 Eco, Sunreef 80 Eco, Sunreef 100 Eco, and the Sunreef 43M Eco.
Sunreef 100 Eco. This superyacht catamaran has twin 270kW electric engines and ultralight, high-performance batteries and Sunreef Yachts' proprietary solar power system. the integrated solar panels can generate up to 46kWp (which is about 4 times a normal array on a house). This allows for comfortable, air-conditioned cruising with almost no noise or vibration. And no fumes at all!
Sunreef 60 Eco. The Sunreef 60 Eco is driven by electric motors for silent and vibration-free cruising. The battery pack of the 60 Eco can power all appliances and air-conditioning for over 24 hours The solar panels are mounted on the hulls, superstructure, and mast for optimal capture of the sun. Fresh water is generated on board.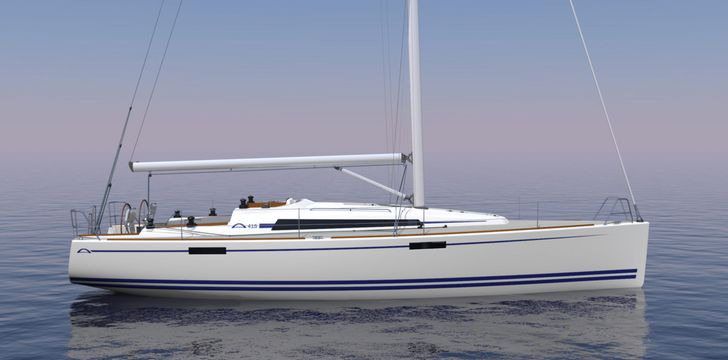 Arcona 415. Arcona, a Swedish sailing yacht builder, has recently announced a fully electric sailing yacht. They now offer the Arcona 415 in a fully electric version that includes a 15kW electric propulsion system with a 19kWh battery from Oceanvolt.
---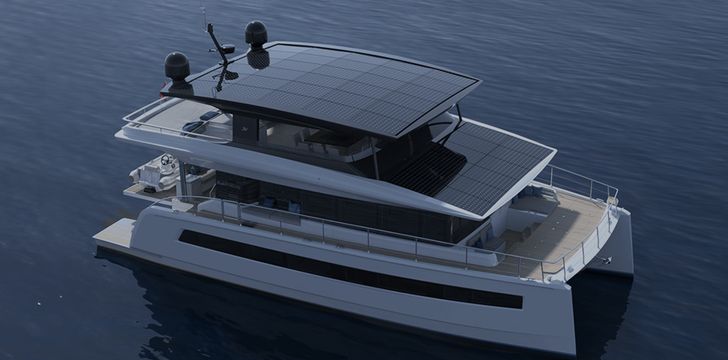 4) Fully Electric Motor Yachts
Motor yachts, by definition, require far more technology than sailing yachts to achieve fully electric operation, because they don't have the wind to help power them. That said, manufacturers of smaller boats are now releasing some very innovative yachts that not only cruise quietly, but they also accelerate faster than diesel and can now go for hundreds of kilometers/knots without recharging.
Here is our current listing of fully electric motor yachts that have been announced or are already shipping to customers. It will take time for some of these to hit the charter market, but we will keep you informed as soon as we know.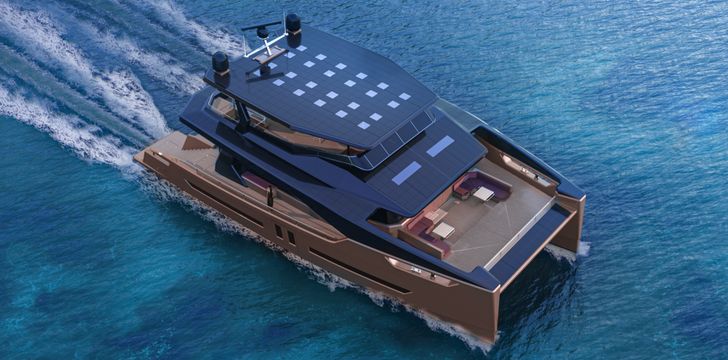 Alva Yachts. Alva Yachts exclusively designs electric yachts, including catamarans and sailing yachts. Their models range from 50 - 90 feet. The stunning Ocean Eco 90, pictured above, is available as either fully-electric or hybrid-diesel propulsion. She cruises at 8-10 knots, with a top speed of 16 knots.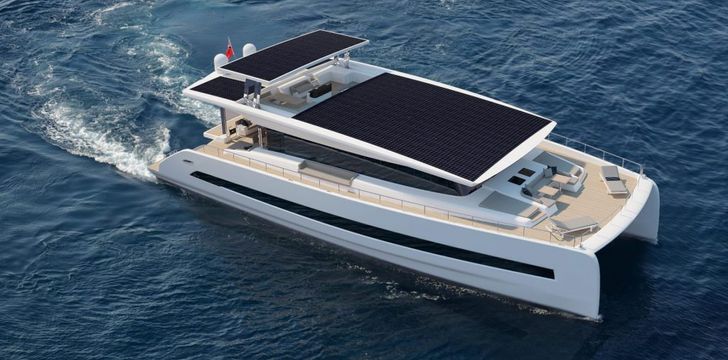 Silent Yachts: Silent Yachts, a leader in electric super yachts, has announced a full range of zero-emission power catamarans. ranging from 60 - 120 fee. These slick, solar power yachts use electric motors and batteries for nearly silent cruising. Silent Yachts is currently chartering its 55 and 64 ft yachts out of Mallorca Spain.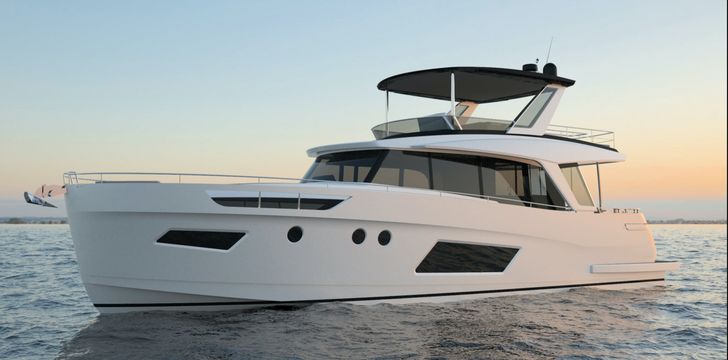 Greenline. Greenline is an innovative Slovenian yacht builder, that offers an extensive range of hybrid and fully electric yachts. They have just announced a 58-foot flybridge version, that is solar-powered and fully electric. They are currently shipping 33, 39, 40, 45, and 48-foot yachts as well. They aim to be all-electric in the near future and are "pushing the envelope" as much as any manufacturer now.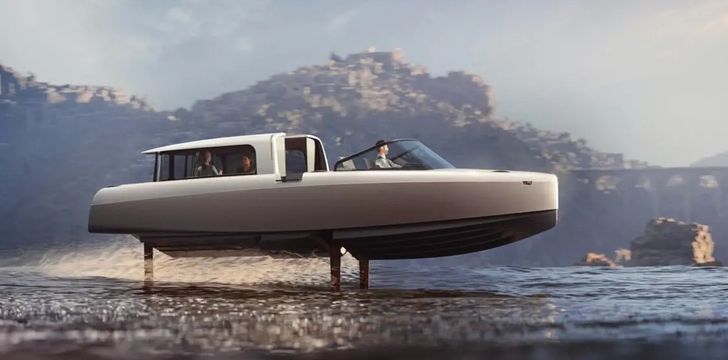 Candela P-8 Voyager. This is an exciting new cabin cruiser designed to replace the smelly, noisy diesel ferries used in Venice. It will also make an amazing cruiser! This 28 feet yacht is made from ultra-lightweight carbon fiber and has two retracting foils that literally lift the boat out of the water using their 50-kW electric motor. This gives the boat much less drag, and the ability to accelerate like no other in its class. It can easily hit a cruising speed of 20 knots with bursts up to 30 knots It also has a classy, minimalist, Scandinavian design.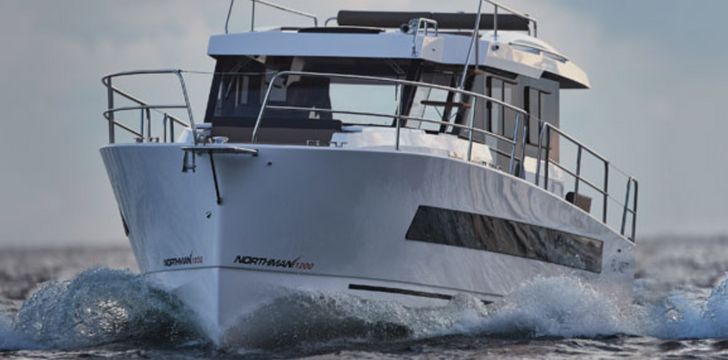 Northman Yachts. Northman is currently shipping the Northman 1200, a 12-meter/39-foot cabin cruiser. It offers 3 double cabins and is powered by 4 electric engines: 2x150 HP outboard and 2x110 HP inboard engines.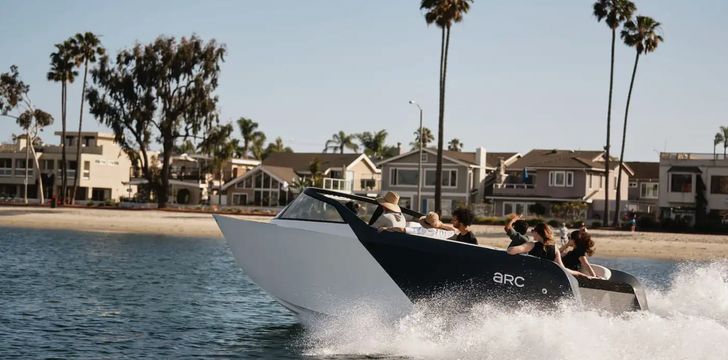 Arc One. Arc is a Los Angeles-based company with ties to Space-X that are now taking orders for the "most powerful electric watercraft commercially available." The Arc One is an impressive speedboat, reaching top speeds of 40 mph (34 knots) through a powerful 500HP engine and massive battery pack that allows for 3-5 hours of cruising and charging at the marina overnight.
* * *
We will continue to update this page as new Electric Yachts are available.
---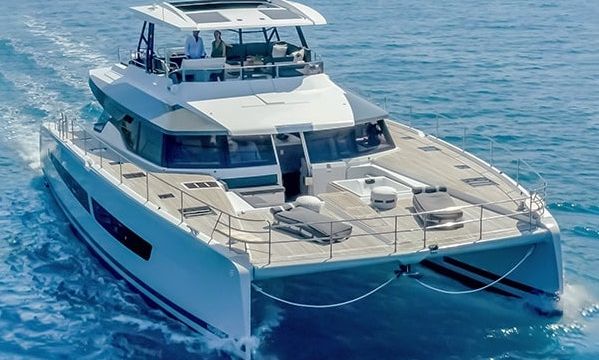 5) Power Catamarans for excellent fuel efficiency
One of the strongest trends in motor yachting is the move from one hull to two: power catamarans. For those who want to have the same experience as a catamaran but are not interested in sailing, power cats are the perfect choice. They offer comfortable cabins and living spaces, closeness to the water, less rocking and seasickness, and far far more efficient cruising (less diesel = less expensive). See our entire page dedicated to power catamaran charters which you can sort for the one you like in your selected destination.
6) Electric Outboard Motors
Virtually all dinghies and tenders in the charter market have outboard diesel motors, as do ski boats and many leisure cruisers. These can be converted to electric/made sustainable by replacing the diesel motor with an electric one. While electric outboards are scarce, they are beginning to appear. One pioneer is Torqeedo, an electric outboard company that offers models from 1HP to 80HP. And Mercury, the worldwide leader in outboard motors, has announced that they will be selling an entire line of outboards, dubbed Avator, in 2023. These Mercury outboards will have replaceable battery packs to extend the range as much as required, similar to carrying extra gas tanks.
---
The Outlook for Zero-Emission Chartering
With all of these exciting announcements, the next 10 years will be full of change. If you're interested in a zero-emission/electric yacht charter, we recommend you contact us to see if these types of yachts are available at the destination where you would like to charter. If a fully electric yacht is not available, we may be able to arrange a hybrid or at least recommend yachts that take their impact on the environment very seriously. We can also arrange to offset your emissions so that you can effectively charter net-zero.
Someday in the near future, you will be on a stunning emission-free charter yacht that not only is better for the environment, it will also be a lot quieter and less "stinky". We can't wait and are doing everything we can to push this transition more quickly.
Contact us to plan your zero-emissions charter
---
Charter destinations