French Riviera National Parks Yacht Charter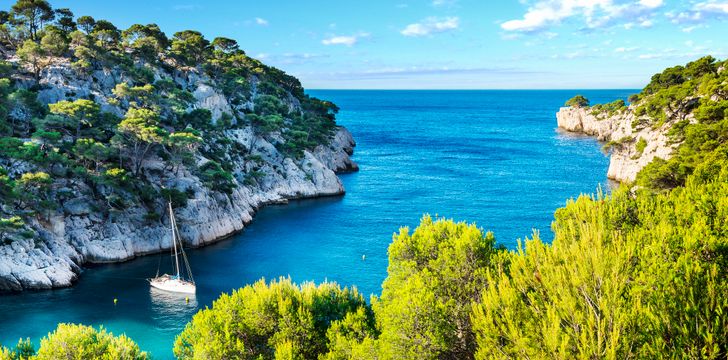 Explore the Natural Beauty of the French Riviera's National Parks Onboard a Luxury Crewed Yacht
Calanques | Île des Embiez | Île Porquerolles | Îles des Lérins | Eze

A Brief Overview
The French Riviera is a luxurious hub of high-end boutiques, Michelin Starred restaurants, glamorous hotels and sophisticated beach-clubs. However, only a short while away from these lively ports, are numerous paradisal pockets of natural beauty which make up the national parks of the Côte d'Azur. 
Whether you chose to charter a luxury crewed motor yacht, crewed catamaran, sailing yacht or to rent a bareboat from the ports of Saint Tropez, Cannes and Monaco, we highly reccommend cruising into the hushed haven of national parks peppered across the Côte d'Azur. Easily incorporated into your charter, our knowlegable brokers are here to design itineraries where you can enjoy anchoring in a few - if not, all - suggestions below over your charter.
The national parks provide an air of serenity where you can hike inland for breath-taking views, take a dip in secluded bays while away to the sound of lapping waves on the shore, or simply while away to the sound of lapping waves on the shore.
As experts across the entire French Riviera, we are on hand to design experiences for those seeking total island bliss – as well as those looking for a lively city scene - and look forward to matching you with the perfect yacht, crewed by a team determined to make your onboard experience as memorable as the scenery outside.
Calanques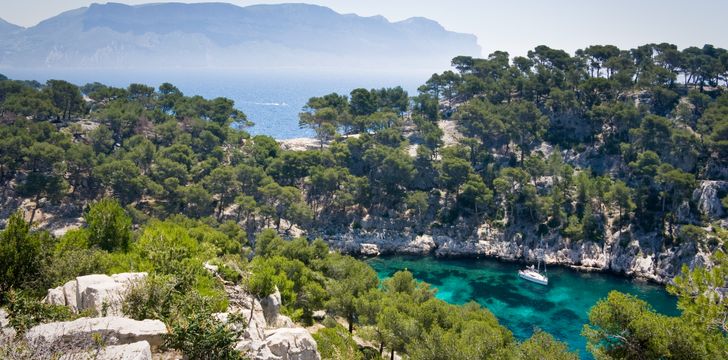 Cruise deep into arguably the most beautiful stretch of the French Riviera to admire the Calanques in the Provence region between Marseille and Cassis.
The only National Park in Europe which encompasses land, sea and urban spaces, Calanques is known for its wonderful azure waters, one of the richest submarine canyons in the world, and towering limestone cliffs which have been shaped and carved by the elements over the last 120 million years.
With a rich biodiversity both above and below the water line, you will have endless opportunities for adventure. Descend into the depths to unveil a technicoloured aquatic world, or slip into your trainers and embark on the Cassis Calanques trail which starts at Port Milou, winding through the spectacular calanques and ending at Port Pin. This walk could take you as little as a morning or the netire day if you decided to take a cooling dip in the azure pools along the way.
For the wine lovers amongst you, venture further inland to the Provence wine region. Cassis, a historical fishing village surrounded by vineyards is known to be one of the first wine-making regions of France, and therefore a unique must-visit to incorporate into your yacht charter.
Île des Embiez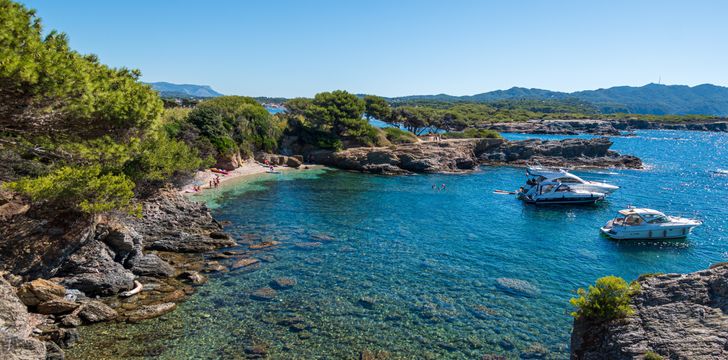 Set sail for the verdant islands of Provence. Both the Les Embiez and Porquerolles archipelagos are small pockets of paradise off the coast of France where you can soak up the mezmerising and serene setting .
Welcome to the wild and enchanting island of Île des Embiez. For the wildlife enthusiasts amongst you, Embiez is a biodiversity hotspot home to an astonishing 90% of the Mediterranean's indigenous plants and animals. It is therefore no surprise a bird watching paradise, aswell as living up to its title as "Flower Island".
Reputed for its glassy waters and discreet hideaways, the island's a paradise for bathers, snorkellers and sun-worshippers to stimulate the mind to the sound of wildlife. Its Institut Océanographic, founded in 1966, also harbours a must-see aquarium. Just a few minutes cruise from Toulon, Île des Embiez provides the perfect escape from the glamour of St Tropez and Cannes, and instead replacing this with barefoot bliss onboard your crewed yacht.
Île Porquerolles of Les Îles d'Or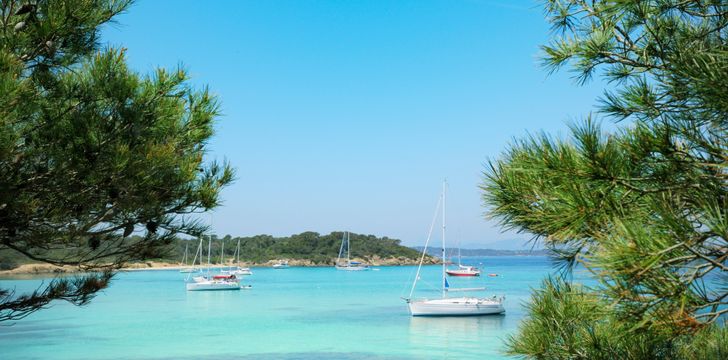 Scattered between St Tropez and Toulon and once defence posts in the 16th Century, Les Îles d'Or (The Golden Islands) - also known as the Hyeres Islands - are now a playground for botanists, nature lovers and divers. Part of Parc National de Port-Cros, Porquerolles particularly lives up to its reputation as the French Riviera's last frontier.
With no cars on the island, this really is a miraculously unspoiled paradise of stone fort ruins, rugged hills and idyllic beaches ideal for some romantic escapism just a few nautical minutes from the city buzz of the Côte d'Azur. Revel in the astounding natural beauty of this untouched paradise from the deck of your luxury charter yacht, or step onland and explore 50km of signposted footpaths and cycle paths before returining to your yacht for some delightful Provencal cuisine and local wines whilst the sun dips below the horizon, expelling a dreamy mesh of colour.
Îles des Lérins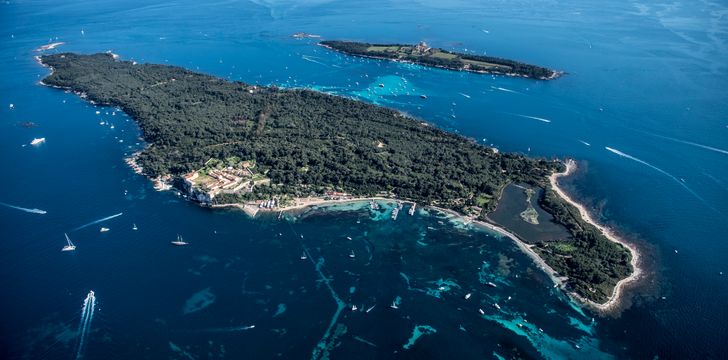 Although not classified a national park, these 4 picturesque islands are a must-visit just off Cannes. Blanketed by eucalyptus and pine forest, Îles des Lerins is a national park steeped in history and known for the infamous 17th Century Fort Royal prison which owes its noteriety to being the former residence of Man in the Iron Mask, whose identity still remains a mystery.
Following a snorkel above the vibrant seabed inbetween the islands and wonder around the Fort Roya, we reccommend whiling away the afternoon at La Guérite. A stylishly mellow establishment nestled on the rocky cove of Sainte-Marguerite, the larger of the two islands, La Guérite's authentic charm holds a reputation for attracting the occasional famous face into enjoying their renowned Mediterranean culinary experience.
Eze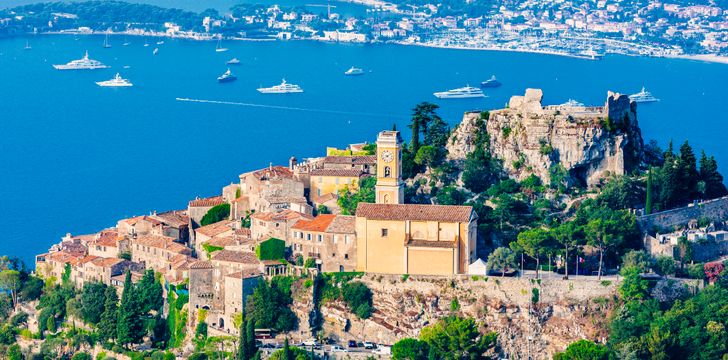 Truly capturing the essence of the Côte d'Azure, is the medieval village of Eze. Only a short cruise south of Monaco, Eze promises awe and adventure in equal measure. Steeped in rich history and a nature lover's paradise, Eze is most visited for its castle that dates-back to the 12th century, and the gorgeous gardens of the Jardin Exotique Area exhibiting an abundance of unique flora and bird life. 
Tender ashore and begin the climb to unveil the wonders of this hilltop village. Although the walk is quite challenging, and calls for sturdy footwear, it is worth it. Enjoy a well-earnt drink in Château Eza whilst catching some rays and soaking up the surroundings. If its culinary excellence that attracts you, dine at La Chèvre d'Or for a Michelin Star experience overlooking the Mediterranean below.
Inspired to charter in the French Riviera and would like to incorporate National Parks into your itinerary? Our expert brokers will be happy to chat further. Not only are we based there, we have all travelled the French Riviera extensively to provide you with the first-hand experience when chartering here.  
Other Articles of Interest
Charter destinations