Dodecanese Yacht Charter Guide | Greece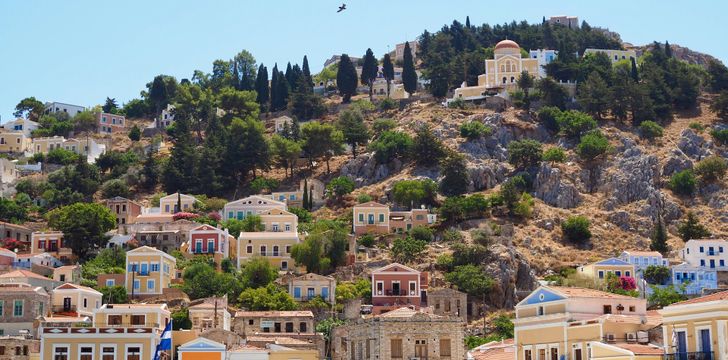 Charter a luxury motor yacht, crewed catamaran or bareboat sailing yacht in the Dodecanese Islands for an epic summer vacation
Dodecanese Yacht Charter | Charter Destinations | Dodecanese Cuisine | Our Dodecanese Charter Yachts
Astypalaia | Kalymnos | Kos | Leros | Nisyros | Patmos | Rhodes | Symi 
Embark on the ultimate European escape as you climb rocky landscapes, explore underwater ruins and pay homage to the colourful Greek history. Tender to waterside tavernas for tantalising Greek delicacies, or simply revel in the idyllic vistas from the comforts of your luxury motor yacht or crewed catamaran.
The Dodecanese islands are made up of 12 main islands in the Greek Archipelago, the principle of which are Astypalaia, Kalymnos, Kos, Leros, Nisisros, Patmos, Rhodes and Symi and are situated in the south-eastern Aegean sea, just off the coast of Turkey in what is known as the sunniest corner of Greece. They are an eclectic mix of fantastic sailing destinations, enriched by a unique culture and turbulent history with each invading civilization leaving their mark behind, be it the Persians, Athenians, Romans or Venetians.
The Dodecanese Islands provide something for everyone, from the dry limestone outcrops and traditional Greek towns of Kalymnos or Symi that are scattered with a plethora of imposing Venetian castles and Byzantine monasteries, or the pulsing centers of Rhodes and Kos. What's more, there are over 150 smaller islands of which only 26 are inhabited, providing a wealth of interesting areas and destinations to sail around on your luxury yacht charter.
---
About The Dodecanese
There is no better or more efficient way to truly get to know these enchanting islands than by yacht. With no constraints holding you back, both sailing and motor yachts are a fantastic way to tailor a vacation to your interests. While most large yachts are based in the yachting hub of Athens, they can easily be relocated to the Dodecanese islands and there is also a thriving local bareboat industry for those that want to strike out on their own.
Weather conditions: In the summer months the prevailing wind in the Dodecanese islands is the "Meltemi" blowing from the north-northwest as in the Cyclades islands and usually blows at force 4-6. It begins to form in mid-June and strengthens towards the end of July to early September before weakening in October. Attention should be paid, however, as it can blow for days at a time particularly off Patmos, Kalymnos, Kos, Nissyros, Tilos, Karpathos and Astypalea.
Our Dodecanese Motor Yachts Our Dodecanese Catamarans Our Dodecanese Sailboats
---
Key Charter Destinations
Astypalaia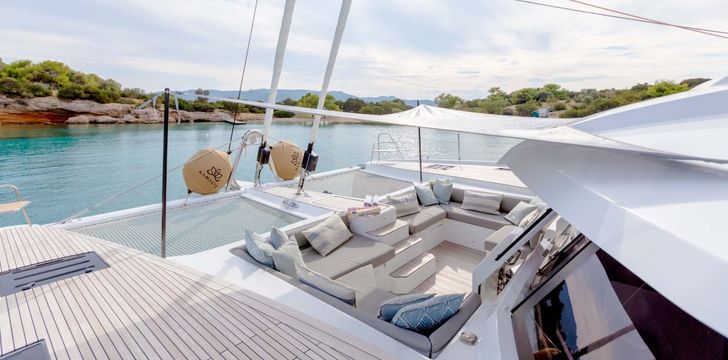 Astypalaia is a small butterfly-shaped island, 18 km long, 13 km wide at the most, and covers an area of 97 km² and while it belongs to the Dodecanese island group, geographically and historically is far more Cycladic in nature. Tourism is relatively limited on this island so you can still find deserted coves and bays to anchor for those moments of complete serenity. We also recommend you pack your shoes, this island is perfect for hiking. 
As the only island with truly Cycladic architecture, its charming and picturesque architecture, narrow twisting streets, iconic windmills and imposing Venetian fortress provides a stunning backdrop for a charter. Sailors can explore the uninhabited islands opposite Maltezana (a great place to moor because of its secluded and sheltered nature) or the beautiful beaches at Platis Gialos, Papandria and Chochlakoura that provide havens for the charterer to relax after a day sailing. 
---
Kalymnos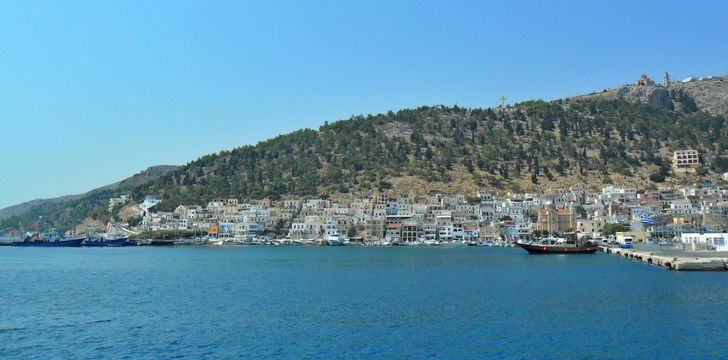 Kalymnos is the third most populous island in the Dodecanese group and is located 12 km south of Kos and just 2 km north of Leros. It is 21 km long and has a width of 13km and is known as being one of the most affluent islands in the whole of Greece. Known as the 'island of the sea sponge harvesters" this diverse island offers a little for everyone and is a great stop on your luxury yacht charter. 
Póthia, the capital and the port of Kálymnos is a favored first stop for charterers with the castle of Chrissoheria and the Archaeological Museum worth a visit. Be sure to taste some of the local delicacies on your time ashore such as the thyme honey, homemade mizithra cheese, delicious sea-dried lobster tail and sea ray preserved in sea water. The International Climbing Festival in May is also highly recommended for those that are looking to see some action.
---
Kos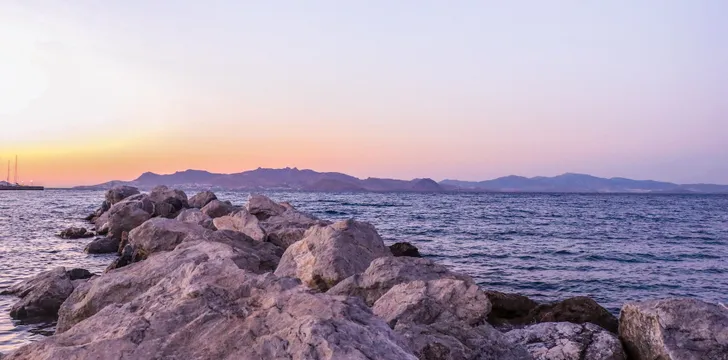 Kos is one of the largest and most popular islands in this chain, located just off the coast of Turkey. Featuring crystal clear waters and a unique heritage, on your luxury yacht charter you will be able to escape from the crowds and appreciate the undeniable beauty of this island from the comfort of your own floating home. Matsichari, Kefalos and Thermes are three must-see beaches to anchor off and enjoy watersports and sinking your sand into golden sands.
Boasting a wide variety of clubs and bars if you are looking to let your hair down, the island of Kos and particularly Kos Town is one of the best places to do so in the Dodecanese island group. Look out for Nerantziá Castle at the entrance of the port of Kos Town before heading out and anchoring off one of the many secluded bays and coves dotted along the coast.
---
Leros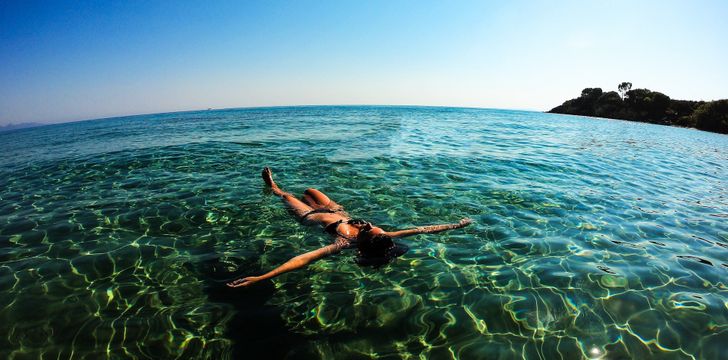 The island of Leros is one of the lesser known islands in the Dodecanese group and subsequently if you are looking to really get away from the crowds and find that complete serenity on your luxury yacht charter then this island is the place to go. According to mythology, Leros is the island of Artemis, the goddess of forests and hunting and the pristine beauty on offer clearly reflects this.
Admire the magnificent castles such as Brouzi and Castle of Panayia or the ancient churches scattered all over the island. Swim in the azure waters, the many deep indented bays that are ideal for mooring, go diving and explore the many shipwrecks on the seabed, or the uninhabited islets, such as Levitha and Kinaros.
---
Nisyros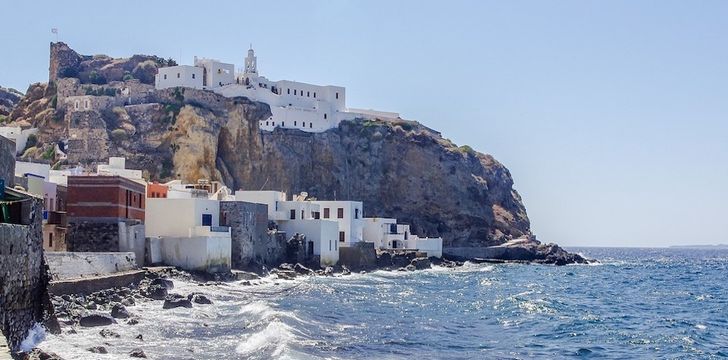 Nisyros is a volcanic island located in the Aegean Sea in the middle of the Dodecanese group of islands. It covers an area of 41.6 km2 with a diameter of about 8 km. It is a place of wild, peaceful beauty without the crowds of tourists that you might meet on other islands.
The classical architecture, picturesque taverns and traditional coffee shops is a magnet that attracts sailors for the chance to stretch their legs and explore the natural beauty on offer. It is a hushed haven of peace and tranquillity to complement your yacht charter.
---
Patmos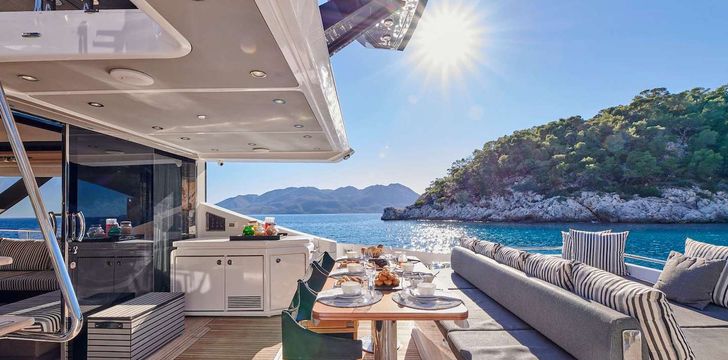 Patmos is known worldwide as 'the island of the Apocalypse' where Saint John wrote the Book of Revelation. Named a World Heritage Site by UNESCO in 1999 and a 'Holy Island" by the Greek Parliament in 1981, its rich volcanic soil, striking natural features and diverse coastline attracts a select few year on year.
The beauty of this carefully preserved island is breathtaking, particularly that of Chora and the beach of Psili Ammos (literally meaning 'thin sand') that is only accessible by yacht. Visit Skála (the island's main port) and treat yourself to some of the local delicacies such as cheese pie and reticule-shaped dough with honey and nuts or sail to one of the many islets just offshore such as Lipsí, Arkí and Maráthi If you are looking to soak up the traditional Greek atmosphere ensure you pass by around Easter, when deeply religious and spiritual celebrations are held throughout the Holy Week.
---
Rhodes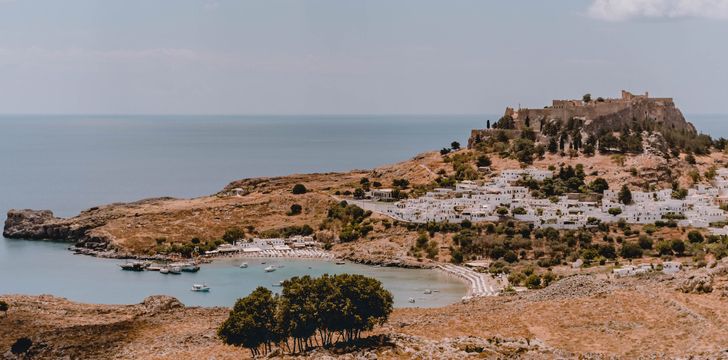 Rhodes is the largest island in the Dodecanese group, both in terms of size at 1,400 km² and in terms of population. It is the most famous island with a storied and intricate history and you can see beautiful examples of the traces left behind from over two thousand years of history. Rhodes has something for everyone. It boasts some awe-inspiring examples of buildings from ages past such as the Palace of the Grand Master, the City Hall and the Governors Palace.
The entirety of the old city was named a UNESCO world heritage site in 1988. There are long golden beaches to relax on, small bays and coves to explore, vibrant festivals such as the Sound and Light Festival and the many medieval festivals that take place over the summer that add to the wonder and exciting atmosphere on this island. The nightlife on this energetic island also attracts charterers and guests from miles around for the chance to really let your hair down in some of the many renowned bars and clubs that dot the island particularly at Hippocrates Square and the streets of the old town.
---
Symi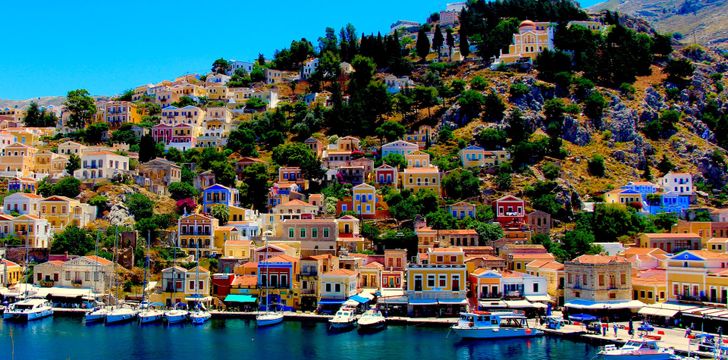 Symi is another gem nestled deep in the Mediterranean that will inevitably exceed your expectations, however great they are. Its picturesque ports and towns are breathtaking in their beauty and possess a unique cosmopolitan atmosphere. There are a plethora of gorgeous beaches, be them sandy or pebbly, in wide bays or nestled in sleepy coves and are all bathed in crystal clear waters. Agios Georgios, Nos, Agios Nikolaos, Nanou and Maroni are just some of the names of beaches you should be looking to stop off at on your yacht charter.
Dine at any one of the tavernas by the sea that will serve traditional Ouzo and fresh fish or attend one of the renowned festivals such as the Simi Festival and you will be sure to have a fantastic time.
---
Dodecanese Cuisine
The dishes and foods you will find in the Dodecanese islands have been created and formed by a variety of influences. Its close proximity to Turkey and Crete has given it a unique slant on its Greek cuisine. The classic Greek dish, stuffed Paschal lamb is something that you will find on every island, as is the skillet fish pies and variety of beans and legumes that make up so much of the Greek culinary diet. Simi and Kalymnos however, are famous for their wealth of seafood dishes while other foods to try are ouzo-dipped grilled octopus and spinialo - made from mussels, sea urchins or sea-skirts.
---
Our Dodecanese Charter Yachts
The Dodecanese islands are a sailor's paradise, comprised of more than 163 islands and islets. There are destinations here for everyone; guests can find complete peace and serenity, finishing their charter invigorated and relaxed or can let their hair down in well-known bars and clubs on one of the more cosmopolitan islands. Boatbookings offers years of experience sailing in these islands and personal knowledge of the yachts we offer. We can find you the ideal charter yacht, be it bareboat, crewed, sail, motor or catamaran.
Our service is free, and there are very good reasons to charter in Greece via a reputable yacht charter broker, such as ourselves.
Our Dodecanese Charter Yachts Get a Bespoke Proposal
Our Greece Yacht Charter Guide Greece Yacht Charter FAQ
---
Other Mediterranean Destinations: The Italian Riviera | Sicily | Sardinia | The French Riviera | Monaco | Corsica | Mallorca | Ibiza | Croatia
Other Articles of Interest
Charter destinations