BVI Bareboat Itinerary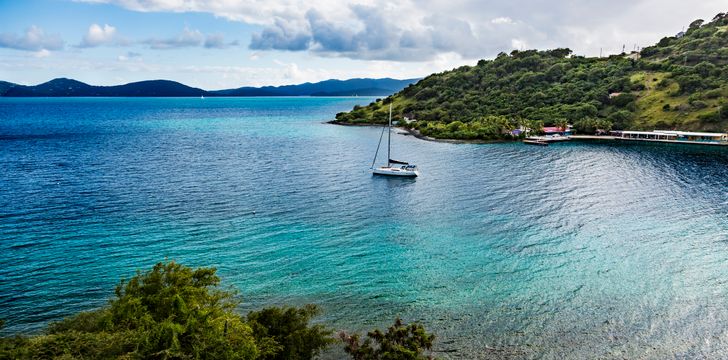 Tranquil bay on Jost Van Dyke Island
7 Day BVI Monohull Bareboat Sailing Itinerary
A monohull bareboat charter in the British Virgin Islands offers countless activities for your group to enjoy in the comfort of your own yacht. White-sand beaches, scuba-diving, conch, island hopping and some of the most famous bars in the world are what to expect from your BVI sailing itinerary. The BVI was badly hit by Hurricane Irma in September 2017 however the islands have made a speedy recovery, with new boats being added to fleets across the BVI. Do take a look at our article on the BVI Post Irma to see how the islands have recovered following IRMA.
BVI Bareboat Monohulls BVI Bareboat Catamarans
---
Map
---
Day 1 - The Bight, Norman Island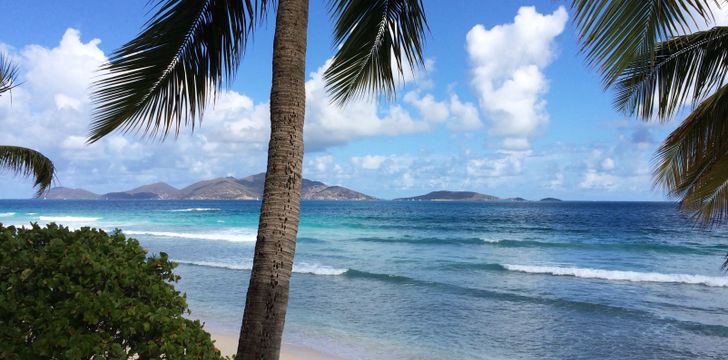 Set off from Tortola and cross the Sir Francis Drake Channel. You will arrive at The Bight on Norman Island, where R.L. Stevenson is said to have based Treasure Island. Swim and snorkel at the Indians before you experience your first Caribbean sunset. Either head ashore to Pirates Bight or visit the floating Willy T's for great food and casual dining in the evening.
---
Day 2 - Cooper Island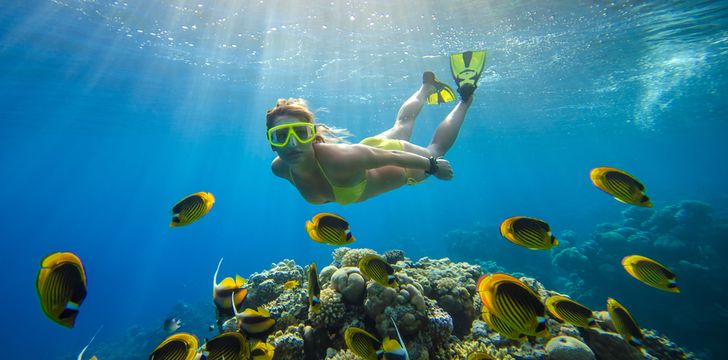 Head to The Caves on Norman Island, where you can snorkel around the coral reef and colourful marine life that live there. Set sail towards Cooper Island and find yourself a mooring buoy for the night. If you are there early enough you can snorkel some more off Cistern Point or relax on the beach.
BVI Top Attractions 7 Day Diving Itinerary
---
Day 3 - The Baths, and Trellis Bay, Virgin Gorda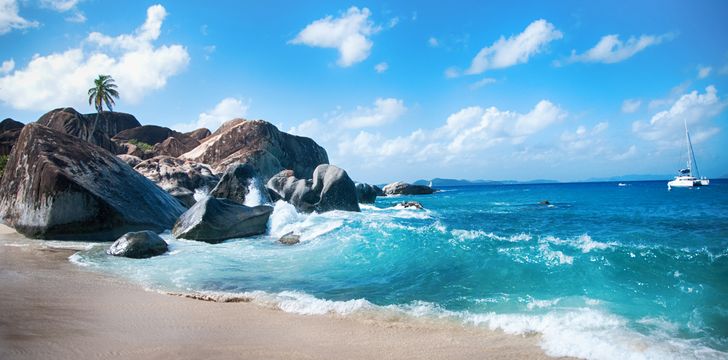 Arrive early at The Baths to avoid the crowds and queues to explore these spectacular rocks, as late morning and early afternoon can be a bit busy. Spend the morning and have lunch here as well, while marvelling at the impressive formations.
Spend the night at Trellis Bay; either dine on your yacht or head ashore to one of many places to eat ashore. There are also monthly full moon parties at Trellis Bay, so make sure you don't miss that if you're there at the right time. There's also a chance to buy local arts and crafts to take home as souvenirs.
---
Day 4 - Bitter End Yacht Club, Virgin Gorda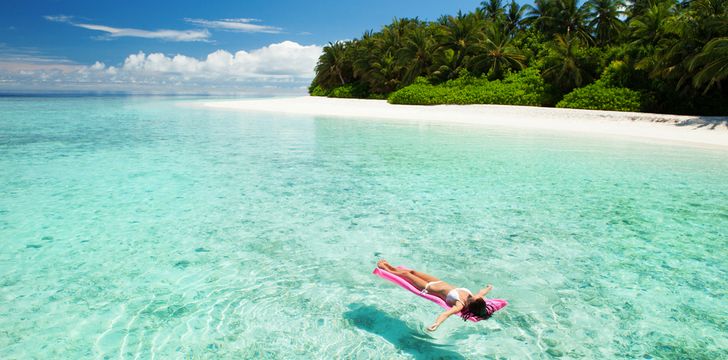 Sail to North Sound on Virgin Gorda – if you want to stop off en route for snorkelling, it's great at the Dogs or Mountain Point. You have quite a choice of places to anchor overnight as well! The Bitter End Yacht Club offers entertainment and music most nights, and you can also pick up provisions, try your hand on a Hobie Cat or practice your windsurfing for a sample of the many opportunities on offer. Or you can use the marina at Leverick Bay where there's a good restaurant for your evening meal if you're looking for something quieter, and if neither of those tickles your fancy why not go to Yacht Club Costa Smeralda to look at the superyachts?
You could dress up for the evening and go to Biras Creek, where there are an evening dress code and first class service at one of the best restaurants and wine cellars in the British Virgin Islands.
Request a Yacht Charter in the BVI Our Yacht Charter Destinations
---
Day 5 - Guana Island and Little Harbor, Jost Van Dyke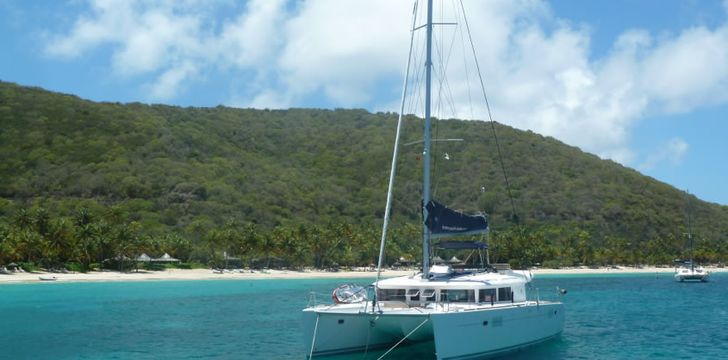 Explore the waters off Eustatia Island, north of the Bitter End Yacht Club. Take your dinghy around and you can snorkel along the reef. Or you can sail for your snorkelling experience and head for Monkey Point, Guana Island, arriving for lunchtime. Cruise along the unspoilt northern shore of Tortola with its rugged landscape and reach either Little Harbour or Great Harbour on Jost Van Dyke where you can indulge in the local lobster for dinner.
Enquire Virgin Gorda Charter Guide
---
Day 6 - Sandy Cay then Cane Garden Bay, Tortola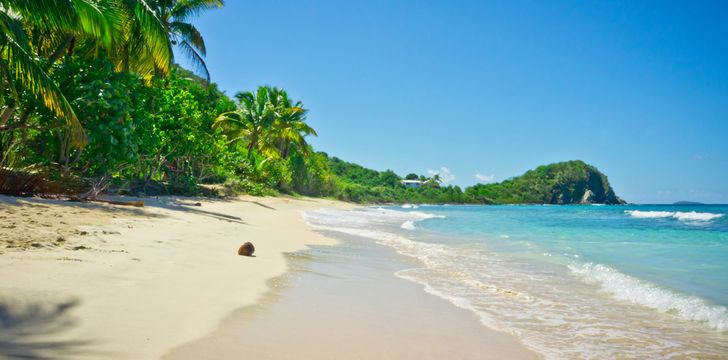 Head to Sandy Cay, a prime example of a desert island! Search for shells and splash around in the sea before lunchtime, then sail to your overnight stop at Cane Garden Bay. Have dinner a Quito's, serving BBQ chicken, ribs and fish fry, and then you can dance the night away on the beach!
---
Day 7 - Cane Garden Bay and Sopers Hole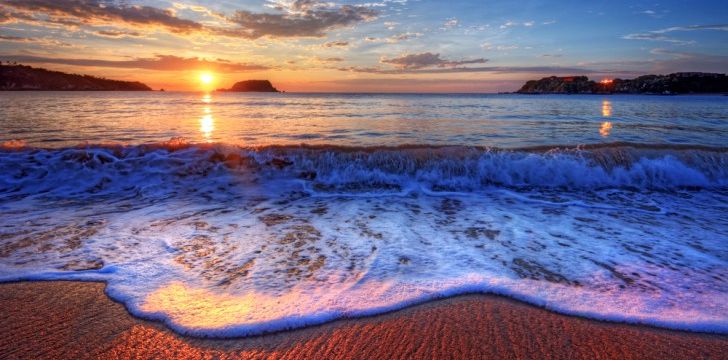 Spend some time relaxing, or playing, on the beach at Cane Garden Bay, then you can either sail to Soper's Hole, West End or head further to Little Harbour on Peter Island. Enjoy the view as the sun sets on your last evening in the BVI.
---
Day 8 - Tortola
Get up in time for one more swim before you head back to the base on Tortola. Unfortunately, it'll be time to go home, but you can always come back soon!
Our BVI Bareboats BVI Yacht Charters
Our BVI Charter Guides: BVI Yacht Charter Guide | Tortola | Virgin Gorda | Jost Van Dyke | Peter Island | Anegada | BVI Attractions | BVI Blog
---
Other Caribbean destinations: The Windward Islands | Antigua | Grenada | Guadeloupe | Martinique | Spanish Virgin Islands | St Barths | Anguilla | St Martin/Maarten | St Lucia | St Vincent and the Grenadines | US Virgin Islands - St Thomas, St John, St Croix
Other Articles of Interest
Charter destinations