Jost Van Dyke Yacht Charter Guide | BVI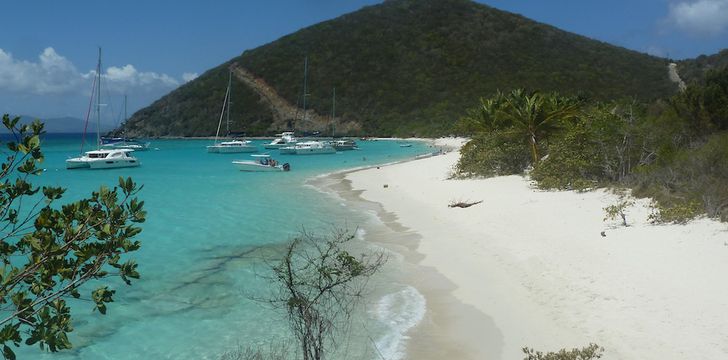 Jost Van Dyke | Discover Foxys, the Soggy Dollar Bar, Beach Parties and the Bubbling Pools
The beautiful and unspoiled BVI island of Jost Van Dyke is home to gorgeous beaches, excellent anchorages, undisturbed wilderness and two of the most famous beach bar/restaurants in the world - Foxy's and the Soggy Dollar Bar. We highly recommend stopping there on your next BVI yacht charter or sailing holiday in the British Virgin Islands! 
---
Map
---
Foxy's Tiki Bar and Restaurant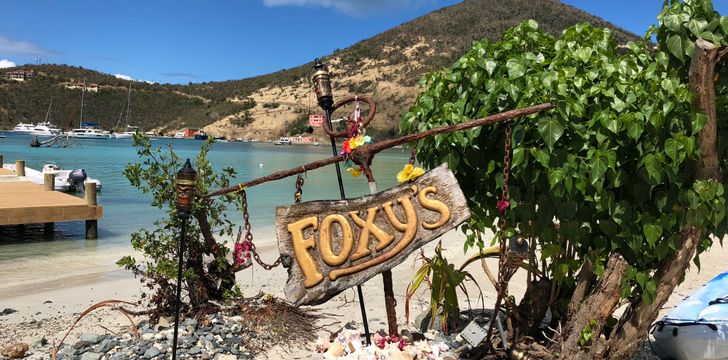 Foxy's has achieved world renown far beyond its bohemian appearance and "middle of nowhere" location.
Foxy's, the first beach bar on Jost Van Dyke was founded by the irrepressible and larger than life Philicianno Callwood. Founded on the principle of providing refreshments to the local church community during harvest celebrations, "Foxy" is famous for strumming his guitar and singing humorous songs every afternoon, and ensuring that everyone has a great time if they arrive at his establishment. Even if it's his day off, Foxy's still watching over you in the form of a life-size model of himself!
Foxy's Restaurant has the capacity to seat over 300 people on benches and serves a mouth-watering BBQ menu that features Chicken, Ribs, and Mahi-Mahi. The Bar opens at 9:30 am and serves many unique drinks mixed with his own Rum and beers from a local microbrewery.
Foxy's is perhaps best known for the spectacular New Year's Eve party, which he calls "Old Years Night". Typically hundreds of yachts lash themselves together outside Foxy's on New Year's Eve and spend the evening celebrating at Foxy's. This celebration rivals Times Square as "the place to be", with an unfettered joyous party atmosphere. If you're going to partake, we highly recommend that you chain and lock your dinghy - as the main morning-after spectator sport is watching hungover sailors trying to locate their lost dinghy, all of which look nearly identical, and many of which are "borrowed" in return for a finder's fee.
---
Soggy Dollar Bar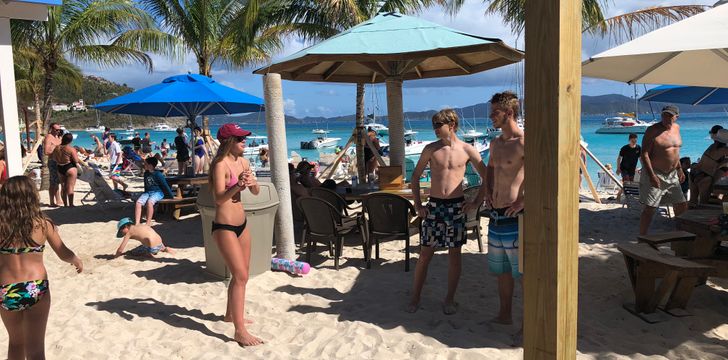 Located in the pristine White Bay on Jost Van Dyke, The Soggy Dollar Bar is renowned for its "Painkiller" cocktail, and over the years has become a favorite during BVI yacht charters - who can resist this idyllic beach home to one of the greatest beach bars in the world?
The Soggy Dollar Bar draws people from all of the surrounding islands, and is definitely the hot spot on the weekends, offering live music, great food, (be sure to try the flying fish sandwich!) and of course delicious cocktails. You should also definitely try one or two of the Raspberry Therapy, and Nilla Vanilla which are the other house favorites worth mentioning.
The recipe for the "Painkiller," developed by Daphne Henderson (the owner of the Soggy Dollar) and commercialized by Charles Tobias (the founder of Pussers, on Tortola) is believed to be four parts pineapple, one part cream of coconut and one part orange juice - adding Rum as you see fit and a sprinkle of nutmeg. But instead of mixing this on your boat, we recommend you try the original while relaxing in a hammock at the Soggy Dollar!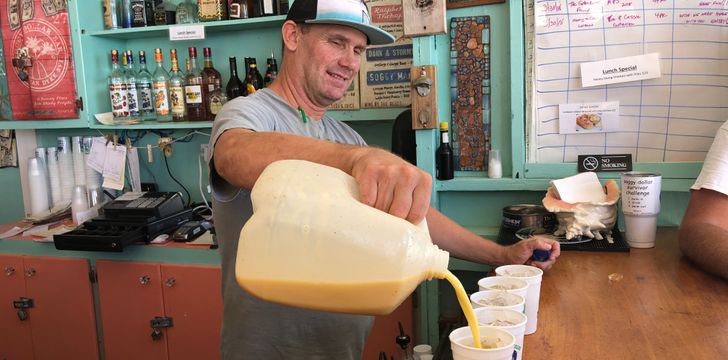 White Bay captures the essence of what the BVI is all about. It is beautiful, largely unspoiled, welcoming, fun, relaxed and above all, memorable. The sand is perfect and spotlessly clean. Besides the Soggy Dollar, there are other bars and restaurants, all of which are laid back and bohemian. All of this fits into the beach setting without spoiling its natural beauty. Even if beach parties are not your style, the beach is largely deserted after about 5 pm. So you can spend your day on deserted Sandy Cay and return for a relaxed, peaceful dinner.
---
More about Jost Van Dyke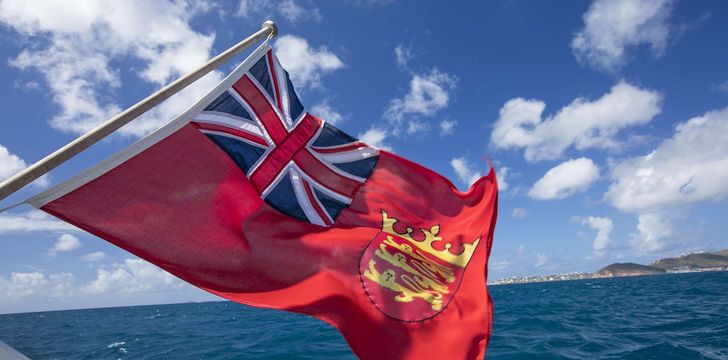 Jost Van Dyke is not only about the Soggy Dollar Bar and Foxy's. Head to our  BVI catamaran charter guide to find several other equally unique Restaurants/Bars around White Bay and Great Harbor or other things to do such as visiting the Bubbling Pools. Here are our top recommendations:
Ivans Stress-Free Bar
Find serenity at this "quiet" beach bar in White Bay. Ivans was constructed with thousands of shells and is a great place to hang out on the beach if you want a relaxing bar with a beautiful view and no beach party atmosphere.
Corsairs Restaurant
Rated one of the best restaurants in the BVI, Corsairs has become the place the eat on Jost Van Dyke. Located in Great Harbor a short walk from Foxy's, this restaurant is informal and hearty. The menu features local fish, pizzas, pasta and salads complemented by a lively crowd of happy charterers.
The Bubbling Pools
The Bubbling Pools is a "bubbling" tidal pool formation on the east tip of Jost Van Dyke. The naturally created pool is fed by the constant waves from the Atlantic sending in gushers of water as they crash over the protecting rocks. It's fun and relaxing, especially for kids, and worth the 10-minute hike.
You can reach the Bubbling Pools by pulling up at Foxy's Taboo and then walking the path past a cypress grove and over a rocky hill roamed by wild sheep.
---
Want to Charter a Yacht to Jost Van Dyke to see Foxy's and the Soggy Dollar Bar in the BVI?
No trip to the BVI is complete without a stop at Jost Van Dyke. Typically, we recommend that you save it for the end of your charter - here's a sample BVI yacht charter itinerary you may want to follow, and we have plenty of information on our BVI blog.
In terms of finding you the perfect charter yacht, we have hundreds of great yachts for you and can provide you with everything you need to have a fantastic charter in the BVI, including visits to all of the hot spots. We have an extensive database of boats and will provide unbiased advice about which one is right for your party.
More BVI Articles: BVI Charter Guide | Tortola | Virgin Gorda | Peter Island | Anegada | Catamaran Charter in the BVI | BVI attractions | BVI Blog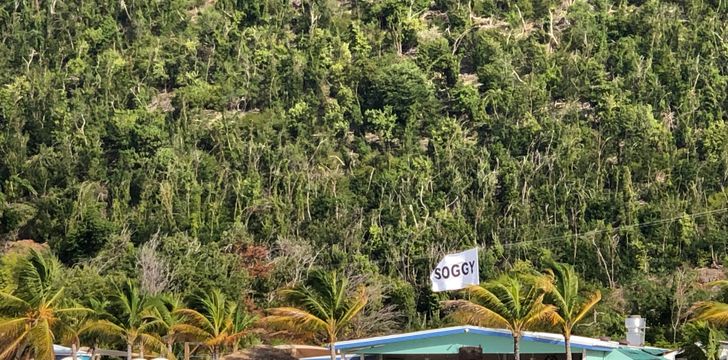 Other Articles of Interest
Charter destinations