Top Attractions in the British Virgin Islands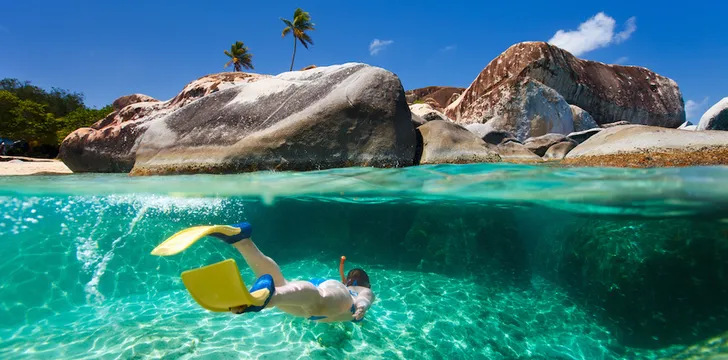 Discover the Top 10 Things To Do on a Yacht Charter in the BVI
The Baths, Virgin Gorda | The Wreck of the Rhone | Willy T's | Soggy Dollar Bar | Foxy's | Sandy Spit | Lobster, Anegada | The Bubbling Pools | Snorkeling, The Indians | Kodiak Queen Art Dive Ship 
A BVI yacht charter is unlike any other! Find your very own paradise in one of the unique 50 islands where steady trade winds, gorgeous cuisine, and pirate ship bars will undoubtedly leave you feeling relaxed and rejuvenated. From desert islands to stunning restaurants, sunken ships to natural jacuzzis, there's something for everyone to enjoy in the British Virgin Islands. 
---
The Baths at Virgin Gorda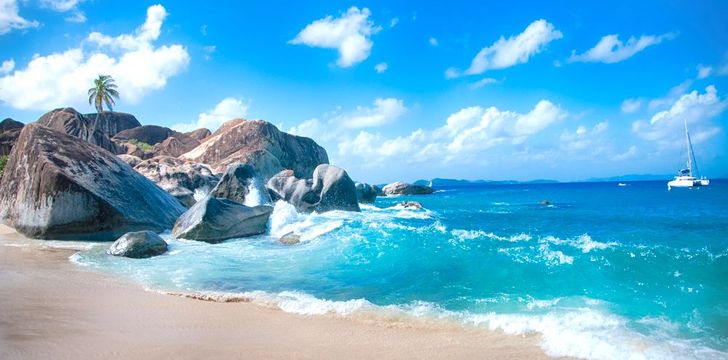 "The Baths" are undoubtedly one of the must-see attractions of the BVI archipelago. A collection of granite boulders create a fantastic playground for adults and children alike located on the south end of Virgin Gorda. These scenic caves that open into the sea are the ideal place for families! Children can clamber over the rocks whilst parents admire the dramatic towering rocks above the turquoise sea. We would recommend arriving early in the morning to explore the caves in peace before the crowds arrive between 10 am and 2 pm. Visitors normally moor their dinghy at the mooring area in Devils Bay, a beautiful, sandy beach in the middle of the large rock formations.
---
The Wreck of the Rhone - Salt Island
Not far from Salt Island, you will find the magnificent Wreck of the Rhone - a preserved sunken postal ship that lies in water ranging from 20 to 80 feet- a diver's heaven! It's no wonder that the Wreck of Rhone has been voted as the #1 diving site in the Caribbean by sport diver and scuba diving magazines! Even after 149 years, RMS Rhone is a remarkable place to explore with something new to discover on each visit. To find out more, read our broker's blog for detailed information.
---
The William Thornton Floating Bar and Restaurant - "Willy T's" - Great Harbour, Peter Island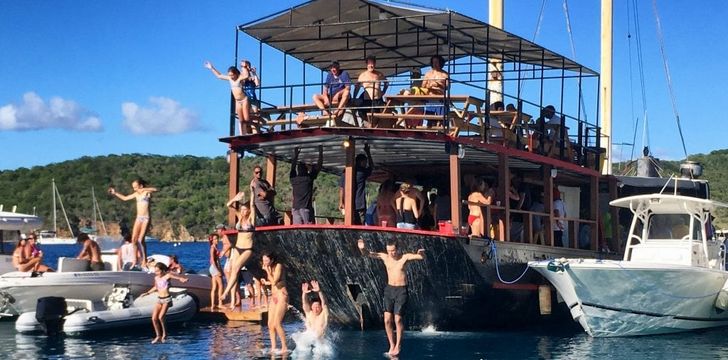 *Note - Willy T II was beached and totally destroyed by Hurricane Irma. Good News - the new Willy T III is now up and running and has been moved to Great Harbour, Peter Island!!* "You're a long time dead" reads the slogan of Willy T's- perhaps the most popular bar and restaurant in the BVI. Willy T's is the perfect place to let your hair down, make new friends, try her infamous drink concoctions and maybe take a jump off of the deck! 
Arrive in time for lunch or dinner, or later in the day for happy hour and soak up the party atmosphere. Choose from standard burgers or pub food, and if you're feeling up to it, try their specialty of shooters (usually drunk from an old water ski or on someone's stomach) and not to mention, the rum drinks!
---
Sandy Spit -The Deserted Island in the BVI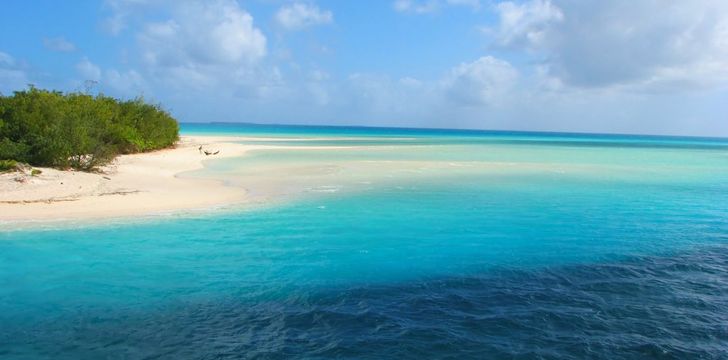 **Hurricane Irma update - most of the vegetation on Sandy Spit was blown away by Irma, but the sand is still there and new palm trees have been planted!**
Sandy Spit is a tiny island near Jost Van Dyke that is encircled by a gloriously pristine sandy beach. It is a wonderful place to anchor for lunch, snorkel in the beautiful coral just offshore or relax on the beach and imagine what it would be like to be stranded on a desert island. The lack of mooring balls gives the feel of an exclusive and remote island that nobody else knows about. We recommend stopping by on your way to Jost Van Dyke for lunch and a swim. Stay as long as you like, saving up your energy for Foxy's that night!
---
The Soggy Dollar Bar - White Bay, Jost Van Dyke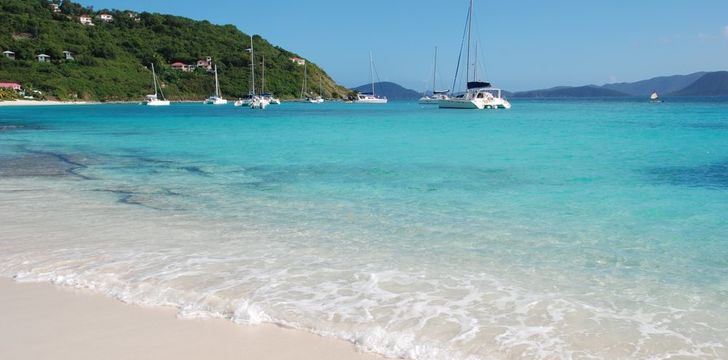 The Soggy Dollar Bar, located in White Bay, Jost Van Dyke, is renowned for inventing the "Painkiller" cocktail and is famed as being one of the world's best beach bars. Relax and sink into the swaying hammocks, play "hook the ring" or simply order your Painkiller, sit back with an easy sigh of relief, and watch life in the Caribbean unfold.
Head to the beach bar to enjoy a burger, a classic flying fish sandwich, or even to purchase a t-shirt or two to take back as a souvenir or gift. The anchorage on White Bay is easy, and, once your anchor drops, you are just a short swim away from the perfect ambiance of this gorgeous beach.
The Soggy Dollar Bar has been completely rebuilt following hurricane Irma, and new palm trees installed. When you're there, take a look at the picture book they created that chronicled the hurricane damage and rebuilding process.
---
Foxy's Bar and Restaurant - Jost Van Dyke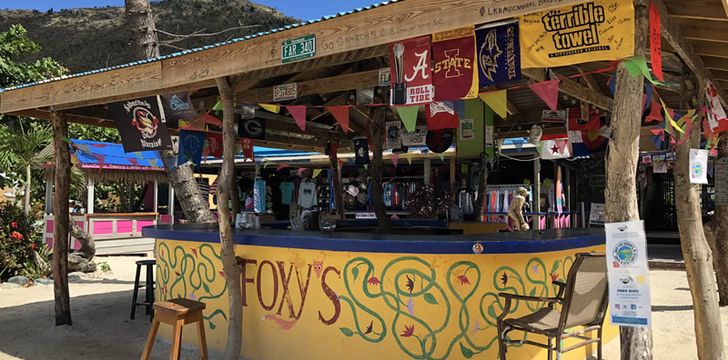 Foxy's is a beloved beach bar and restaurant in Great Harbour on Jost Van Dyke. Renowned throughout the world, Foxy's is an unlikely gem with a unique charm due to its bohemian appearance paired with a "middle of nowhere" location. Foxy's Restaurant has seating for over 300 people on bench seats and serves a BBQ menu that features Chicken, Ribs, and Mahi-Mahi. The Bar opens at 9:30 am and serves many unique drinks mixed with house rum, and beers from a local microbrewery.
Foxy's was the first beach bar on Jost Van Dyke; making its debut as a place near the church to provide refreshments for the harvest celebration, two years later moving to its current location. Be sure to bring a college banner to affix to the ceiling. Many were lost during Irma, so your alma mater will have much greater prominence!
---
Lobsters on Anegada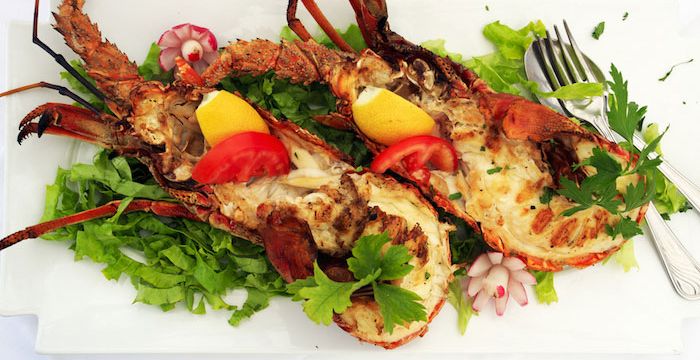 If you make it to Anegada, be sure to reserve a table at one of the lobster restaurants on the island, where large, freshly caught lobsters are cut in half and grilled in aluminum foil. Restaurants such as the Lobster Trap, Potters and Anegada Beach Club, maintain a generally relaxed atmosphere, and also offer ribs, steaks, chicken, fish and, of course, plenty of rum drinks!
---
The Bubbling Pools - Jost Van Dyke
The Bubbling Pools is a tidal pool into which Atlantic waves continually send gushes of water. It's fun and relaxing and totally worth the 10-minute hike for a unique experience and first-hand insight into the wonders of nature!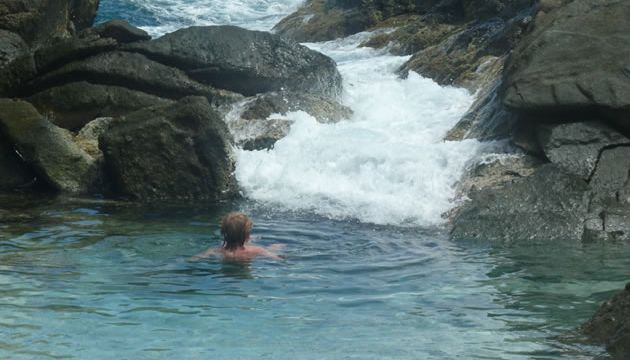 Arrive by pulling up at Foxy's Taboo, walking along the path past a cypress grove and over a rocky hill, roamed by wild sheep. Imagine bathing in a gorgeous emerald green natural jacuzzi set in stunning surroundings. This is a fantastic spot to wind down after the hike and reflect on your exciting day and incredible holiday.
---
Snorkeling at "The Indians"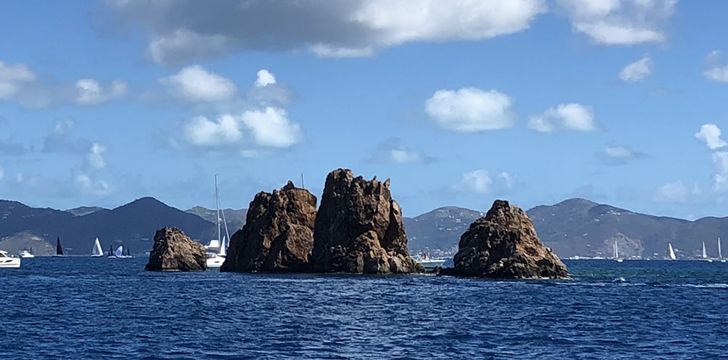 Thought to resemble an Indian headdress, this collection of rocks is a popular sight amongst charterers. Sail past the uninhabited Pelican Island, just north of Norman Island, to see for yourself! Pull up to one of the anchoring balls, dive in and swim around and through the rocks. The rocks descend very quickly, giving you a larger array of marine life than in many other spots. A great morning stop before heading to Peter Island!
---
Kodiak Queen Art Reef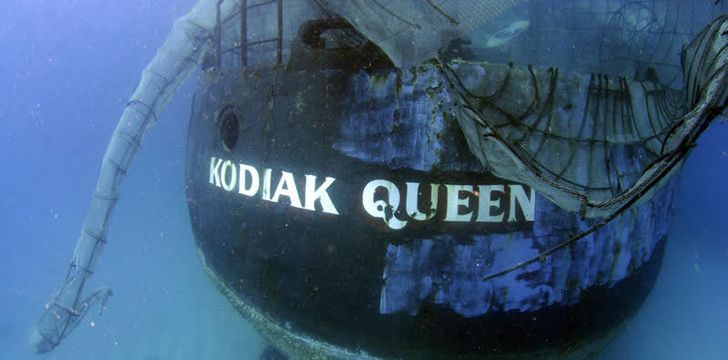 A new attraction to Virgin Gorda is the Kodiak Queen Art Reef, which was a WWII Ship that survived Pearl Harbor and is now a submerged art exhibit/diving attraction/coral reef. Richard Branson and several artists and entrepreneurs rescued the ship from the scrap yard and turned it into a place where both marine life and art flourish.
You can watch a video of the project and read about how it came to be in this link.
---
These are just a few of the attractions and watering holes in the BVI. If you will be chartering in the British Virgin Islands, we will be happy to design a BVI sailing itinerary around your needs and recommend the best places to stop along the way. Contact us today to plan your charter holiday of a lifetime!
Please see our 7 day BVI sailing itinerary or our 7 day crewed catamaran itinerary for help planning how to see all of these attractions on a typical route around the BVI.
Also see: Our BVI Blog  | BVI Charter Slideshow 
Our Caribbean destinations: The Windward Islands | Antigua | Guadeloupe | Martinique | Spanish Virgin Islands | St Barths | Anguilla | St Martin/Maarten | St Lucia | St Vincent and the Grenadines | US Virgin Islands - St Thomas, St John, St Croix
Other Articles of Interest
Charter destinations