A 7 day Scuba Diving and Sailing Itinerary in the BVI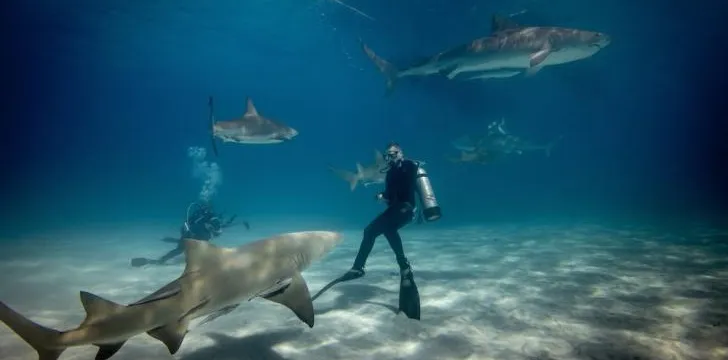 Our 7 day BVI scuba diving and sailing itinerary encorporates an itinerary for both bareboats and crewed catamarans. If you decide to take a bareboat yacht charter, you can visit dive schools and sites for scheduled Rendez-Vous dives, meaning that the diving schools will pick you up at the dive site to take you underwater.
The Virgin Islands are the finest cruising and diving grounds in the Caribbean for both monohull and catamaran yacht charters. This below itinerary suggests the best places to dive and visit in the BVI following hurricane IRMA in September 2017.
---
Map
This itinerary will guide you to experience the best diving spots of the BVI.
Diving Tips:
- Only dive at your own comfortable depths.
- Bring a hard copy of your diving certiciations with you.
- Request an instructor for the first dive if you feel out of practice
- Book your dives in advance.
- Tell your instructor if you do not feel comfortable at any point during the dive.
- If you do not have a PADI certification, know the equivalent PADI level to your certification.
- Don't dive before or directly after a flight.
- If you have any medical condition, including recent surgery don't take any risks and follow medical advice!
Following the below itinerary contains advice from the knowledgeable Boatbookings Brokers, who have, delivered the finest sailing experience for friends and family for over 14 years. The Boatbookings team visits the yacht shows in the BVI annually to find the best boats available for every season. We look forward to helping you find the right charter and plan your bespoke itinerary in the BVI!
Our Top BVI Bareboat Yachts Our BVI crewed catamarans
---
Day 1: Tortola to the Bight, Norman Island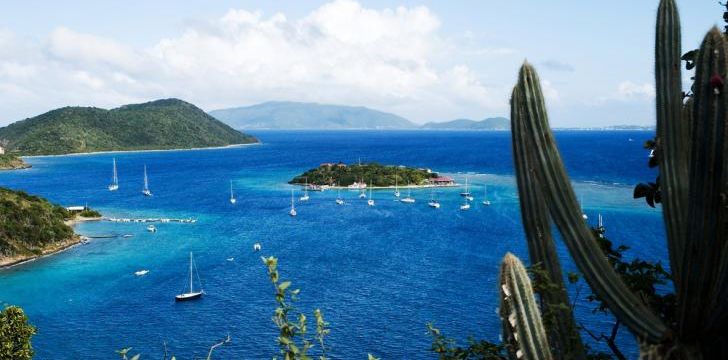 Dive Day 1 of your charter is an easy sail through the Sir Francis Drake Channel to Norman Island. The first dive of your yacht charter will be at The Inidans, four rock pinnacles with a maximum depth of 15M that are well known as the best-shallow dives in the Caribbean. The Indians are a dramatic series of rocks jutting out of the sparkling cerulean waters approaching Norman Island. The more confident divers can move on to the Deep Indian (Dive depth 25M). With a kaleidoscope of marine life to be discovered, it is no wonder that these caves inspired the classic novel Treasure Island by Robert Louis Stevenson.
---
Day 2: Norman Island to Peter Island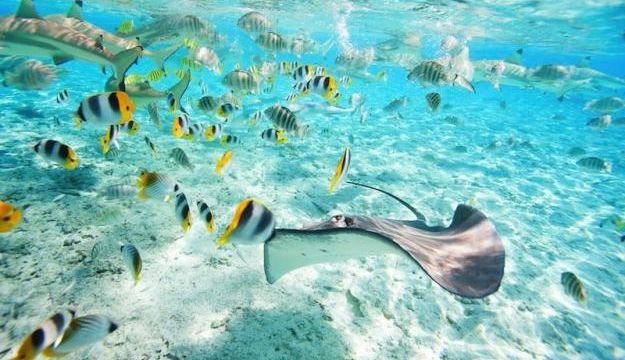 Dive Day 2: Set sail towards the Bight for your first dive of the day and dive the Santa Monica Rock. This is a 30 metre dive and offers divers the opportunity to see horse-eye jacks, barracuda, eels and turtles.
Head over to Peter Island after your first
dive
, there are many beaches and dive spots at this location. Save the diving until the following morning. Deadman's Beach is stunning and has numerous turtles. For a change of scenery, head around the point to Great Harbour Peter Island for another beautiful setting for your second night onboard - furthermore, the new Willy T's has been launched in May 2019. We would advise you to visit the iconic Willy T's BVI floating bar. The second dive of the day will be at the previous Willy T's bar that has been restored as a diving wreck following hurricane IRMA.
---
Day 3: Peter Island to Salt & Cooper Island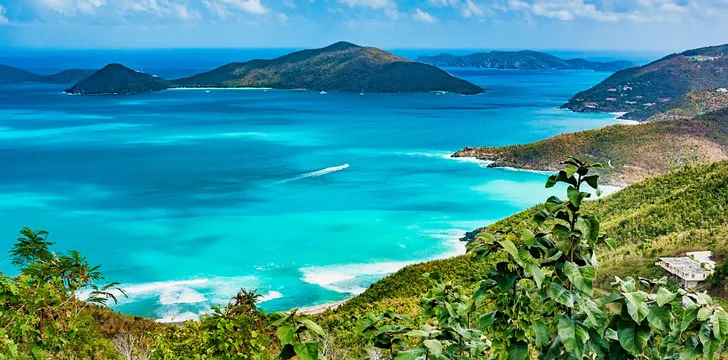 Dive Day 3: Wake up on Peter Island and head across to the south-western tip of Salt Island where you will find the legendary RMS Rhone for your
dive
. Rewind to nearly 150 years ago, when a Royal Mail Ship heading from Southampton to the Caribbean was hit by a devastating storm and sunk, leaving behind this fascinating time capsule. Today you can explore the remaining skeleton surrounded by crystal clear waters and new species of fish and to
dive
. Watch nature in action as more and more of the ship becomes engulfed, bringing her back to life with a spectrum of coloured corals, playful fish and lurking eels.
---
Day 4: Cooper Island to Ginger Island to the Baths, Virgin Gorda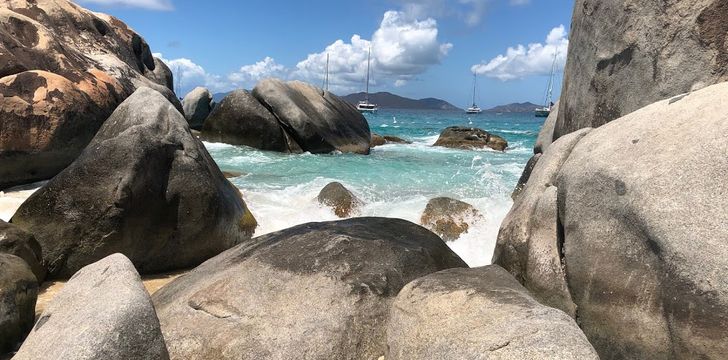 Dive Day 4 will begin shortly after breakfast on board, passing by the privately owned Ginger Island which rises gracefully from the sea, surrounded by luscious mangroves. Beyond the hilly landscapes of Ginger Island and you will spy the Baths on Virgin Gorda; these natural jacuzzis that fill with seawater will certainly be a hit with both kids and adults. Head to a local dive shop for a night dive at Paul's Grotto. This dive passes through the boulders and you can often see lobsters, crabs and sleeping nurse sharks at this dive site.
Spend the night in Long Bay Virgin Gorda for a short sail tomorrow to the North Sound Virgin Gorda. If you're planning on sailing to Anegada, head to the North Sound and skip Long Bay.
---
Day 5: North Sound Virgin Gorda, Oil Nut Bay, Prickly Pear and Eustatia Islands OR Guana Island, White Bay Diving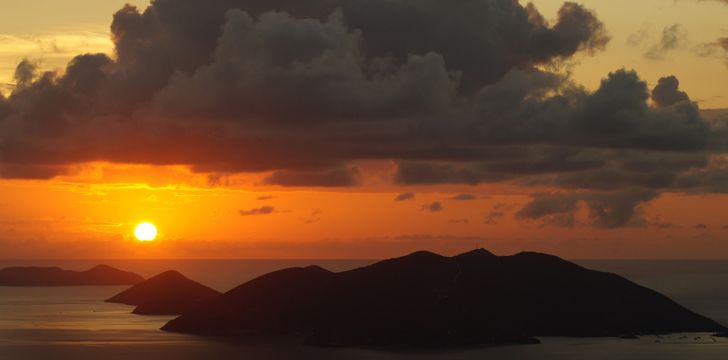 Dive Day 5- There are two options for day 5, the first would be to take a diving break and enjoy snorkelling.
OPTION 1: Enjoy a slow morning on
Virgin Gorda
, snorkelling in the crystal clear waters before continuing to the North Sound, a dazzling area of water on the northern tip of
Virgin Gorda
that is fringed by the smaller islands of Moskito, Prickly Pear and Saba Rock which provide protection for anchorages and exclusive resorts. Because the sound is protected and relatively flat, this is a great place for paddle boarding or windsurfing. Then head for lunch and an afternoon by the pool at Oil Nut Bay Resort.
If you're into the lifestyles of the rich and famous, world-famous Necker Island is owned by Richard Branson and Eustatia Island is owned by Larry Page, Google Co-Founder, both of whom take great pains to build eco-friendly buildings on these islands.
Irma note - North Sound Virgin Gorda was hit directly by the eye of hurricane Irma and sustained significant damage. It is busily rebuilding, but we recommend anchoring next to Prickly Pear Island or around the north bend in the protected, secluded bay before Oil Nut Bay. The Bitter End Yacht Club, which was completely destroyed, is not slated to reopen until 2019.
OPTION 2: Continue your diving exploration and head for Guana island, and call a RDV dive school for a two tank dive in White Bay for a dive on Times Square and Gand Central Station. Times square offers a very unique experience to see cliffs and cave diving and Grand Central Central is a cave dive with a 18 metre long shaft. Only do this dive if you are a qualified and highly expeirneced diver.
White Bay Jost Van Dyke early in the morning to find the best anchorage before heading onto the beach to sample an original Painkiller at the Soggy Dollar Bar (pictured at the top of this article). Play "hook the ring", get a "cheeseburger in paradise" and read their amazing book about the rebuilding after Irma. Take a walk on the beach to the other famous establishments such as Seddy's One Love. Kids may want to snorkel between the numerous boats anchored just offshore, as you really can find "soggy dollars" that have fallen out of people's pockets as they swim ashore.
---
Day 6: Jost Van Dyke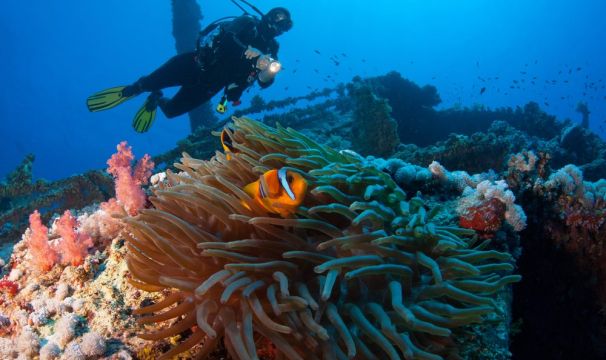 Dive day 6:
Jost Van Dyke
is just a short sail away and the perfect way to spend the final day in the British Virgin Islands, if you have taken the White Bay option you will already be at the heart of Jost Van Dyke. The dive site here is the Shark Alley divem where you will have the chance to see the largest nurse sharks in the Caribbean.
As the sun begins to set, head over to Great Harbor for dinner at Corsairs and dancing late into the night at the famous Foxy's. If Foxy isn't playing his guitar, he can often be found in the restaurant and is happy to take a picture with you. Foxy's has remained open throughout the BVI restoration and remains one of the most famous BVI beach bars and is still well known as one of the best places in the world to visit for New Years Eve.
If your group is looking for a bit of luxury and would enjoy spa treatments, you head to the marina at Scrub Island Resort and Spa. IRMA note- the Scrub Island Resort and Spa has been completely renovated and has more luxurious rooms to stay at since its destruction in September 2017. Stop for lunch before continuing towards Manchioneel Bay Little Jost Van Dyke, where you can spend the evening with amazing views.
Head back to Tortola to disembark and to spend the final night in port to end your dive charter! If you are flying back as soon as you disembark, be careful on the time of your dives.
---
Adventurous? Try Anegada!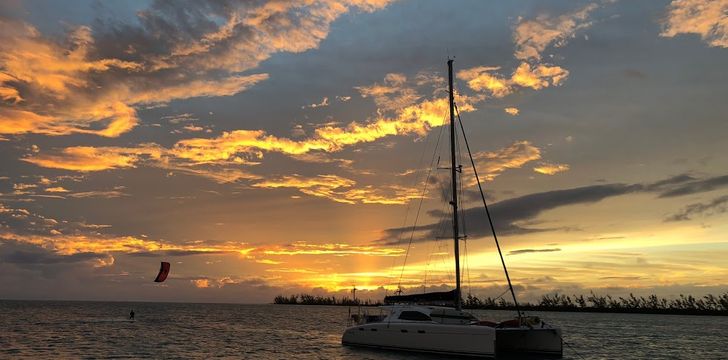 If you enjoy open water sailing, white sandy beaches that don't get hot in the sun, secluded beach bars and lobster bbq's on the beach, then consider sailing north to Anegada from Virgin Gorda and spending only one day on Jost Van Dyke! This is a slightly longer sail and is very dependant upon sailing conditions. We highly recommend Cow Wreck Beach for afternoon cocktails and the lobster dinners in the sand in the evening. See our Anegada chartering page for more details!
Our Top BVI Bareboat Yachts Our BVI crewed Catamarans
---
Our BVI Charter Yachts
The British Virgin Islands have been one of our most popular luxury yacht charter and diving destinations for over 14 years. The Boatbookings expert brokers know the area inside and out and, as such, can recommend the best things to do and the must-dive sites during your charter. Enquire today for your bespoke BVI scuba diving proposal!
Our BVI Charter Guides: BVI Yacht Charter Guide | Tortola | Virgin Gorda | Jost Van Dyke | Peter Island | Anegada | BVI Attractions | BVI Blog
---
Similar Destinations: The Windward Islands | Antigua | British Virgin Islands | Grenada | Guadeloupe | Martinique | Spanish Virgin Islands | St Barths | Anguilla | St Martin/Maarten | St Lucia | St Vincent and the Grenadines | US Virgin Islands - St Thomas, St John, St Croix