7 Day Virgin Islands Crewed Motor Yacht Itinerary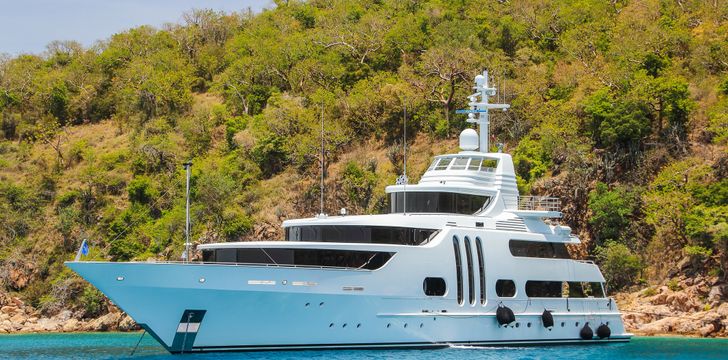 Discover St Thomas, St John, Tortola, Norman Island, Peter Island, The Baths, Virgin Gorda & Jost Van Dyke on this weekly motor yacht itinerary
St Thomas | St John | Tortola | Norman Island | Peter Island | The Baths | Virgin Gorda | Jost Van Dyke
Our Boatbookings experts have compiled is a motor yacht itinerary for both the BVI and USVI based on personal experience and feedback from captains and clients. Each of the US Virgin Islands differs in personality, but they all offer spectacular hammock-strewn beaches, dazzling turquoise waters, funky beach bars, and out-of-this-world food. The British Virgin Islands are just as impressive, with breathtaking dive sights and some great places to dance the night away and taste the Caribbean's finest rum cocktails.
Please feel free to contact us if you would like further information about a Virgin Islands luxury yacht charter or any other itinerary in the Caribbean. Discover our BVI motor yachts available should you wish to only charter these waters. Similarly with the USVI - charter a USVI motor yacht and embark on a weekly charter through the US Virgin Islands.
Enquire Now Virgin Islands Crewed Motor Yachts
---
Map
Day One: Charlotte Amalie, St Thomas to Hurricane Hole, St John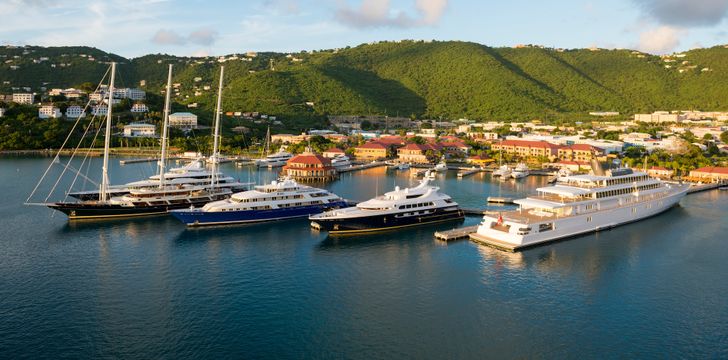 Begin your luxury yacht charter in St Thomas at noon from Crown Bay Marina on the west side of the port of Charlotte Amalie. Jump aboard, meet the crew, have a rum cocktail, and get ready for all the excitement that awaits you on your fantastic holiday!
Day 1 of your Virgin Islands itinerary brings you to the pristine island of St John and on to the quiet cove of Hurricane Hole (so named because of it is protected on three sides making it the ideal spot to hole up during any storms). This is the perfect place to stop and enjoy scuba diving or snorkeling amongst luscious mangroves. Spend the evening relaxing on board with cocktails of your choice followed by a superb meal on board, surrounded by some of the most beautiful scenery in the world.
Day Two: Trunk Bay, St. John, and Cane Garden Bay, Tortola.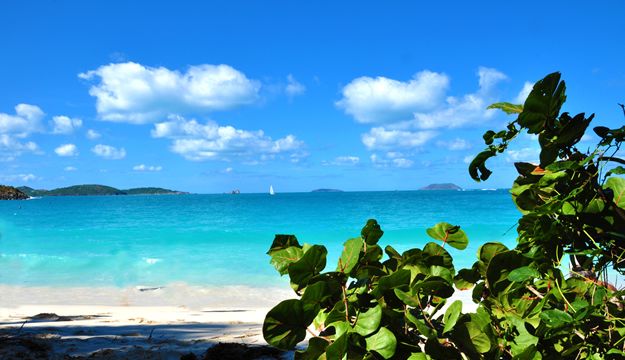 Wake up in paradise on the second day of your charter before sailing onto Trunk Bay, an expanse of turquoise water and powdery white beaches surrounded by coconut palms. Leave your yacht to discover the ancient ruins ashore or underwater delights of tropical fish and rare coral!
After lunch, you will spend the rest of the day in the peaceful Cane Garden Bay, Tortola. This is the epitomy of a picture-perfect Caribbean beach with a busy village just a short walk away, several wonderful restaurants, shops and bars, each with their own unique island character.
Day Three: Soper's Hole, Tortola, and Norman Island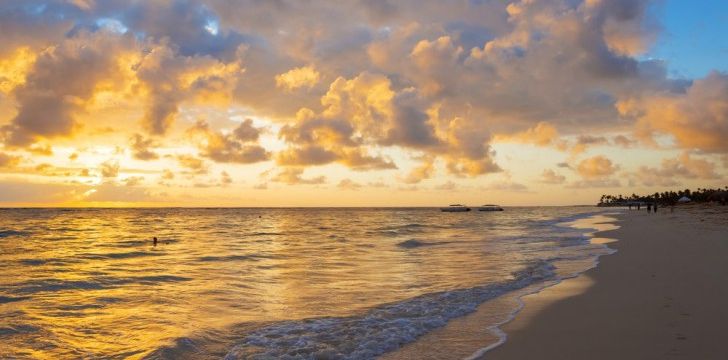 On the third day of your yacht charter, you will find the quaint colonial port at the west end of Tortola, Soper's Hole, perfect for a beachside lunch (and maybe a drink with some of that famous Pusser's Rum!) You will effortlessly go through customs here as you are now in the British Virgin Islands. Alternatively, follow the wafting aromas of an authentic island BBQ at the Jolly Roger Inn. Then walk around the village and explore the selection of local clothing stores, boutiques, jewellery stores, gift shops and even a local photography studio.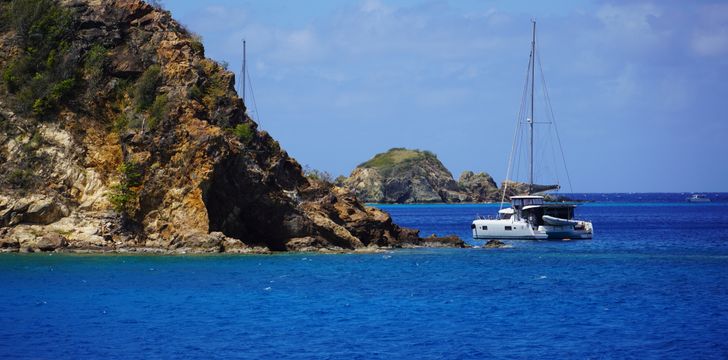 your next stop is Norman Island, supposedly the source of inspiration for Robert Louis Stevenson's classic novel "Treasure Island". You will anchor in the picturesque bay known as "The Bight" and then take your tender around the corner from the world-famous "Caves", a tremendous snorkeling spot where you can venture deep into the caves and perhaps find sunken pirate treasure!
Later you can have an entertaining evening aboard the infamous Willy T's, an old Baltic Trader, which has been converted into a floating bar and restaurant. Many have been known to ignore the signs prohibiting jumping off the boat, especially after a shot or two of rum. Dance the night away in style as the musuc starts to pick up!
Enquire Now Virgin Islands Crewed Motor Yachts
Day Four: Peter Island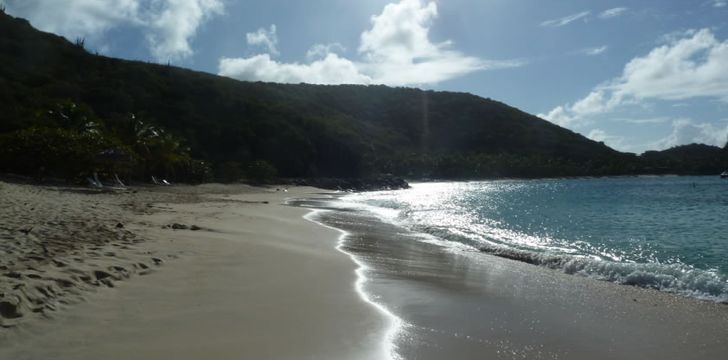 Anchor in Dead Man's Bay on Peter Island, renowned for its gorgeous white sand beach. Enjoy a refreshing swim or go snorkeling and explore the sea grass beds right below the yacht. If you are lucky, you may even come across a sea turtle or two, so remember to keep your eyes open! Naturally timid, sea turtles tend to keep their distance so best not to try to get too close.
Around the point, Great Harbor and the beautiful beach at the Peter Island Resort is a perfect spot for water skiing, snorkeling, or wind-surfing. In the afternoon and evening, enjoy a casual stroll along the beach and finish with a lovely meal at the Peter Island Resort which has one of the best restaurants on the island.
Day Five: The Baths, Virgin Gorda
Virgin Gorda is arguably one of the most picturesque islands imaginable - an iconic Caribbean island with breathtaking vistas that you could never grow tired of. Spend the day sunbathing on the rocks at the incredible Baths of Virgin Gorda, known for their gigantic granite boulders, forming natural seawater pools. Splash around in the magical grottos of cerulean water, swimming and snorkeling for as long as you wish!
After a full day of fun and sun, you will steam to the north end of the island to North Sound. This beautiful bay is surrounded by several islands including Mosquito, Prickly Pear, Saba Rock, Eustatia, and Necker Island, owned by Sir Richard Branson.
Day Six: North Sound, Virgin Gorda, and The Bitter End Yacht Club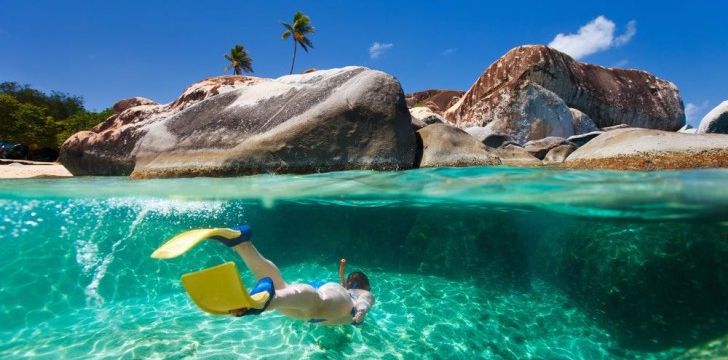 Waking up in North Sound, where you will find great snorkeling in Eustacia Sound and a wonderful marine museum at Saba Rock, featuring artifacts of the many shipwrecks in the BVI waters.
In the evening, you can find live entertainment and dancing at Saba Rock bar and restaurant. At the east side of North Sound is the wonderful resort, Bitter End. The Bitter End Yacht Club offers a wide assortment of small sailboats and water toys, including IC24's, Lasers, Hobie Cats, Picos, Optimists, windsurfers, kayaks and much more, not to mention on-site scuba and kite-boarding. There is plenty to do at the Bitter End for almost every taste or lifestyle. ** Note - Currently the Bitter End is under re-construction from damage caused by Hurricane Irma. We recommended that you visit the beautiful resort of Oil Nut Bay in the meantime. We will keep you informed of the rebuilding process on our Hurricane Irma page.**
Day Seven: Jost Van Dyke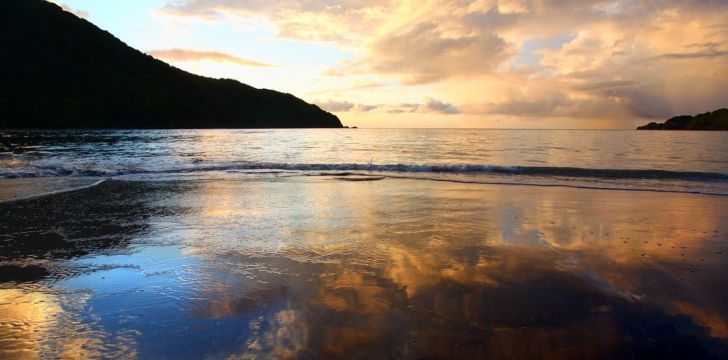 The final day of your trip will be spent on the island of Jost Van Dyke. During the day, be sure to visit the white sand beaches and swaying palm trees of White Bay. Ashore, Jost Van Dyke offers some of the best places to enjoy the local seafood, including jerk shrimp, seafood pasta, and some of the world's best lobster.
For your last evening on board, visit Foxy's Bar & Restaurant, not only for the entertainment but also the food. With a menu featuring BBQ chicken, ribs, mahi-mahi, and Foxy himself entertaining his guests and serenading the clientele with his guitar, this will certainly be an evening to remember!
Day Eight: Back to St. Thomas for your flight home
Sadly, even charters in paradise must, eventually, come to an end. Enjoy the relaxing cruise back to St Thomas, reminiscing on the events and scenery you've seen. And start planning your next trip to the islands!
Make an Enquiry Virgin Islands Crewed Motor Yachts
More information:
St Barths Yacht Charter | Bahamas Yacht Charter | Chartering in the Caribbean | Charter Library | Super Yacht Charter
Other Articles of Interest
Charter destinations