BVI Crewed Catamaran 7 Day Sailing Vacation Itinerary - Days 4-7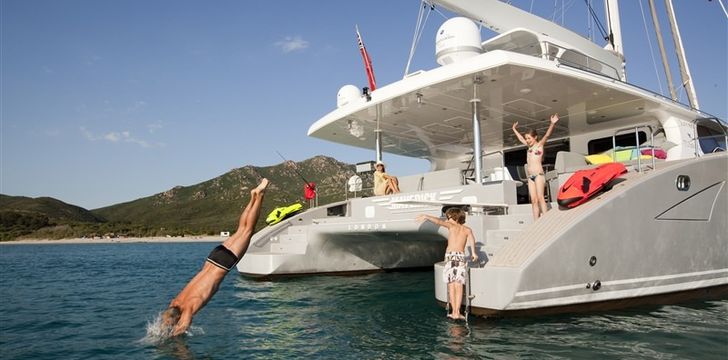 7 Day BVI Luxury Crewed Catamaran Sailing Itinerary - Days 4-7
---
Day 4 - Virgin Gorda to Anegada
Day 4 of your crewed catamaran BVI sailing vacation will bring you to the North Sound Virgin Gorda- this is a boater's dreamworld where you will find several beautiful anchorages and some of the finest resorts and restaurants in the territory. Make a splash in the waves and make the most of the water toys on board- whether you prefer waterskiing, paddle boarding or windsurfing, there's something for everyone to enjoy! After lunch, you will have a one tack sail up to Anegada, which takes just over an hour in the fresh trade winds.
---
Anegada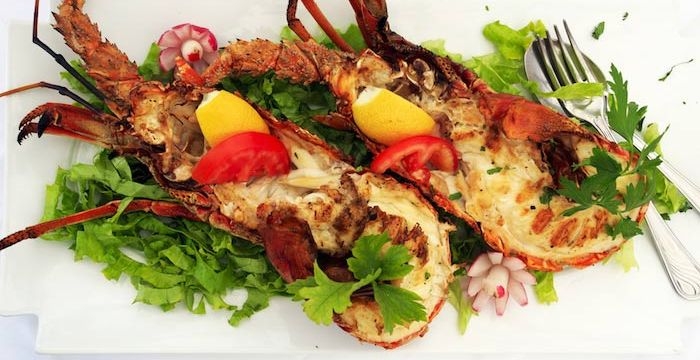 Leaving the Bitter End Yacht Club, pass by Richard Branson's exclusive Necker Island before taking the dinghy ashore for an excellent lobster dinner- this will be one to remember so make sure that you reserve a table in advance! As you reach Anegada, you will notice that it is dramatically different from all the other islands in the BVI chain. Composed entirely of coral, Anegada is known for excellent snorkeling on its reefs and long white beaches. You're also nearly guaranteed to get a beautiful sunset from your mooring.
---
Day 5 – Anegada to Little Jost Van Dyke
Loblolly Bay, Anegada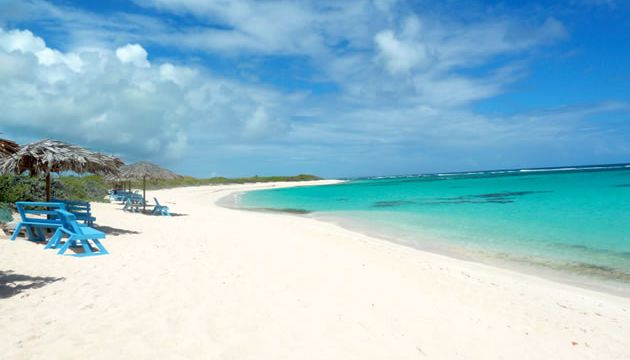 A day in Loblolly Bay takes relaxation to a whole new level- your fifth day will bring you to a 2km stretch of deserted beaches, relaxed lifestyle and excellent snorkeling on the reef. If you're lucky, you might even catch a glimpse of the famous pink flamingos on the north side of Anegada! Jump ashore to enjoy a refreshing beverage at one of the beach bars whilst listening to the waves crash against the beach.
---
Sailing to Little Jost Van Dyke
After returning to the boat for lunch, set sail for a calm 3 hour sail to Little Jost Van Dyke. Don't forget to scan the sea, as often whales and dolphins are spotted!
At Manchioneel Bay, you will find a quiet anchorage on Little Jost Van Dyke. Here, on a small, remote beach lies a wind-battered out-of-business bar that is tended by a scarecrow. This is the perfect place for a bonfire and a dance on the beach in complete privacy!
---
Day 6 – Little Jost Van Dyke to Sandy Spit and White Bay, Jost Van Dyke
Today you'll take a dinghy to the pier at Foxy's Taboo in order to hike to the "Bubbling Pools" - a natural bubbling jacuzzi and an inlet continually refilled by the crashing waves. You will also be able to enjoy a spot of snorkeling at our favorite deserted island, Sandy Spit, and later onward to White Bay, Jost Van Dyke, home to the Soggy Dollar bar and one of the most beautiful beaches in the world.
The Bubbling Pools
After breakfast, take a 5 minute dinghy ride to the pier at Foxy's Taboo at Diamond Cay at the far eastern end of Jost Van Dyke. A walk along the beach will bring you to a sandy path that takes you through mangroves, past a lake and over the rocks (where you can usually see wild goats) and you'll soon reach the Bubbling Pools. This is a great place to swim in the gurgling waters, climb on the rocks and enjoy the rhythm of the waves.
Sandy Spit
Sandy Spit is perhaps one of the most delightful attractions in the BVI. It is simply a deserted island home to some of the world's most beautiful beaches surrounded by swaying trees and beautifully healthy coral reefs. Perfect for swimming, snorkeling, beach games and dreaming what it would be like to be shipwrecked on an island. Anchor on the leeward side, jump in with your snorkeling gear and swim ashore to discover the underwater aquarium that awaits you...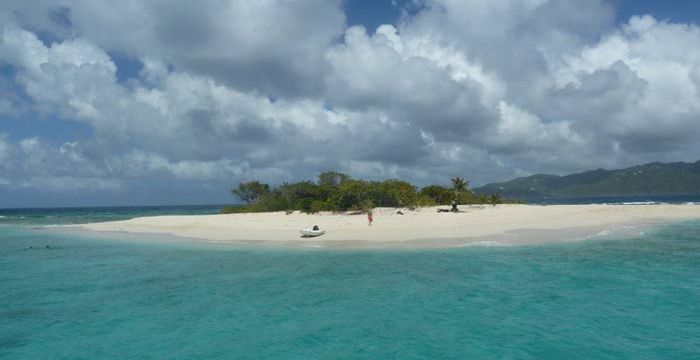 White Bay, Jost Van Dyke
While you will see many yachts moored in Great Harbor drawn to Foxy's (the most famous bar and dancing spot in the BVI), we recommend escaping the noisy crowd and opting for the tranquility of White Bay for a night of excellent food and dancing.
Corsairs is known as one of the best restaurants in the BVI (local fish, meats, pizza, pasta etc.), which is always packed because of its excellent service. And of course, you won't be able to avoid spending a couple of hours dancing at Foxy's and meeting the locals.
---
Day 7 – Soggy Dollar Bar, White Bay, Jost Van Dyke to the Bight, Norman Island
Sadly, this is your final full day, but in many ways, you've saved the best for last!
White Bay, Jost Van Dyke, and the Soggy Dollar Bar
Wake up to the peace and beauty of White Bay. If you have kids, the first activity may be to snorkel around the bay hunting for "soggy dollars" - a lot of people lose dollar bills when swimming to and from their boats. You can then enjoy a beach walk to the eastern end, which is pristine and much quieter. This beach is also home to "Ivans Stress Free Bar" which has thousands of shells incorporated in its construction and is bound to carry all your worries away.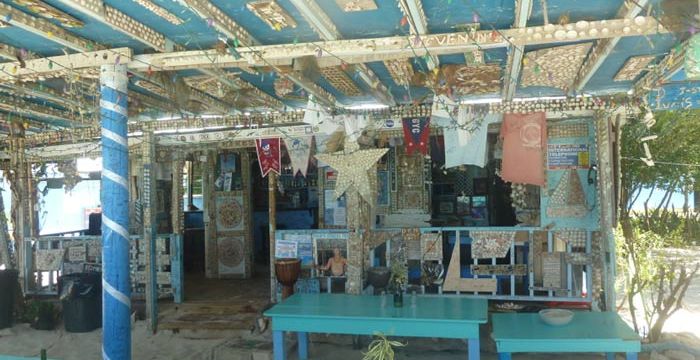 Continue your walk to the end of the beach and climb the hill to get a good view of the magnificent White Bay panorama.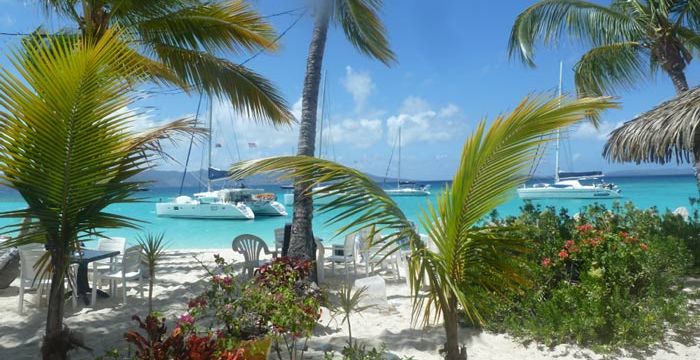 Undoubtedly, you'll want to spend the entire day at White Bay- as one of the world's best beach bars, make the most of the requisite "painkiller" drink at Soggy Dollar Bar as you watch dozens of boats coming and going.
Back to the Bight
In order to get to Road Town by noon tomorrow you'll want a short final sail, so we recommend you head back to the Bight, Norman Island, in the late afternoon.
The route passes the West End of Tortola, with a nice view some of the villas and Soper's Hole, then past St Johns to Norman Island. If you have time, you may want to revisit the Caves or the Indians, or perhaps celebrate your final night in the BVI with drinks and dancing at the Willy T.
---
Final Sail – The Bight, Norman Island to Road Town, Tortola
Snorkeling, Paddle Boarding and Water Skiing in Privateer Bay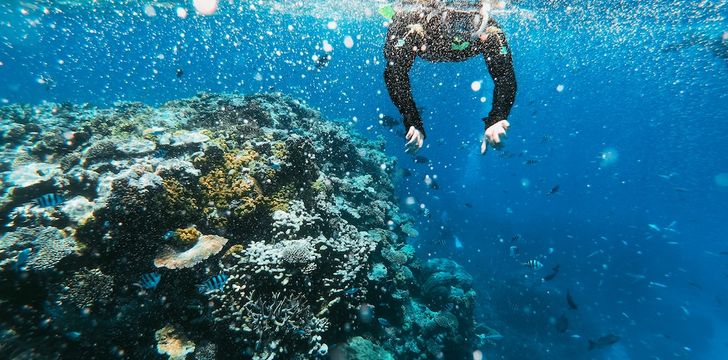 Make the final morning a fun one by starting the day with a light breakfast and then cruising around the point to Privateer Bay- a quiet place with a nice reef for your final snorkel, water ski and paddle board excursion.
Request a Yacht Charter in the BVI
Back to Road Town
All good things must come to an end, but you still have a nice sail across the Sir Francis Drake Channel to Road Town.
Time to pack your bags, say goodbyes, sign the guest book, tip the crew and get ready to leave the boat. If you're leaving by ferry, your captain will be able to take you very close to the Ferry Building by dinghy.
Click here to see days 1-3 of the BVI Crewed Catamaran Itinerary
Our BVI Crewed Catamaran Charter Yachts
If you're interested in this type of a BVI Experience, please see our list of Top BVI Crewed Catamarans. If you would like personal assistance planning your crewed catamaran charter, just fill out our contact us and we'll plan you the perfect holiday for you!
See our BVI Bareboats See our BVI Crewed Catamarans
See our BVI Crewed Sailboats See our BVI Crewed Motor Boats
---
Our Caribbean destinations: The Windward Islands | Antigua | Grenada | Guadeloupe | Martinique | Spanish Virgin Islands | St Barths | Anguilla | St Martin/Maarten | St Lucia | St Vincent and the Grenadines | US Virgin Islands - St Thomas, St John, St Croix
Other Articles of Interest
Charter destinations