St Martin, Anguilla & St Barths Crewed Motor Yacht Itinerary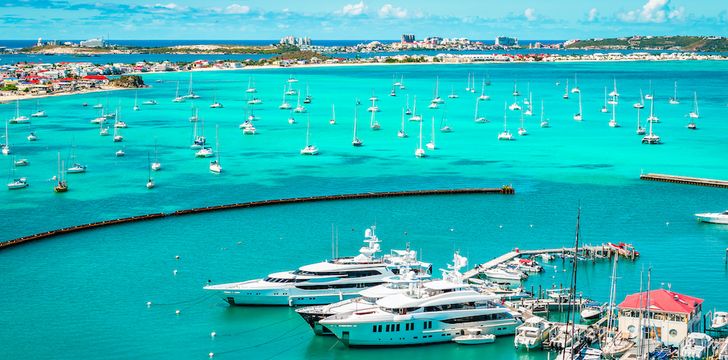 Discover the Caribbean Leeward Island charm from St Martin to Anguilla and St Barths on the ultimate 7 day motor yacht itinerary
The Leeward Islands are cooled by year-round trade winds, with average temperatures of 80°F (26 °C). These islands offer the best cruising grounds, wonderful beaches and many shore side activities where you can dine out or dance the night away. St Martin is perfect for a sailing vacation with short distance sailing to stunning beauty spots such as Pinel Island, Tintamarre Island, Anguilla or St Barts.
For longer charters visit the islands of St Kitts, Nevis, and Saba and enjoy the historic towns, island culture, and stunning scenery these islands have to offer.  French St Martin boasts upscale restaurants, pristine beaches, great snorkelling and diving plus an eclectic blend of European and Caribbean Culture.  Dutch Sint Maarten is shopper's paradise with duty-free shopping – especially jeweller, electronics and designer goods. You'll also find lively casinos, restaurants, beach bars, cinema, shopping malls plus an international airport.
Day 1: St Martin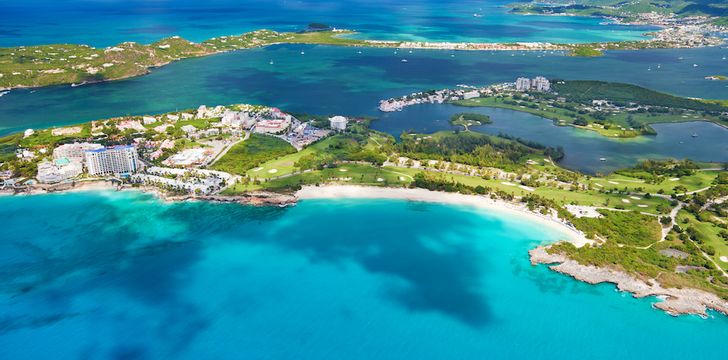 Join your yacht in Fort Louis Marina, Marigot. Indulge in the famous fresh-baked baguettes, bread and pastries from the local cafés and bistros whilst you are in Marigot. Once you are settled in, it's time for an afternoon sail around the bay towards Grand Case, to drop anchor for the evening. This historic and picturesque fishing village is home to quaint West Indian buildings, housing art galleries, boutiques and gourmet restaurants; a connoisseurs dream.  Anchor by the beach for a swim or laze on the foredeck, and take in the views of the Pic Paradis Mountain in the distance.
Day 2: Anguilla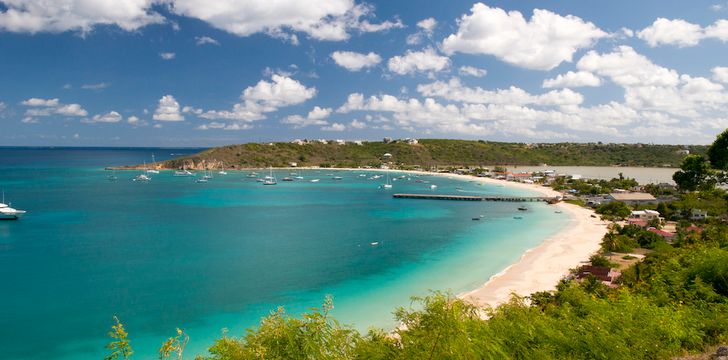 After breakfast, set sail to Anguilla and take in the unspoiled Caribbean in its element. This pristine island boasts charming villages, peaceful harbours and stunning stretches of white powdery beaches. At Flat Cap Point, there's excellent snorkelling under the cliffs, which is part of the Marine Park; the captain will obtain a permit to cruise in this location. At sunset, watch the pelicans dive for a meal, or catch a view of the mating display of the endangered ocean tropic birds, that nest on the island.
Day 3: Prickly Pear
A short sail from Anguilla heading into the Atlantic Ocean is found the natural reserve of Prickly Pear Cays and Seal Island Reefs. This is a wonderful scuba diving and snorkelling spot, with crystal clear water and vibrantly coloured living reefs. A long, white sandy beach is great for exploring, and Prickly Pear's shallow waters are perfect for families with small children.
Day 4: Ile de la Fourche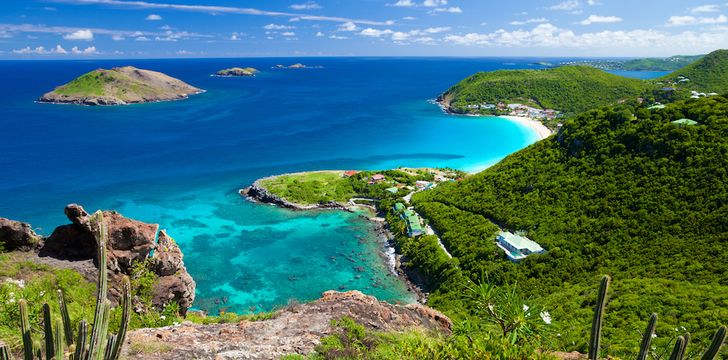 Today will be a fairly long sailing day, so suggest an early start and head for the uninhabited islands of Tintamarre or Pinel Island for lunch, and a spot of swimming in the aquamarine waters of the Caribbean islands. Afterwards, a nice afternoon sail to Ile de la Fourche, which is located off the coast of St Barths. Herds of wild goats are the only inhabitants you will see on the cactus covered rocky hills of this island. Have an afternoon snorkel and keep a lookout for the sea turtles that are often seen here. Climb to the top of one of Fourche's five peaks and take in the panoramic view of the Leeward Islands, as the sun sets on another beautiful day in paradise. In springtime, you may be lucky to see humpback whales as they migrate south.
Day 5: St Barths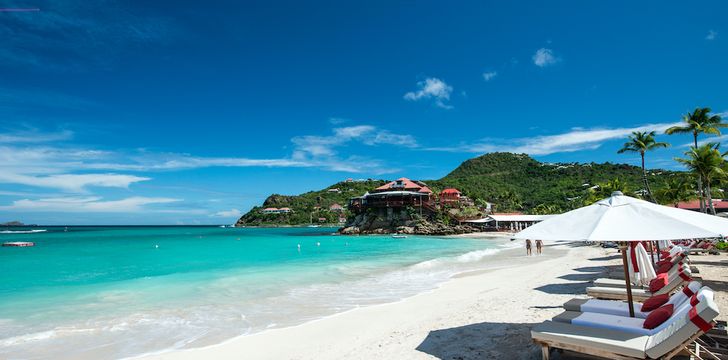 A short sail south will take you into the French island of St Barts. Anchor at Gustavia Harbor, a quaint town with Swedish links. You may wish to snorkel the wreck of the motor yacht, "Nonstop", which sunk in a storm. Or step ashore, browse the exclusive boutiques, or rent a car and tour the isolated beaches (St. Barts is well known for its "optional clothing" beaches), and admire the fabulous homes carved out of the hillsides. In the evening you may want to enjoy the nightlife of St. Barts, the St. Tropez of the Caribbean. Enjoy jazz and cognac, wine and laughter, with some lively Caribbean dancing. You may rub shoulders with the rich and famous on this chic island.
Day 6: Colombier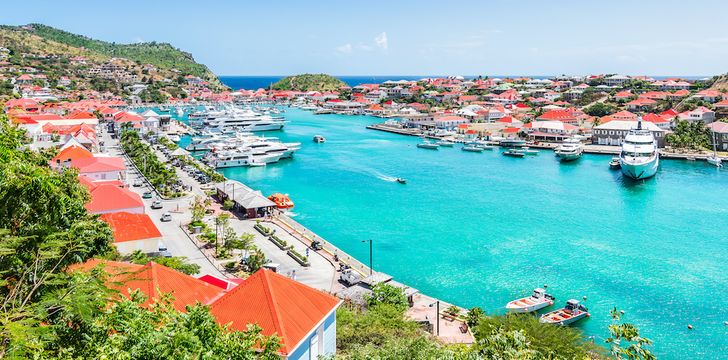 Sail around the harbour to Anse de Colombier, where you'll find a splendid beach that is only accessible by sea or a 20-minute walk along a winding pathway from Flamand, this could explain the peace and quiet found there. Colombier is idyllic and a favourite spot for dolphins. Colombier is a quiet anchorage where you can snorkel, kayak or relax in the sunshine. Stay here and enjoy the peace and tranquillity.
Day 7: St Martin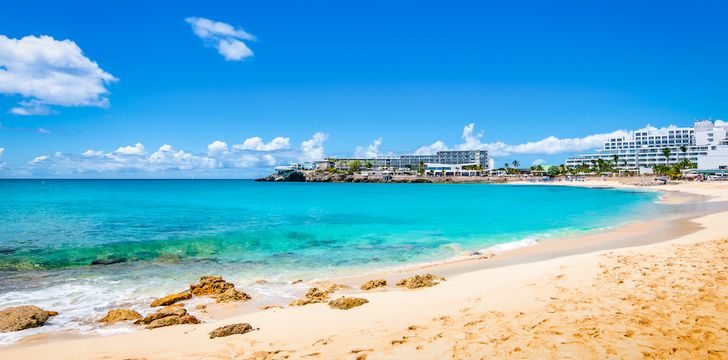 Sail to Philipsburg, St Martin, only a couple of hours away for a shopping spree, or sail on to Simpson Bay where you can visit some of the many casinos and piano bars. For an early start, the following day enjoy a nice sail back along the west coast of St Martin to Marigot for the last evening on board.
Day 8: St Martin
After a hearty breakfast of all the bread and pastries, jump into the water for one last dip before packing. Think of it this way, the sooner you leave, the sooner you can come back!
Other Articles of Interest
Charter destinations