The British Virgin Islands, more commonly known as the BVI, is a yacht charter paradise. The BVI have all of the ingredients for a perfect Caribbean sailing holiday: consistent winds, gorgeous islands, a mixture of deserted beaches, luxury hotels, shipwrecks, beach party towns and, of course, fantastic restaurants.
The impeccable white sandy beaches beckon you to sit back, soak up the rays and chill out, or by the ideal sailing conditions from island to island, the culinary landscape of the BVI naturally reflects Caribbean influences that will dazzle your appetite with all you're looking to enjoy.
Cooper Island Beach Club
This breathtaking sunset stop is surrounded by a sandy white beach dotted with palm trees, connected by a lushly landscaped boardwalk. Happy hour, lunch and dinner menus are infused with delicious specialty options that can include Seared tuna salad and Josper grilled mahi mahi to Aberdeen Angus Steak and Vegan curry. Lunch is served between 12-3pm and dinner between 5:30 and 8:30 pm and is open between October 25th and August 11.
The connected Rum Bar has a collection of over 280 rums, meaning they have the largest selection in the Virgin Islands. Featured are a range of house-infusions, rare aged rums and classic cocktails made with rums from all over the world. Try a rum sampler board and their knowledgeable staff will explain the origins and history while you take in the atmosphere. Be sure to ask about their homemade rum infused chocolates.
Kick back on their comfy outdoor sofas and enjoy the sunshine with a cocktail. The beach bar and decked lounge faces west – perfect for watching a beautiful Caribbean sunset.
Saba Rock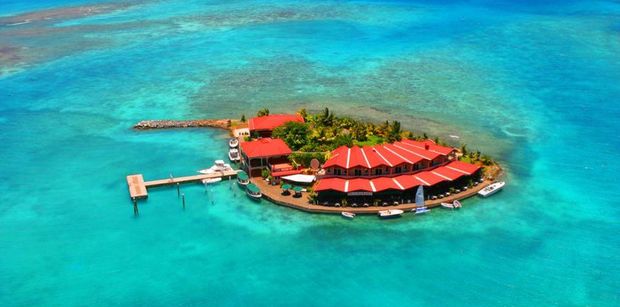 Getting to Saba Rock near Virgin Gorda is just the beginning, as this tiny island resort is only accessible via yacht. Once you arrive, you'll see why this has been a longtime favourite of both locals and tourists. The happy hour here is an especially lively scene. The food, however, is straightforward and comforting. A house specialty is Lobster Escargot, which features locally-caught Anegada lobster baked with lemon, garlic, and butter. Ben sure to take a look at one of the chef's specialties, like the tropical beef stir fry or Caribbean spiced chicken. Wash it all down with a refreshing cocktail. Be warned that The Painkillers here are especially strong.
Note – Saba Rock has been closed since Hurricane Irma and is in the process of extensive renovations. It is slated for a reopening in the 2020 charter season!
CocoMaya
This beachfront restaurant in Virgin Gorda has a chic design – think basket pendant lighting, customised stone bar, and bamboo accents everywhere – and flavourful Asian-inspired menu of shared plates. Sip their signature cocktails in the open-air bar, or drink them right on the sand! Enjoy an exotic blend of Asian and Latin cuisines with creative twists. Try the Spicy Calamari Salad and Tempura Shrimp Lettuce Wraps or try our Sushi, including their famous CocoMaya roll. The wine list is extensive, and the cocktail program is fun, too, with the best seller being the Cojito, a playful twist on the classic mojito that features coconut water and a coconut rim.
Contact one of our Brokers today to organise your Virgin Islands Yacht Charter.