Anguilla Yacht Charter Guide | Leeward Islands

Anguilla Yacht Charters - Exclusively Caribbean!
Anguilla has been one of the Caribbean's best-kept secrets but is becoming one of its most exclusive and sought after destinations. You will find gorgeous, uncluttered beaches, and Caribbean lifestyle with a hint of British Culture. There is a palpable friendliness on the island making it a relaxing charter destination.
Charter clients can fly directly into the Anguilla airport now that the airport has been expanded for private jets. Alternatively, Anguilla is just six miles to the north of St. Martin and reachable in about 20 minutes by boat.
Although the two islands of St Martin and Anguilla are geographically close, they are worlds apart in terms of their character. Anguilla does not have deep-water ports for large cruise ships as St. Martin does. It has become a sought after destination because of its natural beauty and the privacy it affords many celebrities and wealthy visitors who frequent the island. Stylish and elegant, Anguilla welcomes the good life but at the speed suited to the more casual island lifestyle.
Anguilla is a British Overseas Territory, so English is spoken and cars drive on the left side of the road! 
---
Map of Anguilla charter destinations and places to visit
Must do in Anguilla
Malliouhana Hotel is an exclusive spa/hotel that is the perfect spot to spend the afternoon being pampered! 
For a little more action, the most popular beach on the island is Shoal Bay, which is famous for its offshore reef and beach bars (Elioda's, Gwen's Reggae Grill, Uncle Ernie's BBQ, and Madeariman's Reef Restaurant). It attracts many visitors and activity (chairs and lounges to rent, glass bottomed boats to view the reef, etc.).
But don't worry, you don't have to deal with the buzz of Shoal Bay to find a funky beach bar. At Junks Hole Beach on Savannah Bay, try the Palm Grove, a beach bar specializing in rum drinks, crayfish and lobster. It was written up in the New York Times with the ultimate compliment…"Happiness awaits…" 
Happiness also awaits in the lovely gourmet restaurants that help create the 'hidden Beverly Hills" reputation of the island.
Best Restaurants in Anguilla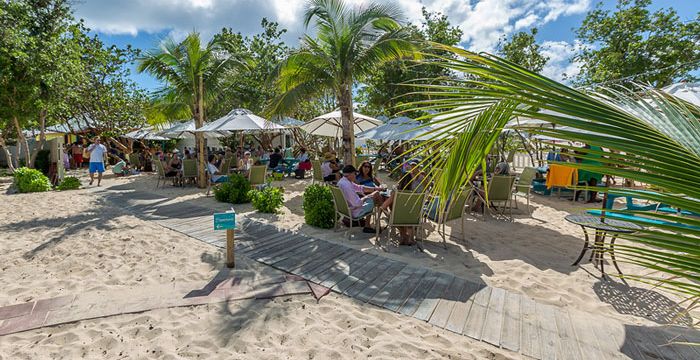 One of the most famous restaurants in Anguilla is Blanchard's in Mead's Bay owned by Bob and Melinda Blanchard. The couple moved to Anguilla from New England and have written a book about the experience entitled Live What You Love. Have you ever thought of chucking your life and moving to an island? If so, this book could be dangerous!
Other gourmet restaurants on the island include:
Altamar, a chic restaurant alongside the architecturally famous Altamar Villas in Shoal Bay.
Koal Keel, an authentic plantation restaurant in the Valley with a 15,000 bottle wine cellar,
Michel Rostang's spectacular restaurant at the Malliouhana Resort on Mead's Bay complete with a 25,000 bottle wine cellar. Santorini's at the CuisinArt Resort in Rendezvous Bay, which boasts an organic farm and offers cooking classes.
Straw Hat, a sophisticated restaurant with local flare built on a pier in Forest Bay.
For a more casual island dining experience try:
Big Jim's Snack Bar at Blowing Point, which supposedly has the best BBQ chicken on the island.
Barrel Stay on the beach in Sandy Ground
Mango's Seaside Grill, an open-air restaurant overlooking Barnes Bay.
La Veranda a new family-owned restaurant in Sandy Ground whose French chef serves Caribe Mediterranean fare with real zest.
Oliver's Seaside Grill at Long Bay.
Tasty's, whose chef and owner was formerly at the Malliouhana Hotel.
Leeward Islands Charter Yachts
---
Our Caribbean destinations: The Windward Islands | Antigua | British Virgin Islands | Grenada | Guadeloupe | Martinique | Spanish Virgin Islands | St Barths | Anguilla | St Martin/Maarten | St Lucia | St Vincent and the Grenadines | US Virgin Islands - St Thomas, St John, St Croix
Sort through the charter yachts below or use these handy links to quickly find the yachts that best fit your needs:
Motor Yachts: Crewed
Catamarans: Crewed
Yachts for Special Events: Motor Yachts

Other Articles of Interest
Charter destinations