Why You Should Choose Boatbookings Yacht Charter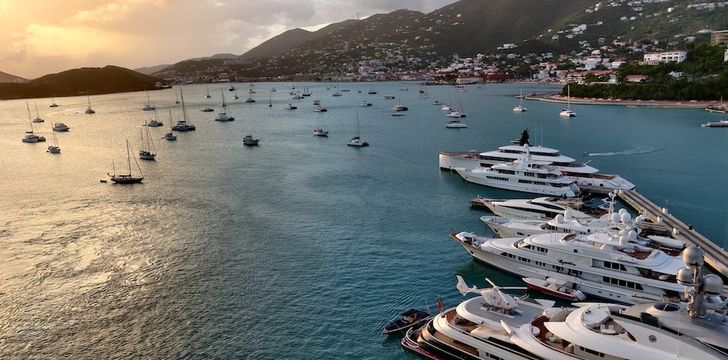 The Advantages of Chartering through a Yacht Charter Broker
The Boatbookings Advantage | Chartering through Boatbookings | Advisory Board Members | Industry Memberships | Testimonials | The Company | Press | Technology and Yacht Charter | Chartering via the Internet | Legal Info | Thanks!
We are independent charter brokers, which means that we work with all of the relevant central charter agents, fleet managers, and owner-operators to find you the right yacht for you nd your family, friends and guests.
Please note: The charter price does not change if you work directly with the manager or with a broker like Boatbookings. Any commissions are already calculated in the price, so nothing is added on for you, the client. This is industry standard, making it the same price to any broker, including the central agent who manages the yacht.
The advantages of using a charter yacht broker 
---
Boatbookings Yachting Industry Memberships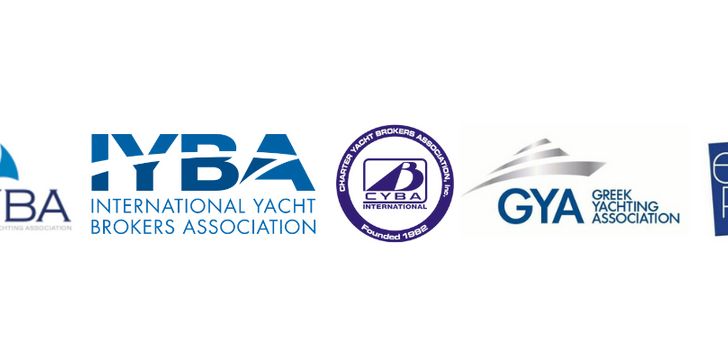 Boatbookings is a proud member of all leading Yachting Associations and Charter Industry Groups all around the world. Memberships are granted to companies with a proven track record of professional excellence in the yachting industry. For many industry organisations, companies are required to hold Professional Indemnity Insurance and meet the strict requirements as outlined in the Statutes. By working with a MYBA Company, yacht owners and charterers benefit from the safeguards that have been established for decades and rest assured they are working with reputable professionals.
Through our memberships, we keep current with marine issues including regulations and safety, visit new yachts and meet the crew, learn about new and changing destinations, and follow market developments. We also sit on many yacht charter committees so that we remain at the forefront of the industry.
Learn more about our industry memberships, the protections they provide you, and their activities here.
---
The Boatbookings Advantage
Boatbookings was founded in 2005 to combine a worldwide network of charter experts with leading technology to deliver the best possible yacht charter experience and memory. By several measures (number of boats available, amount of content, Alexa traffic rank, etc.) we are still the largest charter-only site on the web. We have put thousands of clients on charter yachts, in virtually every major charter destination in the world. Here are some of the key reasons to charter with us:
We are in the business to provide you with the best possible charter experience
Yacht charters are about the magic of life on the water with your family, friends, colleagues or guests. When you book a charter through us we will ask you about the experience you want to achieve, and then provide recommendations for the boat, crew, itinerary and process to ensure that we meet and exceed your expectations. It's not just about the boat!
A worldwide network of Charter Experts located near the boats. In order to deliver the best charter experience, you need someone who knows the yachts, crew, cruising areas, weather, local attractions, restaurants, beach clubs, customs - the list goes on... We have offices around the world with charter experts who know their regions first hand and travel to all the boat and charter shows, year after yeaer.
Free, unbiased, independent advice to get you on the right boat. It's virtually impossible to tell from pictures and specs what the boat or crew is really like, which is where we come in. In consultation with you, we will recommend suitable yachts from among our multiple charter fleets, owner/operators to assure the boat you choose is right for you.
Someone on your side if something goes wrong. While the vast majority of charters go flawlessly, if something does happen, you need someone on your side to help solve the issue. This is especially true if you're chartering in a foreign country where you may not know local customs or speak the local language. We work with our operators on a daily basis, and always work to support our clients before, during and after their charter.
The same or better price if you book through us. The price you are charged is almost always the same as the Charter Fleet, Owners/Operators charge to their direct clients, and propose on their websites. So you get the best of all worlds by going through us: one-stop-shopping, best price, impartial advice, quality, and someone on your side!
The best content in the business. We have literally hundreds of articles available to you on the site, all written to facilitate the process of chartering a boat. Destination Guides, Blogs, How to's, etc. We believe that the more you know, the better the chance of a successful and memorable yacht charter.
The widest selection of high-quality yachts. We have over 12,000 yachts available, worldwide. So if you need a yacht of any type, we know about it. Being able to choose your boat or yacht from a larger list means you have a better chance of finding the best boat for your needs. That said, there are plenty of yachts we do not put on our site or recommend because they do not meet our strict quality standards.
Honest feedback of others who have chartered to help you choose. We ask every client to provide us with feedback on their charter, and we publish this on the site to help you make your decision based on real experiences. We use social media to help communicate this feedback and have very popular Twitter and Facebook pages if you want to see what our clients are saying.
And, most importantly, 97% customer satisfaction rate (and the remaining 3% are normally because of weather).
---
Chartering through Boatbookings
We know that chartering a yacht can be time-consuming. You want to find the perfect yacht, with a fantastic crew, at a reasonable price in the most efficient way possible. And you want to know that the boat you select is in great repair and that there will be no surprises or hidden extras. You may not even speak the language of the country where you'll by chartering!
When you contact us, you get both expertise and a "one-stop-shop" to find you the best yacht for your needs and budget.
All you need to do is fill out an enquiry form and we'll propose the yachts that are available and best meet your criteria. It's as simple as that.
If you'd rather browse through the boats yourself, we offer information, pictures and specifications on thousands of quality yachts and the world's largest online library of chartering information. You can go to our bareboat, crewed yacht, catamaran or Super Yacht sections, search for your specific criteria and regions or check out some of our specials. Or you can start with the destination to search for the boats available in the area you want to charter in. If you're looking for a boat for a specific personal or corporate event, we have information and specific yachts for you as well.
Search by Destination Ask us to suggest yachts for you
Once you find the boat you want, you just let us know, either through the booking form on every yacht page, through a charter request, or just by contacting us. We will confirm availability, specifications and price and get directly back to you. This is a risk-free way of securing your boat - there is no obligation until you sign a contract.
Important note - we do not charge you any fees or commissions. We receive our fees directly from the Charter Fleet Owners and the Charter Operators that we work with, and our price is the same as they would offer you.
Advisory Board Members
Boatbookings has set up an advisory board of key yachting, business and technology leaders who help us through the thousands of decisions required to grow the company into a world yachting leader. Members include:
- Rob Hersov - Previous Chairman of Net Jets Europe and Private Equity Investor
- Nick Pearch - Founding CEO of Dyson & Company and Private Equity Investor
- Brent Hoberman - Founder of lastminute.com
---
Testimonials
We receive hundreds of unsolicited testimonials from happy customers, many of which are added to the boat page itself so you get the feedback from people who have actually used the yachts. Here are just a few of the testimonials we've received.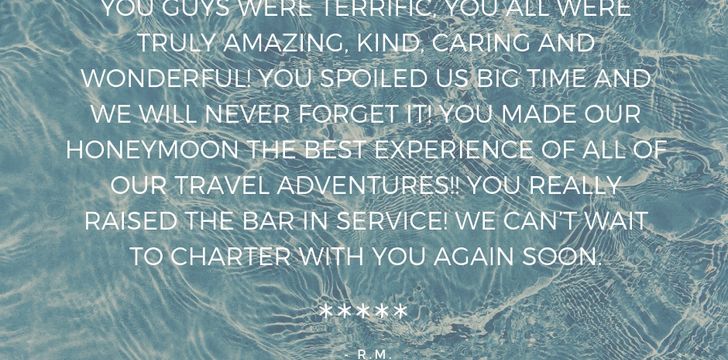 ---
The Company
This website is owned and operated by Enitiative.biz Limited, a company incorporated in England whose registered address is Ground Floor, 45 Pall Mall, London SW1Y 5JG, UK, and whose company number is 05326363. Our UK VAT number is 970 8802 94.
Details of our business addresses and how you can contact us can be found on the Contact Us page. You can also find us on Google Places and Facebook.
Boatbookings has teams in London, Athens, Ft Lauderdale, Newport and Singapore. We work worldwide, primarily through the Internet, to match boats to our customer's requests. We do not own or operate boats ourselves - your contract will be with Fleet Managers, Owners and our charter partners. That way we can be unbiased in finding you the right boat. For additional information on this, see our Terms and Conditions.
---
Press
If you are a member of the press and would like to contact us, see our Press contact page. Our Press releases can also be found there. You may also want to follow our blog for key yacht charter news stories. Our Founder can also be contacted via ProfNet.
---
Technology and Yacht Charter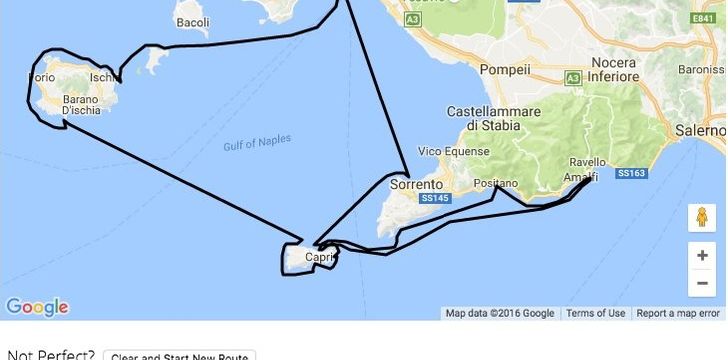 Effective use of technology can greatly improve the process of chartering a yacht, and we continue to add new technologies and features on a daily basis. The website is just the tip of our technology iceberg - behind the scenes we link electronically to our suppliers and partners, keep track of all the tasks necessary to get you on the boat as efficiently as possible, and automate reminders, contracts and forms wherever possible.
We reach out to you and keep you informed via our specials feeds, Twitter, boating news blog and newsletters. We allow users to add comments directly to the site, so that you get real customer feedback to help you decide which boat to select. And we create unique tools such as our map-based trip planner (calculate distance, time, fuel cost for your charter) and our CO2 calculator (estimate your carbon emissions and cost to offset).
Here are just a few of the innovations and industry firsts from Boatbookings: first worldwide Specials RSS Feed, first charter agent to provide an iPhone app, first to provide a free map-based itinerary planner that calculates distance, time and fuel cost, first to automatically calculate estimated CO2 emissions on its yachts, first to offer Carbon Offsets for charter yachts, first to run a promotion so that all yachts were chartered with a Zero Carbon footprint. As technology evolves, we will be there whenever it improves our ability to deliver a great yacht charter experience.
---
Chartering via the Internet with Safety and Security
We believe that the internet provides the best way of finding your charter yacht, short of actually seeing the boat first hand. It can deliver images, videos, descriptions, crew profiles, background information and testimonials instantly, worldwide.
We know many of you worry about booking over the internet - there are too many stories of scams and other unscrupulous behaviours. We are an internet agent because it lowers our costs, and therefore allows us to be more responsive to your needs and more customer service oriented. To give you comfort and confidence in us, however, you should know the following:
We pass your money on immediately to the fleet manager or operator, and they can confirm this for you
We only work with the best fleet managers and charter operators and boat owners, worldwide
We can be reached literally 24 hours per day to deal with any issues you may have
We bank with reputable international banks - HSBC in London and Bank of America (BofA) in the US. If you use the secure site, no one has access to your data, and it is not stored in our system.
We always work with industry-standard Charter Agreements such as CYBA (Charter Yacht Brokers Association) or MYBA (MYBA The Worldwide Yachting Association). These contracts clearly specify owner, fleet manager and charterer responsibilities and protect you in many ways.
We can provide references from the leading Charter Yacht Managers and Industry Associations
We have thousands of happy customers - please read the testimonials section on our site or see a list of our highest rated yachts! We contact every customer after the charter, and last year had 97%+ customer satisfaction!
The above notwithstanding, we do realise that unforeseen problems can happen on charters such as plane cancellations, bad weather or illness, and recommend that you always purchase travel insurance for your peace of mind
---
Legal Information
Please note the terms of use of this site, our copyrights and trademarks, privacy policy and other legal matters as fully detailed on our Legal Pages.
---
Thanks!
To all of our partners, especially the Central Charter Agents, Fleet Managers, Fleet Operators, Skippers, Captains, Crew and Boat Owners who take such great care of the boats and our clients. Thanks also to the manufacturers who create such fine products and generously provide us with beautiful photos and boat descriptions.
In memory of Bjorn G, whose love of sailing, and life, continues to inspire us.
Help me plan the vacation or event of a lifetime!
bareboat charters crewed yacht charters