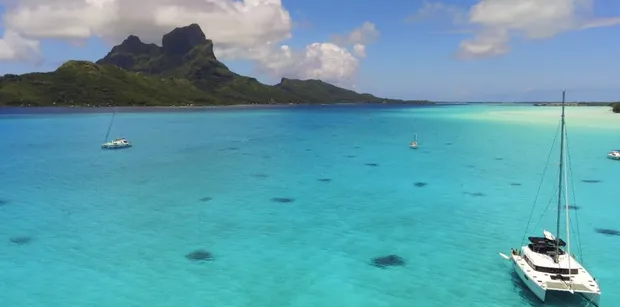 Our family of 5 recently enjoyed a 7-day Tahiti Yacht Charter on a 56-foot Lagoon 560 crewed catamaran. The entire trip was idyllic! In this series of blog posts, we will take you through the arrival, departure, itinerary, cuisine, crew, and lots of other observations to give you a clear picture of what it's like to charter in Tahiti and the brilliance of being on a crewed catamaran.
Note, you can see this entire 7-day Tahiti Crewed Catamaran Itinerary here.
The Yacht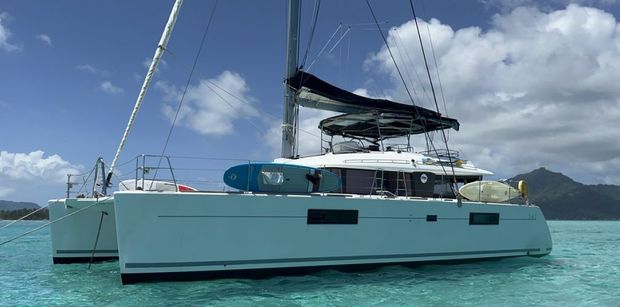 We chartered a Lagoon 560 crewed catamaran through Boatbookings. Lagoons are fantastic catamarans – they offer great open spaces both inside and out, and the cabins are roomy and comfortable. The 560 has a very large flydeck with seating for 8, where we spent a lot of time, especially at sunset, because you get a 360-degree view of the incredibly beautiful surroundings. We ate most of our meals on the spacious and comfortable aft deck, because it is never windy and offers easy access to the galley.
The crew had their own quarters so that each of our children could have their own cabin and bathroom, what a luxury! See the layout below.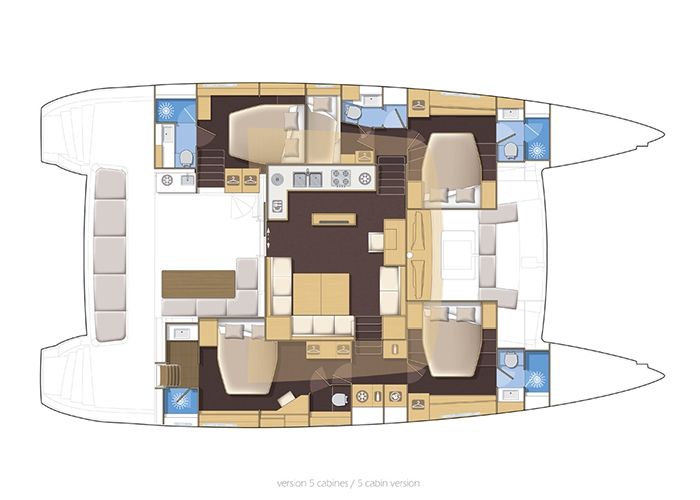 The main salon is large, well lit and comfortable, although we honestly never spent one minute in it – there was too much to do outside!
The boat had 2 paddleboards, 2 kayaks, and plenty of snorkeling gear. We used them every day!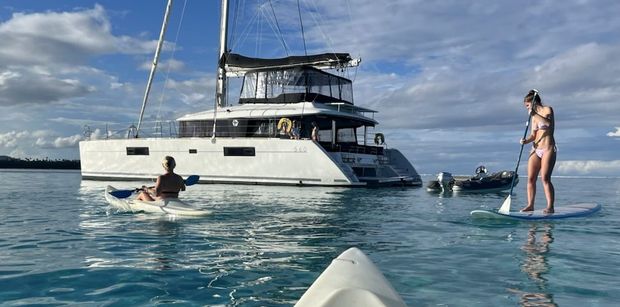 The Crew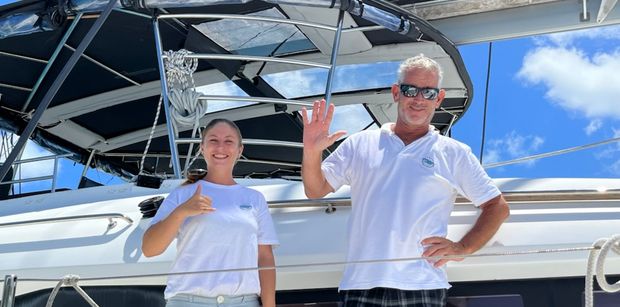 We had a fantastic crew who took care of all of our needs, set the daily itinerary, and produced world-class cuisine (a mixture of french and Tahitian cooking) three meals a day.
Jerome was our captain – he is French and has lived in the Tahitian Islands for 20 years. He knows where the best snorkeling spots are and always moored the boat in quiet, beautiful anchorages so that we had amazing views and sunsets!
Clara served three fantastic meals a day, plus sundowner drinks and hors d'oeurvres so we could fully enjoy the sunsets. She cooked meals to meet our dietary specifications – Tahitian food is, of course, centered around amazing fresh fish, but one of our party didn't eat fish so she always had a great substitute.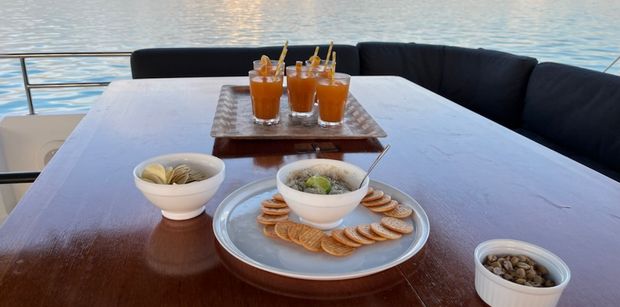 See more in our Tahiti Yacht Charter Guide.
Tomorrow: Travel to and arrival in Tahiti