Yacht Water Toys & Watersports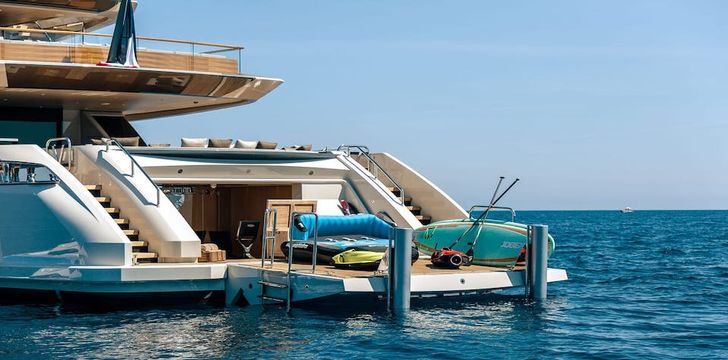 Top yacht toys and watersports to enrich your luxury yacht charter
Jet Skis | Waterskis & Wakeboards | Subwing | Hydrofoils | Paddle Boards | Towable Toys
Seabobs | Waterslides | Jet Lev | Inflatable Toys | Jacuzzis
Not only is a luxury yacht charter synonymous with exclusivity, indulgence and freedom; it is a unique platform for which to enjoy unique and thill-seeking activities both above and below the surface in areas only accessible by yacht. The key to planning an active yacht charter vacation is to ensure the toys and watersports available are going to be enjoyed by the majority for the group. 
Today's modern yachts are host to a fabulous array of toys and tenders operated by an encouraging crew there to facilitate adventurous on the water exploration; whether you are looking to venture further afield by jet ski and waterski, enjoy a peaceful morning paddle, entertain the children for hours on end with inflatables and towables, or to explore beneath the waves via Seabob, Scuba and Snorkel.
Toys and watersports are particularly important for those planning a family vacation or milestone celebration, whether it is onboard a crewed motor yacht, crewed catamaran or bareboat. At the end of the day, it is all about fun and a luxury yacht is the ultimate playground for both adults and children. Below, we outline the most desired water toys to inspire your next charter.
Jet Skis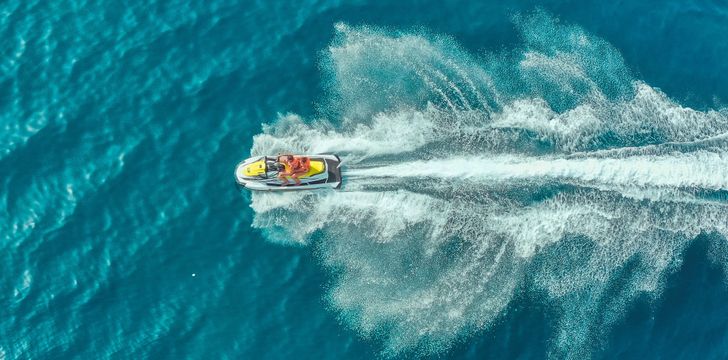 Although a main stay item onboard the majority of motor yachts, jet skis are extravagant and creative toys which excite even the most jaded passenger. Great for those looking for a high-octane adventure away from your anchorage and a bit of friendly competition racing your friends.
Waterskis & Wakeboards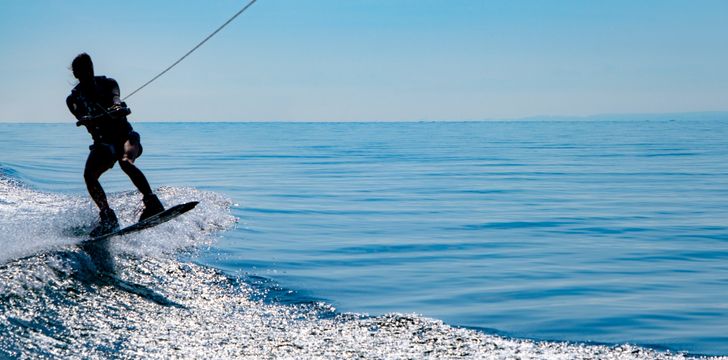 Mountain thrill meets the ocean. This is one of the only water toys that suits the whole family, accommodating both kids and adults for hours of fun and laughter. If you have never tried it before, it really isn't as difficult as it may appear! Usually atleast one is found on the majority of crewed motor yachts and crewed catamarans - any yacht with a tender powerful enough to lift you out of the water.
Subwing
A new toy featuring on board some of the most luxurious super yachts, the Subwing has been described as underwater flying with full freedom and great agility. We are sure it is going to be one of the most popular water toys in the coming years, especially with the daredevils!
Hydrofoils
Introducing the new era of watertoys for luxury yachts; the hydrofoils. Foiling water toys are a must-have for yachts looking to upgrade thier toy box. From hydrofoiling dinghies, to foil boards and even foiling bicycles, there are plenty to choose from.
However the most popular-pick among motor yachts is the eFoil. Hovering above the surface on the foil, completely one with the board, experiencing flight at a top speed of 30mph - you'll remember that moment for the rest of your life.
Paddle Boards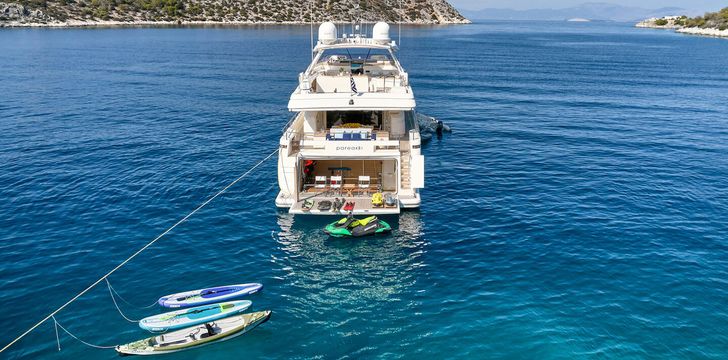 It would be unusual for you not to be equipped with a paddle board or two on you yacht charter; be it a crewed motor yacht, crewed catamaran or bareboat. Glide over coral reefs, float towards a secluded beach, or take a morning paddle around your anchorage and have fun with your friends! The Virgin Islands are one of the best destinations to explore by paddle board - see our BVI Water Sports Guide to find out where you should enjoy Paddle Board Yoga!
Towable Toys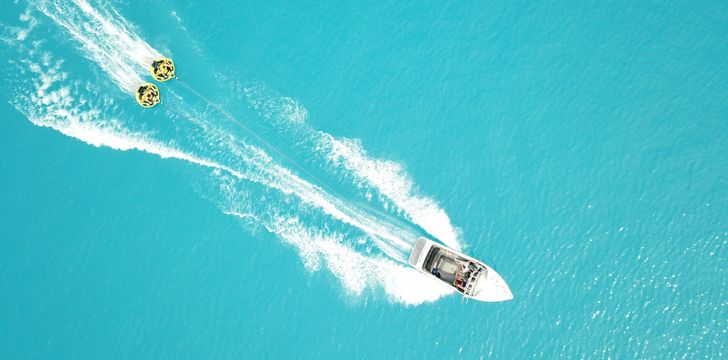 Get close to the water with a wide range of inflatable toys, perfect for towing from your yacht or tender. Inflatables such as donuts and bananas are great for bouncing over the waves at speed and really test your hanging on skills. It's also great entertainment for those who are watching from the safety of the boat.
Seabobs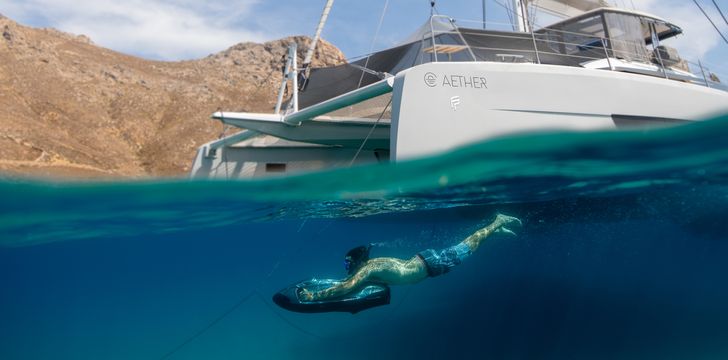 Explore the marine life in a peaceful manner, with no need for flapping about with flippers. The Seabob will take you under the water where you can glide along calmly and quietly, it's a far easier way to propel yourself along than with your own feet.
Waterslides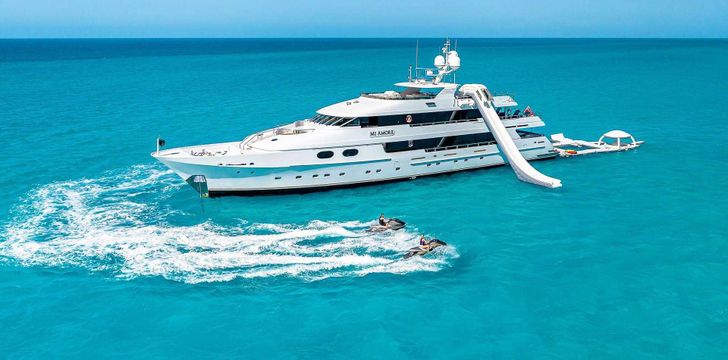 Enjoy your own private water park with a fantastic inflatable slide, custom made to fit your charter yacht. The slide gives you an exhilarating drop down from the yacht's top deck; it is the quickest and easiest way to get from yacht to water and will keep all guests entertained for hours.
Jet Lev
The Jet Lev is the ultimate water toy available for the modern luxury yacht. Perfect for any adrenaline junkies within your charter party, this is a great test of your balance as you find yourself hovering metres above the water, then fly through the air before diving down into the turquoise waters below!
Inflatable Pools & Floating Playgrounds
Inflatable Pools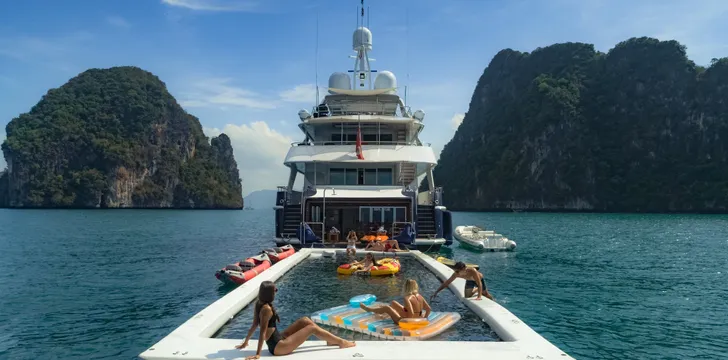 The inflatable sea pool provides a safe swimming environment for both adults and children whilst swimming at anchor. Not only does it work to keep charter guests safe from unwanted sea creatures such as jellyfish, it is designed to protect from the currents. The weighted net gives you plenty of space to splash around and have fun, whilst the strong inflatable frame provides a perfect sunbathing platform too - should you fancy a change from the multiple deck space onboard your luxury yacht.
Floating Playgrounds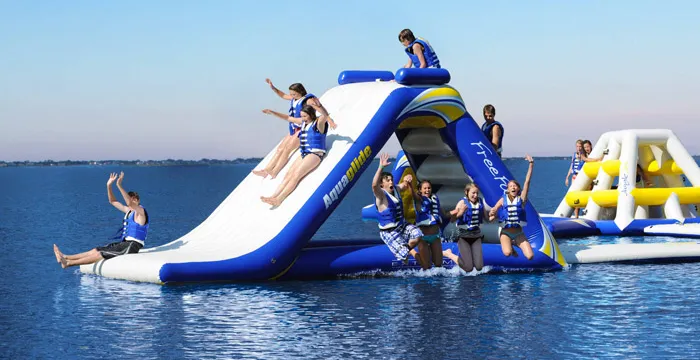 Designed with families in mind, nothing beats the inflatable playground. This piece of kit keeps youngsters entertained for hours as they climb and launch themselevs into the water - untill they are ready for bed. Easily built and deflated by a crew of 2-3, they are perfect to set up for a day at the beach or tethered off the back of your yacht.
Jacuzzis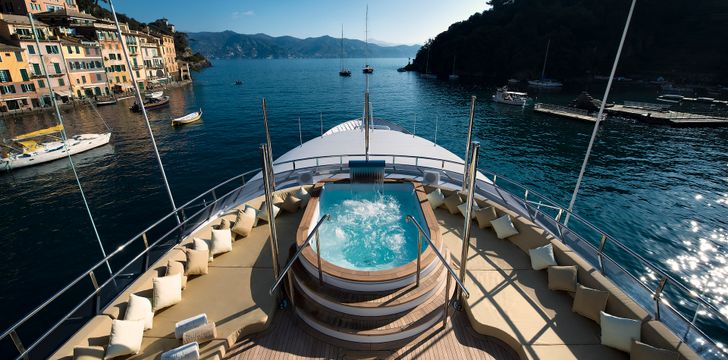 Although not a water toy as such, the presence of a Spillpool or Jacuzzi provies another mean of entertainment and area to relax with sundowner in hand as you watch the sky cast pastel hues over the bay you are anchored in. Only found onboard the larger motor yachts, it is a great alternative for children to splash about in whilst you get lost in a book on the bridgedeck or foredeck.
---
Make an Enquiry
Existing to match you with the ideal yacht to challenge yourself and create lasting memories, our Boatbookings experts are here to chat further and begin planning you next charter.
Plan the Ultimate Yacht Charter
Discover: Caribbean | British Virgin Islands | St Martin | Bahamas | French Riviera | Amalfi Coast | Greece | Thailand | South Pacific
Other Articles of Interest
Charter destinations