Mobile Technology for Yachting and Boats: iPhones, iPads, Android, Kindles
What technology you should bring on your yacht charter or sailing holiday and what to use it for
There has been and explosion of technology that can be used on a charter, both in terms of mobile devices such as Blackberries and iPhones, and also Apps that help you navigate, plan and enjoy your charter experience. On this page we try to make sense of some of the technology and make some suggestions as to what to bring on your next charter.
Mobile Technology Uses in Charters and Yachting
Make sure you see our listing of iPhone apps for sailing, yachting and boating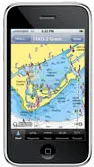 Maps, Charts and GPS Plotting - it's amazing that you can now have virtually every marine chart on your personal computer or mobile phone, and plan your itinerary interactively with the help of images, recommendations, ratings services and tweets.
Weather and Tides - There are numerous apps for weather - from the basic Weather.com services to Marine Weather Forecasts.
Planning and Blogging Your Voyage - There are services that allow you to take a picture on an iPhone (which is automatically geocoded) and send it to a blogging system that allows you to blog your charter or voyage, complete with images, buy just typing in your thoughts.
Entertainment and Games - there are some fun marine games, such as HarborMaster where you have to dock ships and unload their cargo without any hitting each other.
Sailing tools - From apps that provide boating reference guides onlie (navigation rules, maritime regulations, etc) to wind direction and strength, there are an increasing number of apps available for sailors.
Photos and Videos - simply managing your digital photos and turning them into a slide show in the evening for the enjoyment of your guests, is a simple but very fun use of your computer or mobile device, espcially if you hook it up to a television screen.
Devices for Onboard Mobile Computing and Communications
There is a wide and ever-increasing array of excellent mobile devices suitable for yachts and charters. Here are just a few of them.

Blackberry
If your primary need on your charter is to keep in touch with the office, then bringing along your blackberry is probably the easiest and least intrusive way of reading and replying to emails. Blackberries now have WIFI, surfing and apps - so you can Google a port to see which restaurants are recommended, and check out the weather.
iPhone
The iPhone allows you to bring an amazing array of tools and uses onboard in a small unit that is easily used on board. Typical uses are email, navigation, trip planning, music and video player (just bring the composite TV attachment and you have a full cinema on board). A tool that you will use constantly, even if it's to show off all of your great pictures from the day to your party (and emailing them to envious friends). Make sure you have a gel/non-slip protective case for your precious phone, however, as they are quite slippery and you don't want to be diving for your lost iPhone!
Kindle Reader

Why bring 5 novels to read, taking up valuable space and weight aboard, if you can put them all on your Kindle? The Kindle, offered by Amazon, allows you to download and read books and other printed material. This great little tool has amazing battery life - it's very possible that you can read for several hours a day and never have to recharge your Kindle. And because it has an LCD screen, it's easy to read outdoors.
iPad
The recently announced iPad promises to bring excellent functionality onboard your yacht, due to its large screen (as compared to the iPhone) and ability to run iPhone apps. We believe that applications such as mapping will be greatly enhanced by the larger screen. And the fact that it doesn't have a mouse or keyboard is a big plus on board. Time will tell as to the success of this product, at this writing it hasn't shipped yet.
Laptop Computers
Laptop Computers and far more commonly found on boats, and can be used as GPS plotters, trip planners, photo editors and entertainment devices. But, frankly, they must be used with great care as it is very easy to break them while on a yacht, especially a sailing yacht. Make sure you have a nice protective case, and always put it away when not in use.
Conclusions about Technology and Charters
Your choice of technology is totally up to you, of course, and we also completely understand those who want to bring NO technology on board because they're sick of emails and want to just enjoy their gorgeous surroundings without interruption!
Most of our Charter Consultants are fairly handy with technology and can also help you decide how to use mobile computing to enhance your next charter. Feel free to contact us and we will be happy to propose yachts, destinations and itineraries, as well as technologies, that will make for the best charter of your life!
Contact us to plan your next yacht charter
Other Articles of Interest
Charter destinations