Amalfi Coast Restaurant and Bar Guide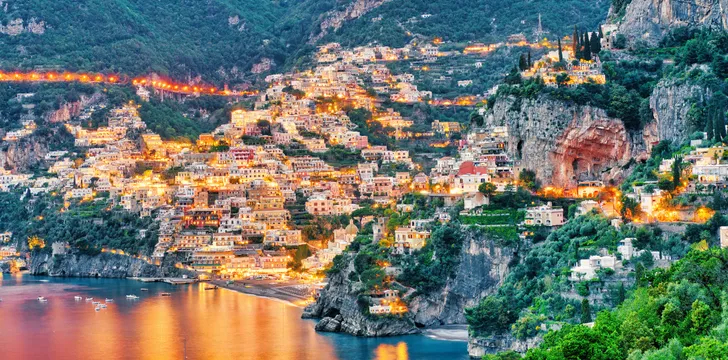 The Ultimate Guide to the Best Restaurants and Beach Clubs in Capri and Amalfi Coast
The Amalfi Coast has long been an iconic destination to visit in southern Italy. From its enchanting towns, sandy beaches and towering cliffs, it continues to charm visitors from stunning Salerno to dazzling Positano. Expect locals to beckon you to sample their culinary delights from town to town, each with its own unique specialities. Among the collection of unmissable coastal gems, we have chosen some of our favourite bars and restaurants which will no doubt ensure everyone will have the full Amalfi coast experience.
Map of the top restaurants on the Amalfi Coast
Click on the markers above to see a close-up of the location of the best bars and restaurants on the Amalfi Coast, as selected by the Boatbookings staff. And then read about them below!
---
The Amalfi Coast Dining Experience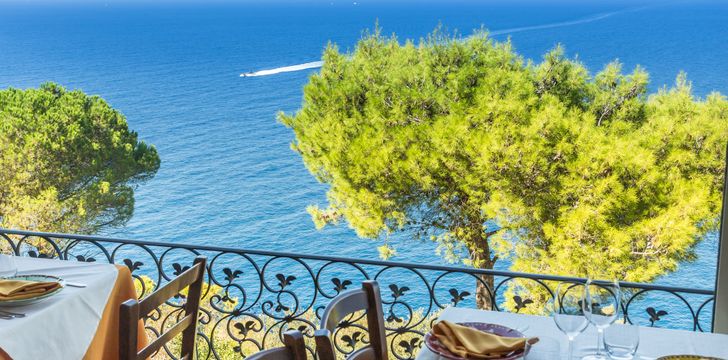 The Amalfi Coast combines the best of Italian cooking with extraordinary views to make it one of the world's most treasured dining experiences.
Many of these exclusive restaurants are accessible by tender from your charter yacht - you avoid parking and crowds and the experience is unique!
---
Positano:

La Bonta del Capo
Even if time is short and you plan on staying for just one day in Positano, be sure to book a table at La Bonta del Capo! Tucked away in the vertiginous cliffs of Positano, La Bonta del Capo is bound to surpass expectations at first sight. Superbly situated overlooking the Tyrrhenian Sea, the friendly and attentive staff will encourage you to try the freshly caught fish, cooked to perfection, fresh pasta and excellent wine. With live music playing, you can expect to party all night long with the locals, ensuring an unforgettable night along the Amalfi Coast.
Bagni d'Arienzo
Here at the beach club Bagni d'Arienzo in Positano, you could almost imagine a movie star stepping off set against the cinematic, picturesque hills and the clear, blue water. Nestled in a cove of stone cliffs with an expansive view on the Mediterranean, enjoy a cup of coffee and a freshly baked pastry in this tranquil setting, before spending the day sprawled out on a sunlounger.
Casa e Bottega
Imagine that you are visiting an Italian grandmother in her cosy kitchen, filled with potted plants and knick-knacks from around the world, whilst a whole sea of scrumptious dishes are freshly prepared in front of you. This is what happens at Casa e Bottega. A welcome change from the traditional Italian cuisine, you can choose from homemade juices, bright salads and freshly baked cakes and bread. The ambience and decor of this Italian café add to the charm of Casa e Bottega, making it the perfect spot to stop off for lunch.
---
Sorrento: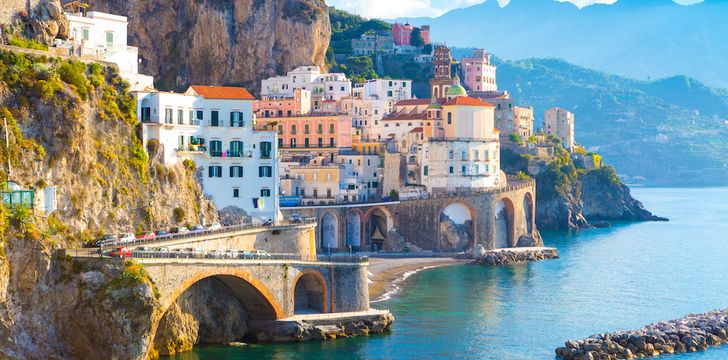 Trattoria da Emilia
If you are searching for an authentic Italian experience, look out for the Trattoria da Emilia in Sorrento, a simple, family-run restaurant, which is actually situated on the sea floor! Welcoming locals, as well as visitors, the charming and attentive staff, will no doubt find a table for you, even at the busiest of times. Based upon the Italian principle of simple and fresh ingredients, at the Trattoria da Emilia, you can choose from a range of wholesome and delicious dishes.
---
Capri: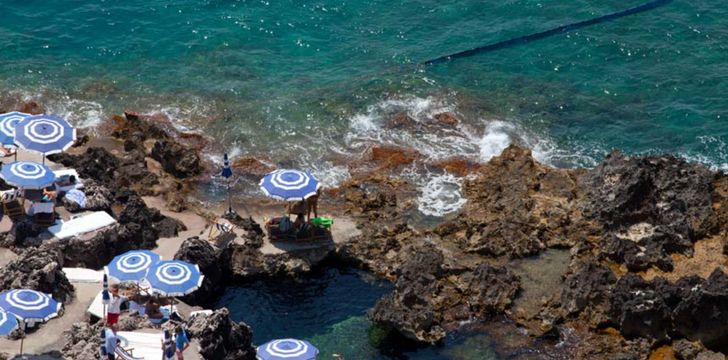 La Fontelina
Looking for paradise? Seek out La Fontelina Beach Club, nestled against the cliffs on the mythical island of Capri. With sunloungers scattered around the rocks, find your own spot to enjoy the summer sunshine and dazzling blue water whilst admiring the view of the imposing Faraglioni rock formation. Chef Mario is bound to impress with his innovative pasta dishes, fried paranza and a glass of iced sangria. Get there nice and early to ensure the best view to enjoy all day long!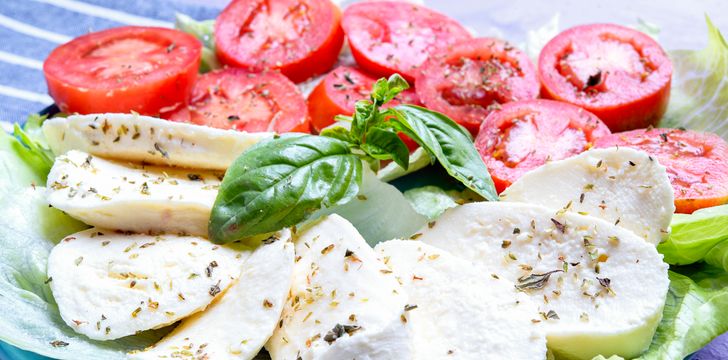 Villa Verde
Just minutes away from the Piazzetta, there's no other place to get an authentic Caprese salad. Expect to dine like a true Italian with the locals and leisurely sip your wine over the course of a four-hour meal. If the authentic extensive menu isn't enough to impress you, however, then the live music after dinner and the wall of celebrities who have visited are sure to!
---
Amalfi: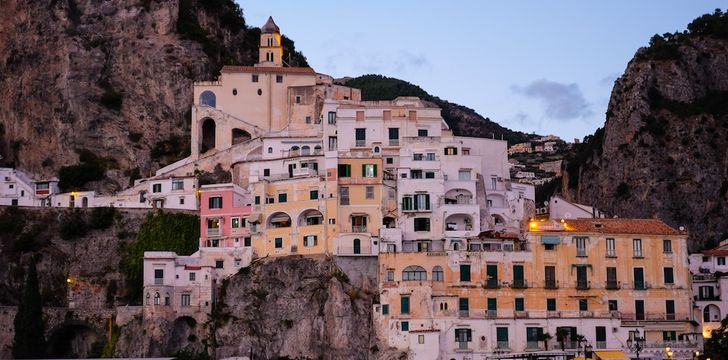 Abside
Located in one of the side streets in a typically Italian courtyard in Amalfi, the friendly waiters at Abside restaurant welcome guests to dine al fresco in the summer sunshine. If you prefer wandering around the less-touristy areas, you will be pleased to find this gem of a restaurant where you can enjoy any of your Italian favourites at a reasonable price.
Eolo
Framed by the iconic umbrella pine trees and blushed pink flowers, Eolo restaurant is located in one of the most picturesque corners of the Amalfi coast. If you're looking for somewhere to bring friends and family, Eolo is the perfect place to enjoy amazing food in a gorgeous setting, overlooking Amalfi. Check out our blog for more details on Eolo restaurant.
Aside from the stunning views, beautiful beaches and romantic towns, the Amalfi Coast offers a wide range of bars and restaurants for you. If this is making you hungry, do get in touch so we can start planning the perfect charter holiday for you!
Amalfi Coast Yacht Charter Request
---
See our Amalfi Coast Destinations: Naples | Capri | Ischia & Procida | Salerno | Sorrento | Positano
Other Articles of Interest
Charter destinations