Returning to the charter market after a 5 metre extension, ICON is the Boatbookings super yacht of the week. With her extra 5 metres ICON now offers a pool on the main deck for cooling off in ultimate style, as well as a voluminous beach club enjoying light from the pool's sparkling glass floor panels. It's in the name that this yacht will always be iconic, but she truly shows what a massive difference a little space makes. Having been lucky enough to visit ICON at the Monaco Yacht Show in 2013, one of the most talked about yachts on display, we were wowed by the huge volumes, open spaces but sense of privacy available.  Icon yachts launched ICON in 2010, with the critics wowed at her ability to offer world-class volumes whilst maintaining a sleek exterior. Following her re-fit and extension she now offers the same beautifully clean lines and a new beautifully contemporary interior.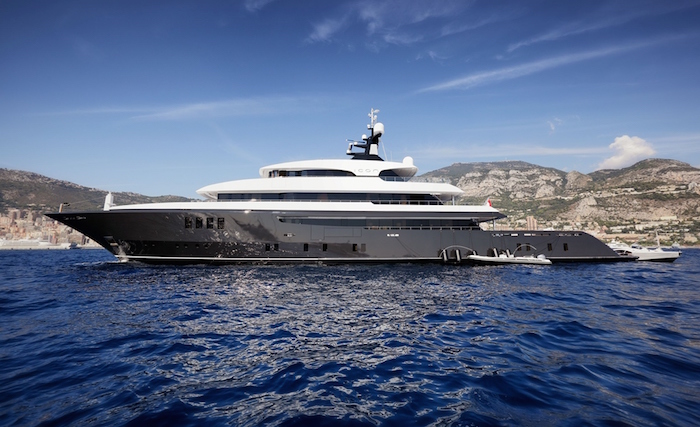 The newly extended beach club on this yacht is a particular highlight, offering a beautifully secluded viewpoint with the option of using the Hammam, Sauna or state-of-the-art gymnasium you will not be disappointed. When it gets a little warm, plunge into the sea or head upstairs for a refreshing swim. Extensive exterior dining and lounging space is available, including the jacuzzi on the bridge deck aft so you can watch the world go by as you cruise the beautiful coasts of the French Riviera, Corsica and Sardinia.
Inside, open spaces stretch as far as the eye can see, with various privacy options to guarantee discretion of the crew and the comfort of charter guests. The master cabin offers duplex living with access to the observation lounge which doubles up as an office. The 4 guest cabins on the lower deck benefit from immediate access to the beach club, which is of course where you're going to be wanting to spend your time! The VIP cabin on the upper deck enjoys stunning panoramic windows as well as access to the entertainment lounge. As well as all this, her ultra-modern stabilisation system will guarantee you the best night's sleep.
A long-awaited and very welcome return to the charter market, ICON is another example of the power of design in yachting. She has shown that a mere 5 metre extension can surprise us all over again, a truly fantastic yacht made even more incredible. She will be cruising the Central Caribbean this winter no doubt including the hotspots of Antigua, St Kitt's and St Bart's. Following this ICON will make her way back to the ever-popular South of France where she'll no doubt be booked up for the 2015 season. Contact us today for more information.