If you're looking for a paradise island with a vibrant nightlife as well as stunning scenery and long sandy beaches, then Mykonos is the island for you. Easily accessible as part of your Cyclades yacht charter itinerary, this island is home to some of the most chic and and beautiful beach clubs in the Mediterranean. We've listed a  few of our favourites to give you a taste of the luxury and fun you will have!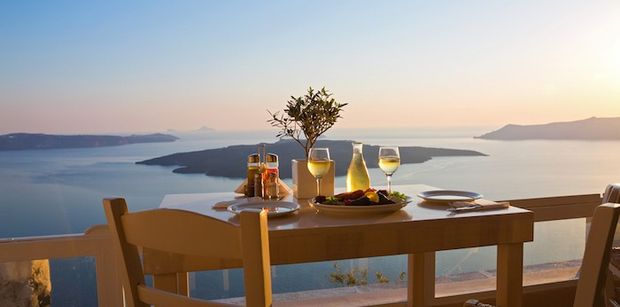 Scorpios
For a wonderful rustic feel, head for Scorpios beach and restaurant near Paraga Beach for ultimate tranquillity and beauty with its simplicity adding to the sophistication. The beachfront restaurant offers wonderful traditional Mediterranean and Greek dishes made from fresh and local produce that are sure to leave you wanting more. Unwind in the sun or shade on the sun loungers with a cool glass of wine and a good book in complete serenity. As the sun goes down, the sound is turned up and you can expect to enjoy some amazing DJs at this dreamlike destination.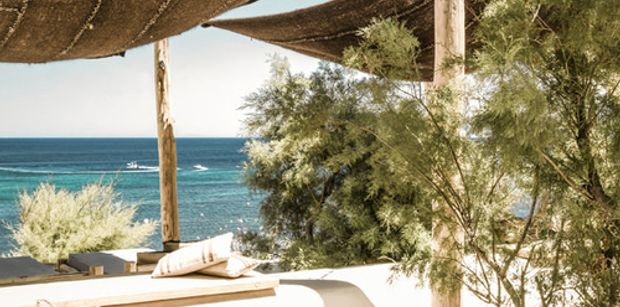 Cavo Paradiso
Visit the premier party venue on the vibrant island of Mykonos built on a deserted hilltop, overlooking the Aegean Sea. The club boasts bars on two levels, a pool in the shape of Mykonos and is host to world-renowned DJs every year, making it an incredibly popular dance destination. With its unique setting outside of the usual clubbing area of Mykonos and with stunning views of both sunrise and sunset, this is a must-visit for anyone who likes their music loud and the drinks flowing. On popular nights, it's worth reserving a table for priority entry and a space to socialise all to yourself.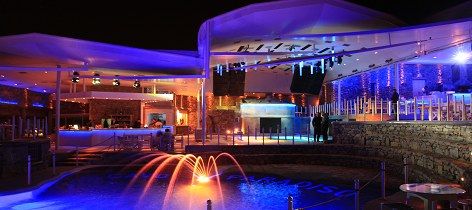 Jackie O'
This beach club offers the epitome of sun, sea, sand and sensational cuisine! With its own oyster bar serving fresh seafood dishes while you sip at champagne, Jackie O' offers an unforgettable beachside experience. There is a separate amphitheatre-style restaurant where you can delight in the culinary delights of the Mediterranean while looking out over the azure Aegean waters. Make a splash in the pool, soak in the jacuzzi or stretch out on a sun lounger before your toes even touch the sand. The beach is part of one of the most stunning natural bays on Mykonos – you can sink into big cushions while you enjoy the sounds of the lapping waves.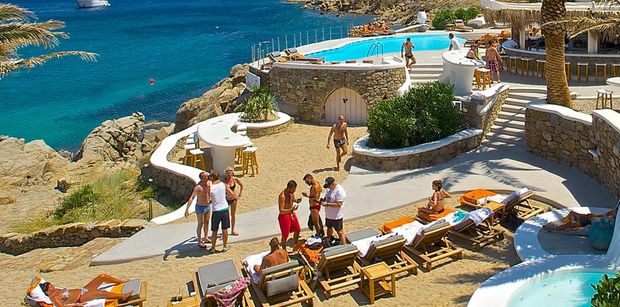 Solymar
Located on the long golden sands of Kalo Livadi beach, this beach club serves a selection of fabulous Mediterranean cuisine in its naturally blended surroundings for a traditional beach feel. Stretch out on a sun lounger beneath a palm leaf parasol while you sip on one of many cocktails from the bar. The staff are there to fulfil your every need to make the perfect day by the sea. Enjoy the fabulous Tiki restaurant after a day soaking up the sunshine for yet more traditional Mediterranean cuisine and perhaps yet more yummy cocktails.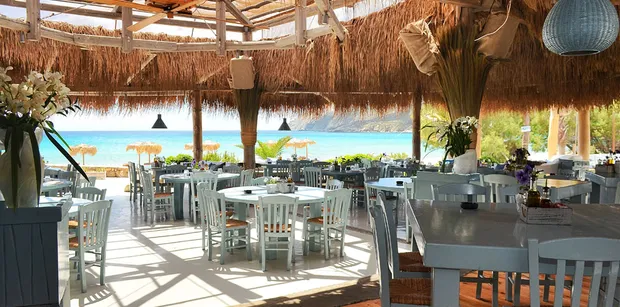 Hippie Fish
This luxury beach restaurant and bar was featured in the film Shirley Valentine and is quirky yet beautiful. Enjoy lounging on the large sun pads or a dip in the crystal clear waters of Agios Ioannis in complete comfort. Be sure to try a few cocktails from the Hip Mixology Bar and enjoy a massage from the resident masseuse to feel completely at one with the surrounding relaxed atmosphere of Mykonos. For especially good seafood, take a seat in the restaurant and you can enjoy a lighter bite from the amazing sushi bar.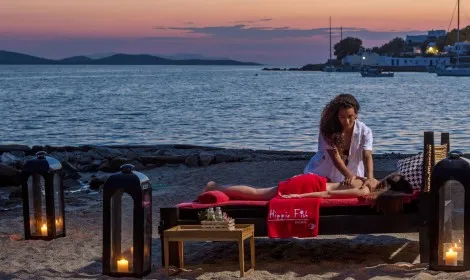 If you want yet more inspiration or are ready to book an unforgettable holiday in the Cyclades, then don't hesitate to contact us for more information and to see some amazing yachts!