Whitsunday Yacht Charter Guide | Australia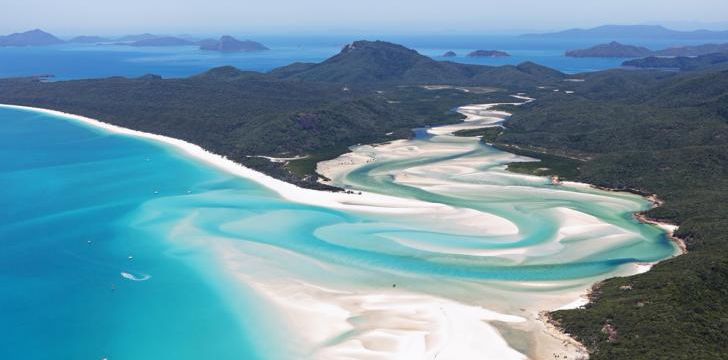 Australia Yacht Charter Guide - Sydney and the Whitsunday Luxury Yacht Charter Destinations
Charter Types | Getting There | Whitsunday Charter Marinas | Whitsunday Sailing Areas | Sailing and the Great Barrier Reef | Whale Watching | Provisioning | Climate and Weather | Whitsunday Charter Yachts
The Whitsunday Islands are the premier yacht charter destination in Australia, with over 70 idyllic islands, most with fringing reefs, and 120 anchorages to explore. This is an all year round sailing destination with a sub-tropical climate. Temperatures are between 22 and 27° all year round, and there are over 8 hours sunshine per day, offering a climate similar to Fiji, Tahiti or the Bahamas.
The Whitsundays is also protected by the Great Barrier Reef, one of the underwater wonders of the world, and a World Heritage National Park. The marine life around the Whitsundays and out to the Great Barrier Reef is stunning, offering some of the best diving and snorkeling to be found anywhere in the world.
Whitehaven Beach on Whitsunday Island (above), the largest island in the group, is 6 miles of pure white silica sand, and has been voted one of the top beaches in the world. If you have seen postcards or brochures of Australia showing fantastic beaches, it was probably Whitehaven Beach! For ideas as to where to go during your charter, see our Whitsunday sailing itinerary.
---
Whitsunday Yacht Charter Types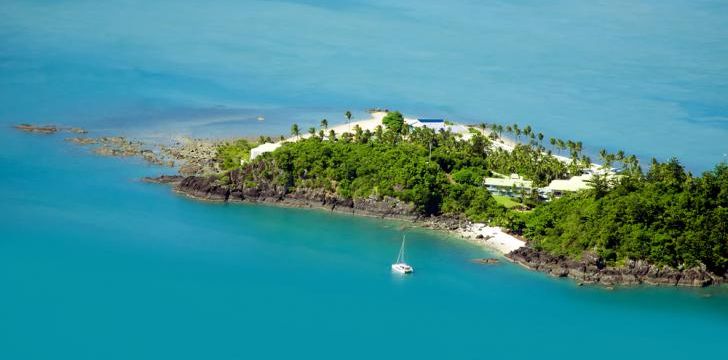 There is a charter yacht to suit all needs in the Whitsundays, ranging from 30 foot bareboat sailboats to 100 foot plus Crewed Luxury Yachts. Here are some of the key Whitsunday yacht charter types, with links to the relevant yachts for your luxury yacht charter in the Whitsundays.
Luxury Yacht Charter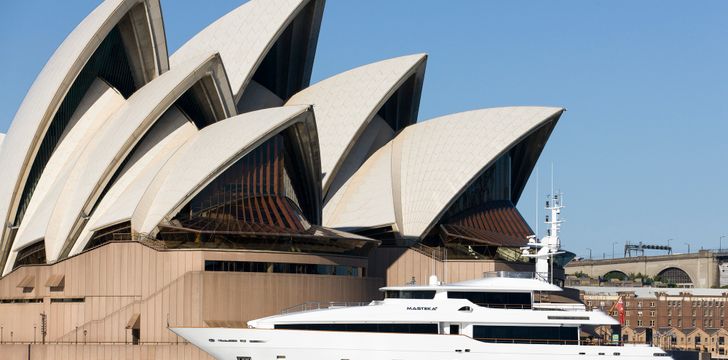 Australia has an excellent luxury yacht selection, from classic to sleek/modern. A luxury yacht charter in the Whitsundays allows you to experience these amazing islands while luxuriating in 5 star service.
Whitsunday Luxury Charter Yachts
Bareboat Charter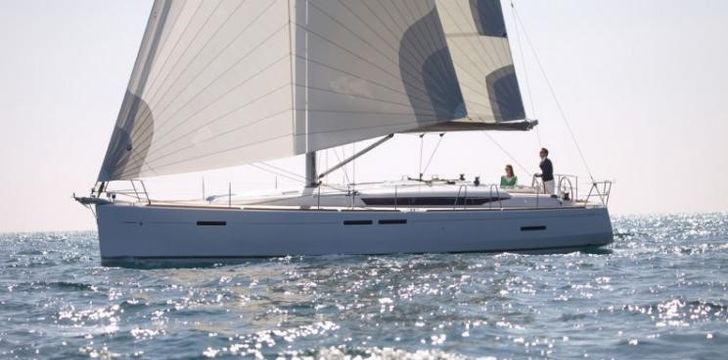 If you're an experiened sailor, the Whitsundays will provide endless options to explore and anchor during your charter. You can have a secluded cove almost to yourself every night, and there is excellent line-of-site sailing. See more information about sailing areas in the Whitsundays below.
Whitsunday Bareboat Charter Yachts
Crewed Catamaran Charter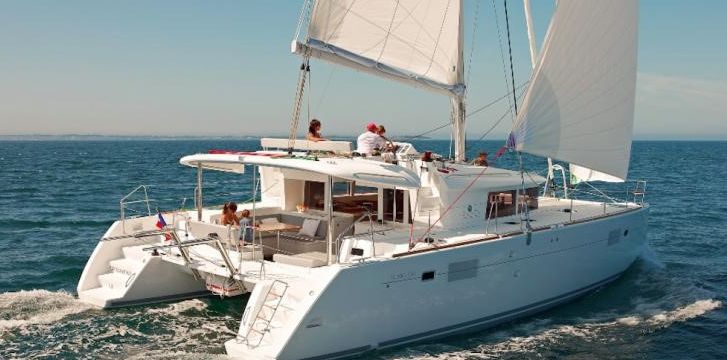 Catamarans are perfect for navigating the Whitsundays, and provide great comfort for families and groups of friends. For relaxed bareboating, or pampered crewed sailing, we highly recommend catamarans. The extra space, privacy, proximity to the water and lack of "rocking" makes for a fantastic sailing holiday. If you're looking for a bareboat, but are worried about sailing a catamaran because of its size, we can find you a capable, friendly and knowledgeable skipper that will help you out but still allow you to sail as much as you like!
Getting to the Whitsundays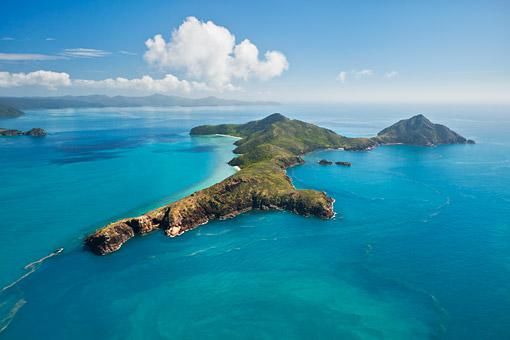 The Whitsundays are in the middle of the Queensland coast, about 700 miles (1100 km) north of Brisbane, and almost 400 miles (630 km) south of Cairns.
International flights to Australia arrive from all parts of the world – Europe, the US, Southeast Asia, and the Middle East – into several major cities, such as Brisbane, Sydney and Melbourne. The distances around Australia are huge, so don't think about hiring a car from there – fly!
You can take a domestic flight to either Prosperine Airport (often called Whitsundays Coast Airport) or Hamilton Island Airport. This domestic flight is around 1.5 hours from Brisbane, and airlines such as Virgin Blue and Jetstar are popular choices. Many domestic flights from Brisbane are direct to Prosperine, whereas flights from Sydney or Melbourne may have one stop. Flights into Hamilton Island are often direct.
From Prosperine Airport, shuttle buses, taxis and private limousines can take you to Airlie Beach. Even a stretch limo can take 7 guests to Airlie Beach for about AUD$130! If domestic flights to Prosperine or Hamilton are not available, then Mackay Airport is a third alternative. This is about 1.5 hours scenic drive couth of Airlie Beach. One-way car hires are possible.
Whitsunday Charter Marinas - Airlie Beach and Hamilton Island
Hamilton Island is actually one of the Whitsunday Islands, and so you can fly to within a couple of miles of your charter yacht if you really want to. Hamilton Island is more of a resort island, rather than a town, so facilities and activities other than swimming, snorkelling or sailing are limited, although there are a few restaurants on the island.
Airlie Beach on the mainland is more of a small cosmopolitan town, with bars, restaurants, nightlife, shopping, supermarkets, banks, and a wide variety of hotels. The minibus transfer time from Whitsundays Coast/Prosperine Airport to Airlie Beach is about 45 mins (about 20 miles).
Whitsundays Sailing Areas
The Whitsunday Islands have all the ingredients to be acclaimed as some of the best cruising waters to be found anywhere in the world. All the major islands lie within 15 miles of the Queensland coast, and all within 3 hours sailing of the main marinas at Airlie Beach and Hamilton Island. The sailing waters are safe and relaxing, all within line of sight, and with plenty of sheltered anchorages always within easy reach.
The Whitsunday Islands are mostly mountainous with fringing reefs, providing a total paradise for snorkeling, diving and sailing enthusiasts. The mountainous nature of the region also means that you are never far from a sheltered anchorage, no matter what the wind direction and strength is.
Many of the Marine Park anchorages have free public mooring buoys, to encourage sailors not to use anchors, and so to protect the reefs. A small fee may apply if the buoy belongs to a resort.
Unlike Thailand, or even the Med and the Caribbean, the Whitsundays have very few beach restaurants where you can stop for lunch on your sailing holiday. There are less than 10 resorts throughout the 70 plus islands, so it is important to pre-provision properly, or you may end up paying 5 star resort prices for breakfast and lunch each day! All these resorts have restaurants, pools and watersports activities.
If you are a snorkeling or diving enthusiast, don't worry about not being able to sail out to the Great Barrier Reef – the underwater world around the northern islands of Hayman Island and Hook Island are world class.
Whitsunday 7 Day Sailing Itinerary
Sailing and the Great Barrier Reef
Bareboat sailing to the Great Barrier Reef is forbidden. By law, only certain charter yachts are licensed to travel out to the Great Barrier Reef, and even then they must have a qualified local skipper on board. There are 2 main reasons for this:
• The weather can change very, very quickly in that area, and there are no sheltered anchorages within easy reach.
• Protection of the reef environment by allowing only qualified local skippers to sail yachts there.
If you do want to visit the Great Barrier Reef during your sailing holiday, one of the best ways to do this is by a seaplane flight. The seaplane will collect you from your charter yacht, take a scenic flight over the reef, and you can land and snorkel for 2-3 hours before flying back to your charter yacht.Day trips on ferries can also be arranged out to the Great Barrier Reef.
The snorkeling and diving that you can find in the northern Whitsundays Islands rivals anything you can find on the Great Barrier Reef itself, and those islands are safe sailing grounds.
Whale Watching in the Whitsundays
During the months of July to September, families of hump back whales migrate north to breed in the Whitsundays. You can often see mothers and calves up close from your charter yacht, you can hear them while snorkeling, and sometimes they will even explore some of the yacht anchorages. You can also join organized whale watching tours.
Provisioning in the Whitsundays
There are no supermarkets throughout the island group. Provisioning for your sailing holiday can be done at Airlie Beach, and to a lesser extent on Hamilton Island. Refills of fuel, water and ice for your charter yacht, or offloading rubbish, are only available at Airlie Beach and Hamilton Island. Therefore, pre-provisioning is strongly recommended for your sailing vacation. You can either do this yourself, or the local yacht charter company can organize this for you.
Climate and Weather
The Whitsundays are truly an all year round sailing and watersports destination. Daytime temperatures rarely drop below about 20°, and also rarely get too hot with maximums around 32°C.
June to August are usually the coolest months (average maximum 23-25°C), with November to February being the warmest months (average maximum about 31°C). Short, sharp rain showers can occur from January to March.
A daily average of over 8 hours of sunshine provides a sub-tropical climate like Tahiti or the Bahamas. This is shorts and t-shirt weather all year round!! Trade winds cool the region most of the year, and are usually stronger between March/April and August/September.
Sailing high and low seasons are more dictated by Australian school holidays, not the weather. So, if you can travel outside the school holiday periods, you can enjoy almost empty cruising grounds and still fantastic weather…..and lower charter prices!
School holidays vary slightly state by state, but September and October, especially mid-September to mid-October, are the key dates when most schools are on holiday, and when many Aussies will head up to the Whitsundays. Check out the school holiday dates from this helpful government site.
Our Whitsunday Charter Yachts
Boatbookings will work with you to understand your needs and match them to the perfect yacht and crew in the Whitsundays. Click here to see a selection of our Whitsunday Charter Yachts or simply contact us and we'll recommend the best boat for your luxury yacht charter in Whitsundays.
See our Whitsunday Charter Yachts
Contact us to plan out Whitsunday Charter Holiday
Other Asia Pacific Destinations: Thailand | Myanmar/Burma | Malaysia | India | Singapore | Tahiti
Other Articles of Interest
Charter destinations