7 Day Virgin Islands USVI Sailing Itinerary | Spring Break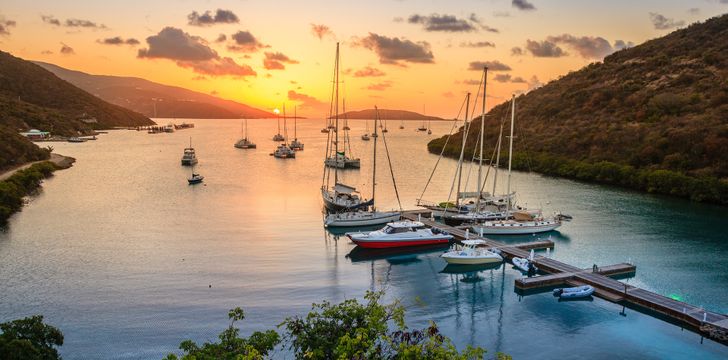 Discover the Virgin Islands on this 7-day sailing itinerary to the best islands, cruising and attractions in both the US and the British Virgin Islands for Winter and Spring Break 2024
The British Virgin Islands and US Virgin Islands are without a doubt one of the most popular, yet relatively unspoiled, yacht charter and cruising destinations for sailors of all stripes. Whether you chose to cruise and charter a luxury crewed catamaran in the BVI or take the helm yourself and rent a bareboat sailing yacht, our Charter Experts will tailor an itinerary bespoke to you and your guests' needs and interests.
More and more charters and cruises are now leaving from Charlotte Amalie on St Thomas, sailing to beautiful St John, and then taking in the many wonders of the British Virgin Islands. For Americans, it is easy to get to St Thomas, so instead of trying to fly or water taxi into Tortola, why not sail there and avoid the hassle?
---
Map
---
Day 1 - Charlotte Amalie, St Thomas to Caneel Bay, and Maho Bay, St John.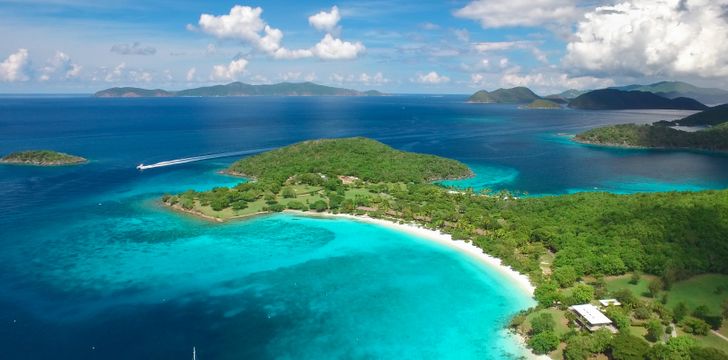 After arriving and picking up your luggage at the airport, meet your boat or yacht at the marina in St. Thomas and head directly east to St John, one of the three main islands in the USVI. St John is almost entirely a National Park and offers many secluded bays and beaches.
Stop for lunch and snorkeling at the famous Caneel Bay.  When you've finished enjoying this beautiful bay, set off again for a short sail to Maho Bay. Enjoy paddleboarding, a walk on the beach, or snorkeling with the sea turtles.
Watch your first Virgin Islands sunset while enjoying a beverage of your choice!
---
Day 2 - BVI Customs, The Caves, the Indians, and Deadman's Bay, Peter Island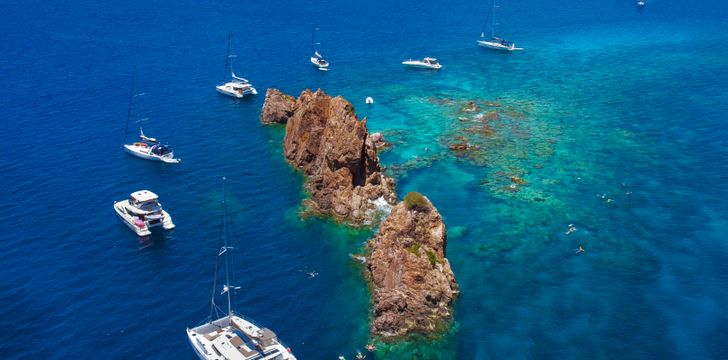 Snorkelling Day! After a quick stop at the Customs House in Sopor's hole Marina, West End Tortola, your first stop is the Indians, dramatic rocks jutting out of the sea near Norman Island that offers fantastic deepwater snorkeling.
After a good snorkel there, have lunch and cruise over to the famous Caves at Treasure Point on Norman island, just around the corner from the Bight. These fascinating caves are reputedly the caves that gave inspiration to the book Treasure Island. Swim with the current to look at each cave in succession, for some amazing tropical fish in all their splendor.
Finally, head up to Deadman's Bay on the famous Peter Island. You're sure to see a sea turtle or two as you paddleboard or kayak to this gorgeous beach.
---
Day 3 - Wreck of the Rhone, The Baths, and North Sound, Virgin Gorda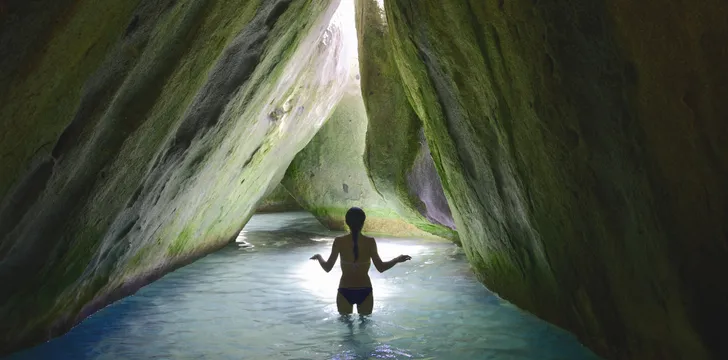 After a morning swim with the sea turtles, another day of seeing the best of the BVI awaits! The first stop on your charter is snorkeling or diving around the famous Wreck of the Rhone, a well-preserved Mail Boat Steamer that sunk during a hurricane in 1867. You can see the propeller, the ribs of the boat, and normally a few inhabitants such as a big grouper.
Dry off and head north to the Baths, the most famous BVI attraction. Walk among these amazing boulders on the marked path, swim in the hidden pools, or just enjoy the beautiful beaches on both sides. If you head to the Baths in the afternoon, you'll likely find fewer crowds. You may want to hike up to the Top of the Baths restaurant for an amazing view of Sir Francis Drake Channel.
Then sail by the gorgeous beaches and villas on the way to the famous North Sound, Virgin Gorda. Moor at the newly renovated Bitter End Yacht Club one of the renowned BVI hotels with a great marina. The Bitter End was destroyed by Hurricane Irma has recently reopened better than ever. Dinghy over and enjoy a great dinner at the newly rebuilt Saba Rock Resort.
---
Day 4 - Anegada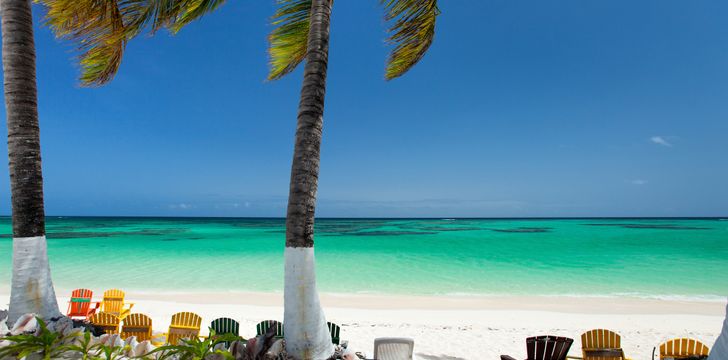 After enjoying Virgin Gorda, it's time for a completely different experience. Sail directly north to Anegada, past Richard Branson's Nekker Island. This is the only sail that is not line-of-sight but it is an easy sail due north with the traditional tradewinds from the east (no tacking necessary!). Keep an eye out for whales and dolphins along the way.
Anegada is different from the other BVI islands because it is entirely a coral reef and not volcanic, and part of a massive reef protecting the BVI from the Atlantic. Moor at Pomato point on the western side with all the other catamarans and then it's time for some water sports and a long walk on the beach (or cab ride if you wish) to Cow Wreck Bar. You will fall in love with the long, uninhabited sandy beaches.  Maybe some more paddleboarding or tubing before a gorgeous sunset; they always seem to be amazing here.
Dinner ashore for grilled lobster caught that day and barbecued on the beach, and maybe some dancing in the sand! 
---
Day 5 - Guana Island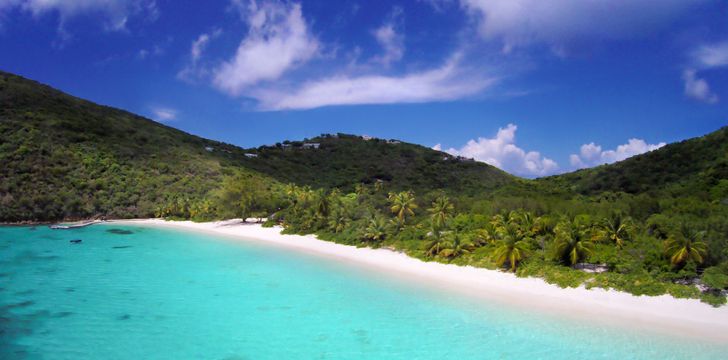 For another perfect secluded beach, on an island that's green and virtually untouched, sail southwest from Anegada to Guana Island. Walk on the beach, and do some water sports in a secluded bay. Sundowners are a must!
---
Day 6 - Sandy Spit, and then White Bay and Great Harbor, Jost Van Dyke
On the way to Jost Van Dyke, a great snorkeling stop is Sandy Spit, the quintessential Caribbean deserted island. To many, this is their favorite stop in the BVI - when else do you have a Caribbean island to yourself? Have lunch and then cruise over to Jost Van Dyke!
Now that you're relaxed, it's time to take it up a notch as you zip over to Jost Van Dyke and spend the afternoon at the Soggy Dollar Bar, reputed as the world's best beach bar! Grab a "cheeseburger in paradise" and a t-shirt or two to commemorate your time here. Hang your college banner in the rafters. You may want to check out the other bars and restaurants as well, such as Ivans Stress-Free, Gertrudes, or One Love - they all have a vibe of their own, and are certainly "beach rustic".
As the sun begins to set, head to Great Harbor for dinner ashore and, if the mood suits, dance at the World Famous Foxy's Bar. 
[Experienced sailor's note - if you are arriving during high season, you may want to grab a mooring ball first in Great Harbor and dinghy over to White Bay - the mooring balls go quickly.]
---
Day 7: Buck Island, Charlotte Amalie (STT)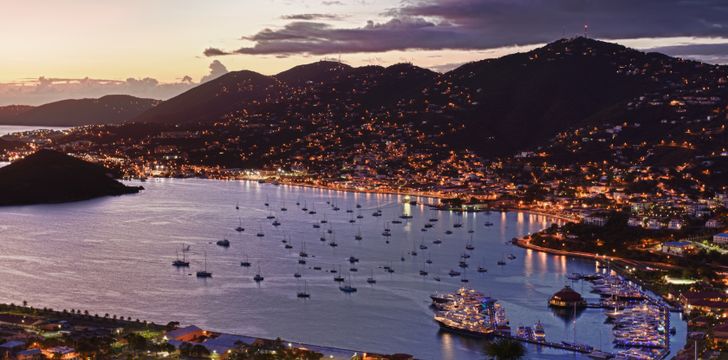 You have a downwind sail back to Charlotte Amalie, where you began. If you have time, stop by for a final swim at Buck Island for some amazing snorkeling before heading home. 
You will need to go through customs again when you enter St Thomas, as you are "back in the USA". Once you've passed through customs, you may want to enjoy the attractions of Charlotte Amalie including Emancipation Gardens, the 99 steps, and the historic Fort Christian. And of course, there's abundant duty-free shopping at Vendor's Plaza or in any of the downtown boutiques.
---
Boatbookings has almost 20 years of experience organizing charters in the Virgin Islands. We're experts in matching the right boat and crew with your party! Contact us if you'd like a personalized proposal!
Contact us to plan your USVI Charter
---
Our Top Virgin Islands Catamarans