The Bahamas after Hurricane Dorian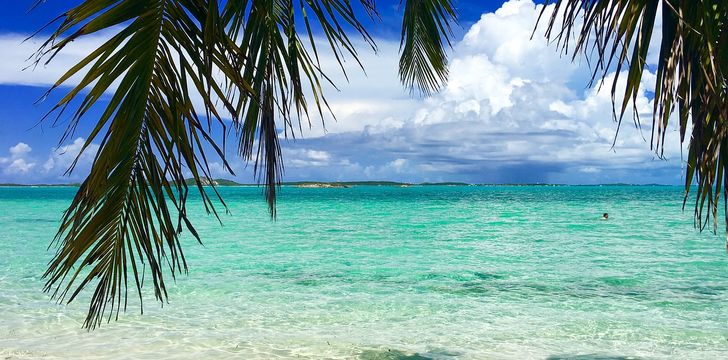 Status of Chartering Areas in the Bahamas as They Rebuild After Hurricane Dorian  
"The best thing you can currently do for the Bahamas to simply visit the Bahamas"
- Bahamas Ministry of Tourism & Aviation 
Hurricane Dorian created massive destruction in the Bahamas, with the most destruction on Great Abaco and Grand Bahama Islands. Our hearts go out to all residents and citizens of the Bahamas!
We have created this page to be your source for information regarding yachting, sailing and chartering in the Bahamas after Dorian, and we will chronicle the rebuilding of the islands.
Thankfully, most of the Bahamas chartering areas have been virtually untouched by Dorian so yachting and tourism can still flourish. Ultimately, by continuing to visit this pocket of paradise, the Bahamas will be up and running again in no time.
---
What happened to the yachts based in Marsh Harbour and the Abacos?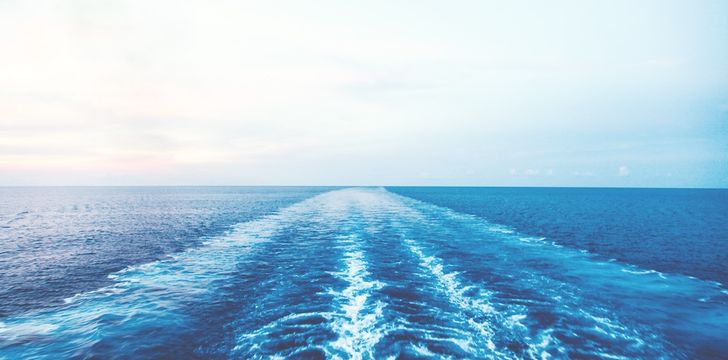 In preparation of Hurricane Dorian, yacht owners and managers moved their fleets down south to Nassau and surrounding areas, protecting hundreds of charter yachts from Dorian. Besides the obvious change in location, yachting is still available to go ahead. The Exumas offers some fantastic sailing, with some very popular destinations like Pig Beach and Pablo Escobar's sunken plane. Check out our Exumas itinerary here.
---
What airports are open in the Bahamas after Dorian?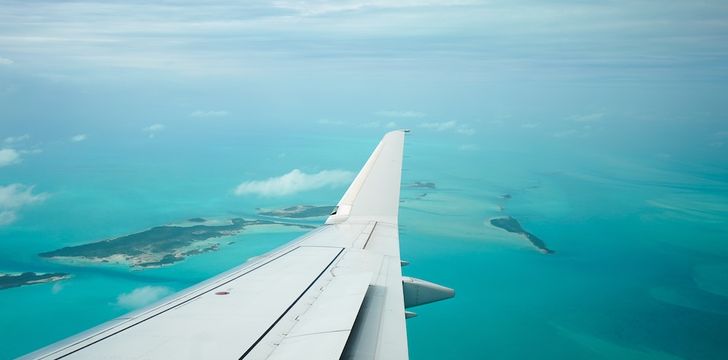 Thankfully, many airports have not been affected by Dorian, and therefore the
Bahamas
are easily assessable with a range of international flight providers. The main airport, Nassau, is open for business as usual. To date, only two airports are closed from Dorian: Grand Bahama International Airport (FPO) and Abaco - Leonard Thompson International Airport (MHH). These remain closed / only open for relief aid.
Open
- Nassau - Lynden Pindling International Airport (LPIA)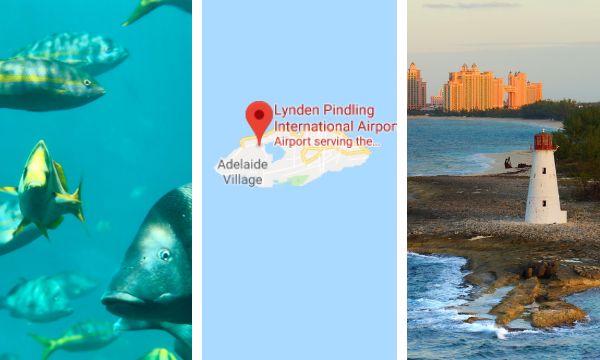 "The gateway to the
Bahamas
" and international airport with fantastic, modern facilities. Ranked the 4th busiest airport with major airlines frequently landing into the corner of paradise. Flights from the US are easily obtained, from JFK > Nassau flight times are roughly 3.5 hours. LAX >
Nassau
, with a short stopover in Miami or Ft Lauderdale, average flight times range from 7-10 hours. From the UK, you can book direct flights from London, Heathrow and land in Nassau under 9 hours later! 
---
- Exuma Airport (GGT)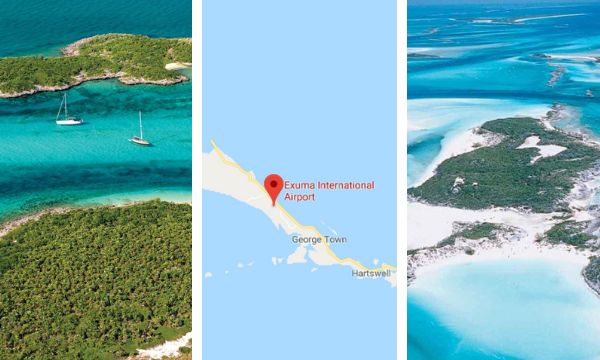 Based on the Great Exuma island, located close to George Town. This airport hosts one single runway, with a typically Bahamian looking airport. The airport services light aircraft, normally traveling in from close by islands. They can also service some regional jets from the United States and The Bahamas - however some airlines land in seasonal times only. You can book a flight connection from
Nassau
> Exuma airport which takes roughly 40 minutes. 
---
- South Bimini Airport (BIM)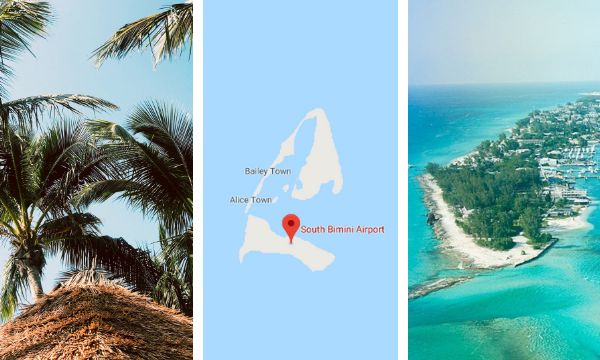 There is only one airport on this stunning little island located between Miami and
Nassau
. Scheduled daily services landing in Bimini from Nassau, Grand Bahama Island, and Florida. 
---
- North Eleuthera Airport (ELH)

Based in the Northern part of Eleuthera Island, the airport is small but active! There are various ways to reach the island by air. The most cost-effective way to reach Eleuthera is to fly into Nassau and get into a separate connection from one of the three airline providers: Southern Air, Bahamasair and Pineapple Air. The second option is to book direct with a single carrier.
---
- Long Island - Stella Maris Airport (SML)

SML airport is located close to Stella Maris, Lond Island. The airport has one runway and is primarily served by Bahamasair and small light aircraft. Flights are normally to and from Nassau bringing tourists into the heart of the Exumas. Flight time from Nassau to SML is roughly an hour.
---
- Long Island - Deadman's Cay Airport (LGI)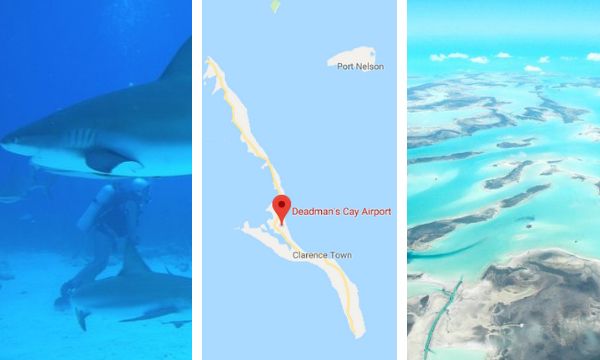 LGI primarily serves Clarence Town on the island, a tiny airport with a singular runway. While many land in SML, some may find that flying into LGI suits them better in terms of location. Bahamasair serves this airport along with Southern air with direct connections to Nassau. Flight time is roughly 50 minutes with ver two flights a day landing on this stunning island.
---
Bahamas Chartering Areas Status after Dorian
The map above shows the areas in the northern Bahamas affected by Dorian. Most of the Bahamas were thankfully not affected.
Closed Indefinitely
- Marsh harbor, which is one of the key bareboat starting points, is closed indefinitely
- Freeport marinas
Open for Chartering
Most of the southern islands of the Bahamas, including Nassau, Paradise Island, Eleuthera, and The Exumas, are virtually untouched and open for business.
Key attractions such as Atlantis Paradise Island and the Swimming Pigs are open and untouched.
---
Please feel free to donate from the following list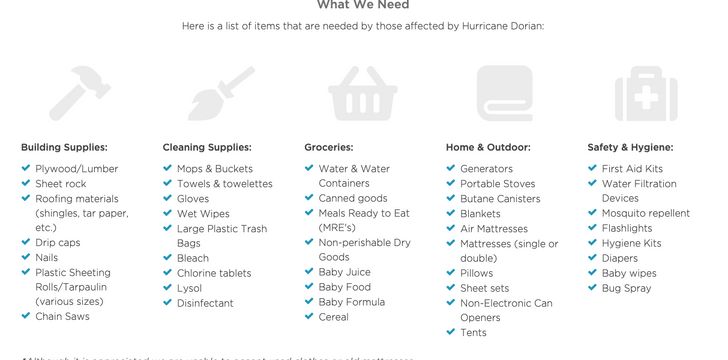 ---
Read our Hurricane Dorian Blog Posts 
- Crewed Catamarans in the Exumas
2 top crewed catamarans based in the Exumas. October 2019.
- M/Y SILVER LINING
It seems fitting that there should be a yacht called SILVER LINING in the Exumas ready for charter. Read Broker Cordy's description of the activities and yacht. October 2019.
- Hot spots in the Exumas
Has your charter changed from the Abacos to the Exumas? Read here to for the 'Must-Sees' of the Exumas! September 2019.
- Pigs in Paradise 
An update on the beloved swimming pigs. September 2019.
- The effects of Hurricane Dorian
What is the current state of the Abacos? September 2019.
- How did Dorian start?
Written to understand the causes of Dorian and why she hovered over the Northern islands for so long. September 2019.

- How does Nassau and the Exumas look after Dorian? 
Pictures. September 2019.

- Bahamas STRONG!
The Bahamas are in the prayers and hearts of Boatbookings team. September 2019.
---
Alternative sailing destinations in the Bahamas and surrounding areas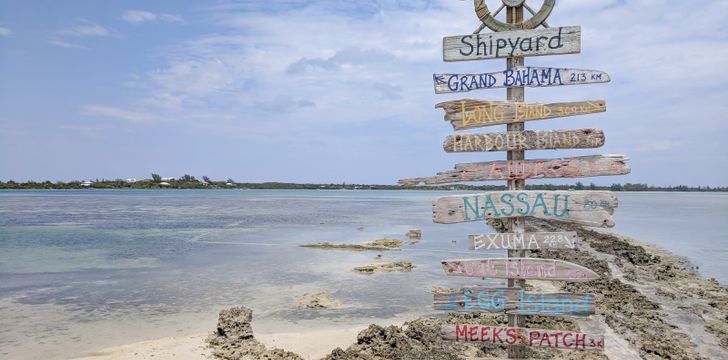 Unfortunately, for the time being, the Abacos will remain closed until it's cleared up and the infrastructure is rebuilt. However, in this corner of paradise, you are overwhelmed with various options when it comes down to alternative sailing itineraries. Below is a list of our sailing itineraries and destination guides that provide first-hand information about the surrounding areas. 



Destination guides
Maps
Have a glance over the following itineraries below.