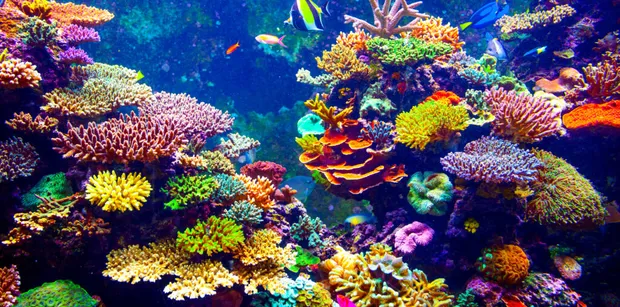 The pleasure of exploring the underwater marine seascape is a wonderful experience during your Caribbean yacht charter. There are so many fabulous coral reefs to explore, you're spoilt for choice. Among the best are the incredible reefs of Virgin Gorda and Anegada. To continue to enjoy these magical underwater worlds and help preserve them for others to visit, there are a few simple guidelines to help care for coral reefs.
Coral reefs are the largest living structures on the planet and amazingly the only living structure visible from space! The operative word here being 'living'. Unbelievably, corals are classified in the same grouping as jellyfish and anemones. They are living creatures, needing nourishment to grow and reproduce.
Whichever catamaran you choose for your charter, our captains and crew are committed to preserving this marine equilibrium and caring for coral reefs, and none more so than the crew of ALTESSE who have introduced biodegradable soaps, banned single-use plastics, and even insist on coral-friendly sunscreen aboard this magnificent catamaran.
It's not hard to enjoy the reefs while also preventing damage to this aquatic paradise. Most importantly, you can just follow the lead of our experienced crews who live in the region and understand how to help preserve coral. Key practices are:
Never anchor or go aground in a coral reef, except in specifically designated areas.
Never walk in coral
Don't touch the coral when you're snorkeling or diving
Do not harvest coral or attempt to take it out of the water
Use coral-safe sunscreens
Do not throw garbage overboard (it can contain items toxic to coral)
Use bio-degradable soaps and shampoos
Keep all water pollution (oil, garbage, trash, etc.) to an absolute minimum
Here are more practices recommended by the US Environental Protection Agency.
CO2 emissions and reef protection.
Perhaps the greatest threat to coral reefs is the warming of the seas due to excess carbon in our atmosphere. While climate change is visible and most talked about on land, our oceans absorb 70% of the heat from CO2 emissions and this is having a significant impact on sea temperatures. Increased water temperature often results in "blanching" which is an innocuous way so saying a mass coral death event. While no one person can stop climate change, the UN notes that 2/3rds of CO2 emissions come from personal household decisions. So collectively reducing our carbon footprints can have a dramatic impact. One decision we can help you with is chartering low emissions sailing catamarans!
During your Boatbookings charter by paying attention to guidelines like these you can contribute to the preservation of the Caribbean's stunning wildlife, ensuring its beauty and diversity, while you create unforgettable memories.