We're going wild over Monaco this weekend, and with Hamilton taking poll position at yesterday's Grand Prix qualifier we're waiting with baited breath to see whether he can hold onto the win. Lewis Hamilton, who hasn't won in Monaco for seven years, has kept his cool during interview because he knows as well as anyone that the narrow track with its lethal twists and turns is unforgiving even for the greatest drivers. With 78 laps to go until we see today's winner, all eyes are on iconic Monte Carlo.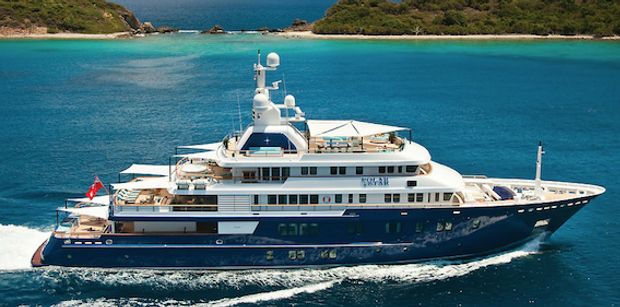 With all eyes on that unmistakable cityscape, there's one yacht that comes to mind when looking over breathtaking Port Hercule for her regulars. POLAR STAR is a 64 metre yacht by esteemed Dutch builders Lürssen, finished with striking bright blue ice-class hull and fourth deck she really stands out from the crowd. Originally built as an explorer yacht in 2005, POLAR STAR was re-fitted in 2011 to the highest possible standard with interior design by Pauline Nunn. Luxury decadence incorporating beautifully classic styles hit you upon entering the yacht, whilst modern touches offer a tranquility you won't find anywhere else.
POLAR STAR boasts 6 large and well-appointed cabins, with the owner's suite taking up a whole deck and comprising of stateroom with panoramic views, lobby, sky lounge and extensive deck space for private dining. The rest of the cabins follow suit with the same elegant design and privacy.
Outside space is key, and with four decks to choose from you're spoilt for choice. Each deck has its own unique purpose. Head up to the sun deck for complete privacy and a seating arrangement that can provide you with some of the most exclusive views on the planet. The bridge deck is focused on well-being with your own fitness area leading out onto the expansive deck where you can sink into the large Jacuzzi after your work out. The owner's deck, as we've mentioned, offers some of the best al fresco dining on the water. Last but not least the main deck makes sure you get that "I've arrived" feeling when you step on board – but not only that, it makes sure everyone else knows it too.
Whilst the world watches Monaco, you could be watching from your very own luxury crewed yacht charter. We think POLAR STAR should be your poll choice for 2015! Good luck Lewis, all eyes on Monte Carlo – the race starts at 1300 BST.
Contact us today for more information.