The Caribbean island of St. Lucia is one of the jewels of the Windward Islands. With its endless banana plantations, picturesque hamlets and stunning harbours it is a constant reminder of an older Caribbean before tourism really took off.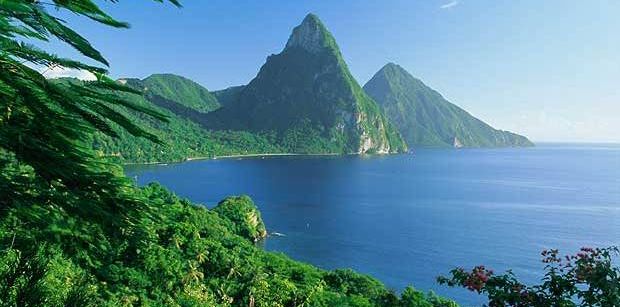 One of our guests, Andy, recently returned from a week of idyllic sailing, and could not wait to share his experience!
When we got off the plane in Vieux Fort, St Lucia, I immediately noticed the wind. At first I was a little concerned; it was strong and as most of my sailing takes place on the Great Lakes in Canada, the Ocean seemed a bit daunting. We immediately departed to the boat in Rodney Bay, which meant that we got to see some of St Lucia before we boarded. It is a truly  beautiful Island with high and low winding roads through rolling banana plantations and old volcanic mountains covered with lush plant life.
The staff at the marina in Rodney Bay were very friendly and the skipper that we hired for the first 2 days, Liz, was a real treat. We sailed down to the Pitons in Soufrière. I became comfortable with the wind very quickly; although it is heavy, it's also low and steady. I found keeping the sails one third reefed was a great way to keep the boat steady and sailing at 5 to 7 knots. At times we even got up to 8 to 9 knots.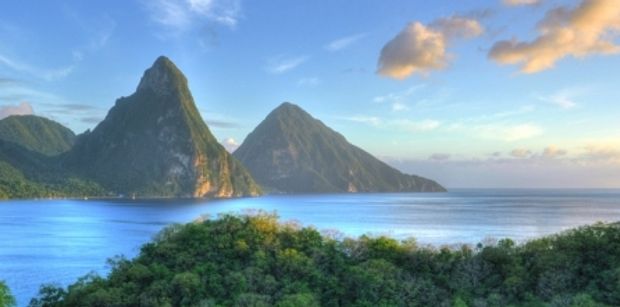 After the second day, Liz had to leave us to sail to Antigua so we departed to Martinique on our own. It was a beautiful 4 hour sail with tons of flying fish. We anchored in St Anne Bay for 2 days and went to shore in the little dingy for two glorious French dinners in restaurants run by retired Parisians. We also made a wine and cheese run up to Le Marin. As part of the French Republic, Martinique has much of the wonderful wine and cheese you would expect on mainland France.
The last leg of our journey brought us back to the Pitons in Soufrière, which has to be our favorite sailing destination in St Lucia. We went for dinner at the Hummingbird restaurant  under a full moon, looking back out at the Pitons. It was divine!
The snorkeling off the boat was fabulous. We swam with sea turtles, a school of barracuda, trumpet fish, a moray eel, there were angel fish every where and several other beautiful fish and plant life. The coral in St Lucia takes a little getting used to, but when I  saw it as a rough kind of desert look, in a sort of Sante Fe style, I really began to enjoy it!
I would say we felt safe at night especially in Martinique. The St Lucians in Soufrière are not too affluent, but very friendly as you get to know them. When you leave the boat for dinner in town take all your money with you and keep some change for boat security at the dock. Bear in mind that boat security is generally teenage boys waiting at the dock for a little tip to watch your dingy.
Our final day back up to Rodney Bay started with no wind.  I was sad, thinking we may have to motor the entire way back. About half an hour into our journey the wind picked up to 8 knots so we pulled up the sails in full. This was my biggest mistake sailing in St Lucia, so learn from my mistake! We sailed for another half hour in 6 to 8 knot wind when out of nowhere came a storm! We went from 6 to 22 knots in about 4 seconds. It was crazy! Once we got the sails reefed we had a great sail up to Rodney Bay at about 18 to 22 knots.
Just as we approached Rodney Bay the unthinkable happened.  At first I thought it was a shark… I had never seen a dolphin in the wild and before long we finished our sailing trip of a life time with 7 dolphins swimming along side of the boat!  I 'm not a religious man, but "WOW", unforgettable… that's all I can say.
Andy sailed on the Beneteau 393 with 3 cabins and 2 heads, which is  the perfect yacht for groups of 2 – 6 guests.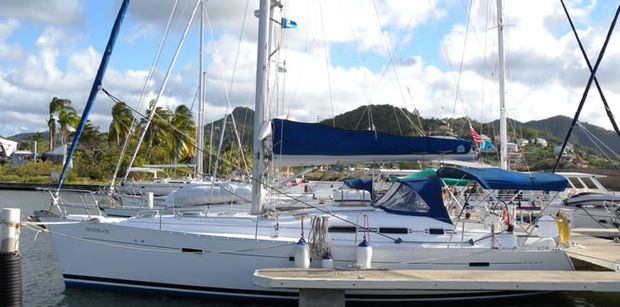 Feeling inspired? Boatbookings are ready to help you plan an unforgettable vacation!