Boat BookingsThe Cannes Boat Show is an annual yachting exhibition which this year will showcase 583 of the leading yachts in the world, including 173 which will be on show for the very first time.
The Vieux Port de Cannes and Port Pierre Canto, which are located at both ends of the world famous Croisette are perfect for hosting the leading in-water boat show. The Cannes Boat Show brings together the key players in pleasure boating and international luxury yachting. The show is very useful for prospective buyers, who will gain valuable knowledge and experience before making the ultimate purchase.
We would highly recommend a multiple day or week charter on a luxury motor or sail yacht before you buy. You can read every review that there is but nothing compares to first hand experience on a luxury yacht charter. We offer a very large range of yachts, from motor to catamaran to sail. We would highly recommend a luxury yacht charter on AQUA BLUE IRELAND, a 2011 Sunseeker Predator 74.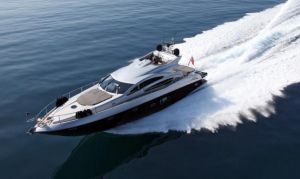 She offers the very best in modern luxury yacht design, with great decks and comfortable living areas. She is available for charter out of Cannes, but also Antibes and Monaco with delivery fees. She has a great captain and crew who will do everything in their power to make sure you have a great day.
A luxury day charter to St Tropez and Club 55 would make for a memorable day.Boat rental Cannes
This year, the show will celebrate its 35th anniversary and runs from the 11th to the 16th September. We would highly recommend going down to this truly unique event to get a glimpse of the very best luxury yachts.If you would like to find out more about yacht chartering along the French Riviera, please do enquire via our website.
Alternatively, please send an enquiry email to [email protected], where one of our specialised brokers would be delighted to assist you.