7 Day Croatia Crewed Motor Sailor and Gulet Itinerary | Split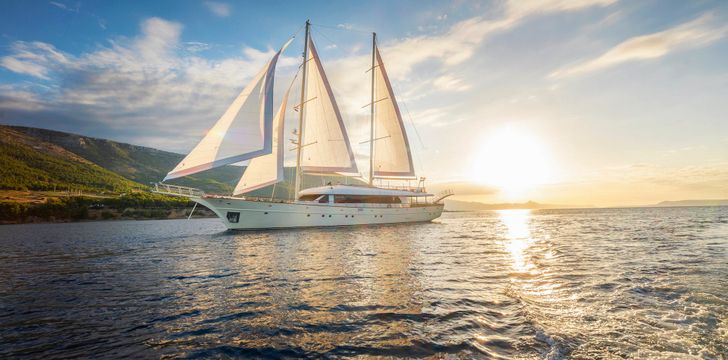 Explore Croatia's serene island-speckled coastline onboard a luxury motor sailor or traditional gulet from Split to Hvar, Vis, Korcula and Solta
Day 1: Split to Brac | Day 2: Jelsa | Day 3: Hvar Town | Day 4: Vis | Day 5: Korcula | Day 6: Solta | Day 7: Rogoznica | Day 8: Disembark in Split
Step onboard your luxury motor sailor or gulet and venture south of Split through Croatia's island-speckled coastline. Heavily influenced by its past Roman, Venetian, Napoleonic and Viennese rulers, Croatia is a cultural cauldron and ultimate sailing destination for both a traditional gulet and contemporary gulet in the Eastern Mediterranean.
Experience outstanding gourmet cuisine both onboard and at traditional tavernas. Soak up the sun on the expansive sundeck and dock in isolated bays to enjoy uninterrupted swimming spots. And venture afar on an exciting array of water toys.
Contact one of our Charter Experts to discover Croatia on the ultimate yacht charter vacation which offers awe and adventure in equal measure.
---
Map
---
Day 1: Split to Brac
Step onboard your luxury gulet in Split mid-afternoon and greet your Captain and crew before setting sail to Brac. Enjoy your first alfresco lunch of fresh salads and local delicacies whilst soaking up the Mediterranean sun on the generous deck space. Brac offers a rich cultural and pre-historic heritage, friendly locals, mouth-watering gastronomy and glassy waters lapping splendid beaches and bays.
Your wonderful crew will secure a highly sought-after berth in Supetar for an evening of exploration in Brac; also a great place to sample the inspiring Croatian cuisine. Drawing upon multiple influences, you can introduce your tastebuds to a world of flavours and local delicacies such as baked lamb dishes, stews and risottos, sheep cheese, olive oil and mandarins – a must-try is vitalac; an unusual lamb dish speciality tricky to find elsewhere.
This morning, wake early and scale the West coast of Brac, laying eyes upon wonderous landscapes of predominantly karst limestone reliefs, with many gullies, crevices, round valleys and coves. Formed mainly of limestone and dolomite, the island has been a source for construction of decorative stone works such as amphitheatres, temples, palaces and graves for centuries. Following a serene sail around the coast, drop the anchor off Croatia's iconic Golden Horn – formally known as Zlatni Rat – just outside Bol for a refreshing swim and lunch onboard, before making the short evening sail to Jelsa - on Hvar island - for tonight's berth.
Soak up the relaxed ambiance which radiates across idyllic beaches, quaint towns and verdant greenery. Some would suggest Hvar Island is solely a nightlife hotspot attracting the younger generations, however it is in fact a cultural fascination and one of the most beautiful Adriatic islands to visit by yacht. Here the oldest relief of a ship in Europe was found, as was the oldest community theatre in Europe founded here in 1612, on one of the largest Renaissance squares.  Should you take an interest in wine, Jelsa is home to a charming family-run winery worth incorporating into your charter.
Day 3: Pakleni Otoci & Hvar Town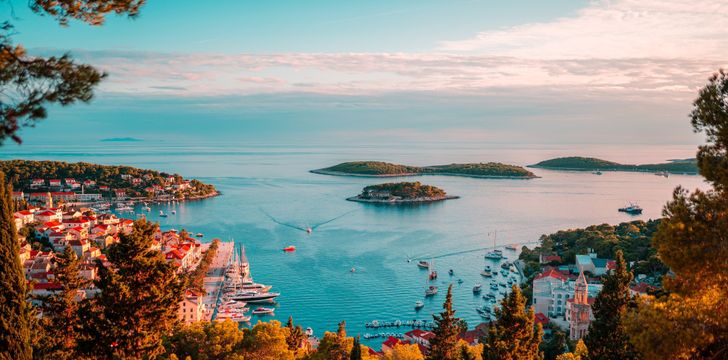 Rise early this morning to the delicious whiff of a continental breakfast awaiting you on the main aft-deck. Enjoy a lazy morning soaking up the Mediterranean rays and connect with the wind as you sail west to what is arguably the prettiest part of the Croatian riviera; Pakleni Otoci – popularly translated as Hells' Islands.
This tranquil chain of woody isles off the southwest coast of Hvar, are lapped by azure waters and peppered by numerous little beaches and beautiful, deserted lagoons. While-away the hours swinging at anchor, dipping below the surface to unveil a colourful underwater world and once refuelled from a delicious lunch, venture away from the yacht on one of the gulet's many water toys for an adventure-rich afternoon of on-water exploration. Alternatively, step ashore and wind your way through the pine forest to a fortress, overlooking an exquisite botanical garden.
Before hitting the night-life scene of Hvar Town where you will berth for the night, we recommend your crew making a reservation at Passarola, located in the heart of Hvar's Old Town. Displaying a unique culinary style, Passarola's creative flair attracts those looking for an extraordinary gastronomic experience, great food and exquisite wines – all whilst soaking up a luxurious ambience within walls made of 500-year-old stone from Brac.
Day 4: Hvar to Komiza, Vis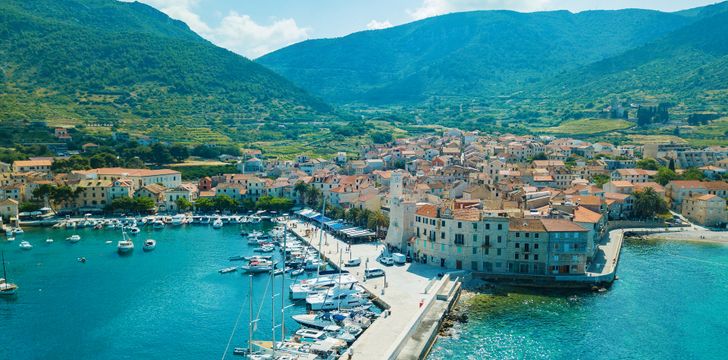 Set apart from the rest of the islands, Vis' remoteness affords its authentic old-world charm; a sleepy haven to stimulate the mind following an eventful evening in Hvar Town. If you continue your sail south-west past Vis, the cave-carved coastline of Bisevo Island begins to revel itself. The Blue Cave is a must-see and fascinating spectacle, certainly worth including in your itinerary. Sunlight pours in, painting the interior of the cave blue and anything below the water line, silver. If you are lucky, you may come across the protected species of Mediterranean monk bear, although it has not been seen in these waters for a long time. Come early afternoon, make the short sail to Vis, an island home to fishermen, seafarers and wonderful nature.
If your Mediterranean fantasies feature balmy days by sapphire waters in the shade of crumbling ancient-walled towns, Vis is the island to visit. Vis Town's harbour is lined with creamy white houses, decorated by balconies, washing lines and tiny jetties propelling out into the turquoise Adriatic waters. This rich history goes back as early as the 4th century, when the Greeks founded their first colony on Vis (named Issa) and planted the first grapevine. This evening, step ashore for your reservation at Vila Kaliopa; enjoy Dalmatian specialities within the exotic garden of the 16th century Gariboldi mansion where each table is strategically placed out of view of others.
Day 5: Vis to Vela Luka, Korcula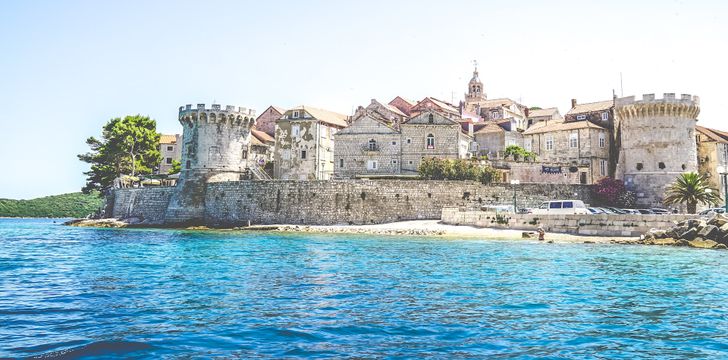 Awaken early this morning and step ashore for a dose of culture and vibrant history. Two churches and several Renaissance houses from the 16th and the 17th centuries remain preserved, along with an ancient thermae bath, making it a beautiful island to tender ashore to and explore as the sun sets over crumbling ruins and quaint fishing villages. The Levaman Fortress houses the Archaeological Museum, which exhibits a 4th century B.C. bronze head of the goddess Artemis and amphorae recovered offshore. Once culturally satisfied, embark on your mornings sail towards Korcula.
Named by the ancient Greeks, Korcula is a wooded island known for the beauty of its nature and for the richness of its traditional heritage. For centuries, stone-cutting and shipbuilding have been the most important professions here and this is evident through its many Gothic an Renaissance buildings, palaces and church inside the crumbling old town walls. Marco Polo, the greatest world traveller, began his great journey in this town so it is certainly a must visit and perfect opportunity to step ashore.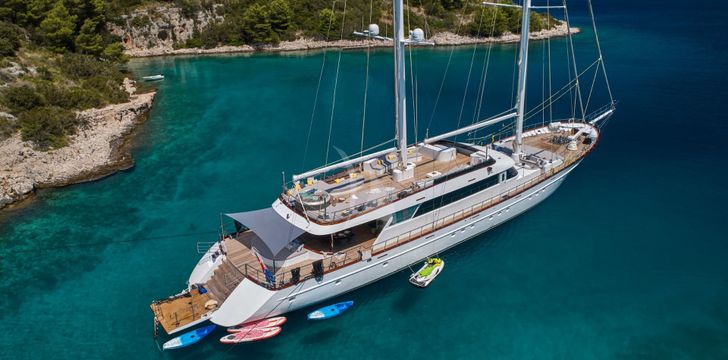 Isolated and untouched, Solta is an island of olive groves and vineyards. The islands main activities revolve around the age-old production of olive oil and honey which makes it ideal for those who wish to veer away from the busier islands and gain a glimpse into traditional island life.
Solta is the island for isolated anchorages and moments of uninterrupted bliss. Pebble beaches are surrounded by the shade of dense pine forest make them ideal for families with children to paddle ashore and relax on the beach. If you seek a little adventure, venture inland and unearth traces of the Roman past.
We suggest berthing in either Stomorska – great for stepping ashore and exploring a pretty port and perhaps enjoying dinner shore in a small restaurant – or Necujam or Rogac – both wide bays to anchor in and enjoy some water sport activity.
Day 7: Solta to Rogoznica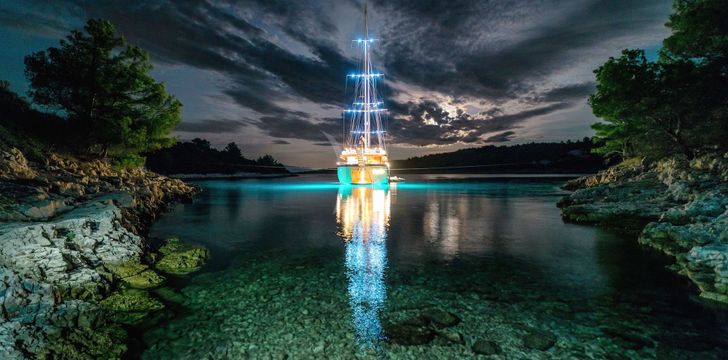 Wake yourself up with a refreshing morning swim off the stern of your gulet before raising the sails and embarking on the lengthy sail to Rogoznica, leaving the serene island of Solta behind. Come midday, stop at the famous Blue Lagoon for a dip and fun on the water toys whilst your talented chef prepares a delightful final lunch onboard.
This evening, enjoy sundowners on the foredeck as the sky turns a dreamy mesh of pastel before settling down for an indulgent celebratory meal to mark your final night onboard.
Day 8: Disembark in Split after breakfast
Today you will awaken to a delightful final breakfast being served to you on the aft-deck whilst underway to your final stop; Split where you will say your final farewells and disembark your yacht. Return home with a week of incredible memories and experiences.
Other Articles of Interest
Charter destinations