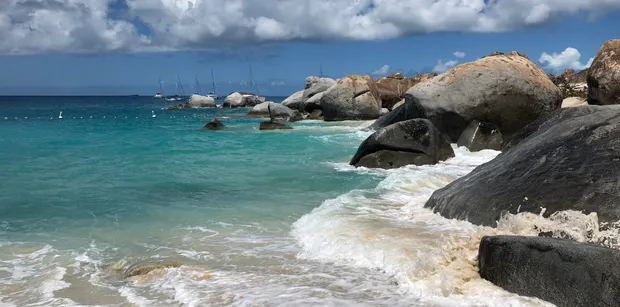 We just returned from a trip to the BVI, so that we can report first person on the progress that has been made since Irma hit these beautiful islands in September. Bottom line, the BVI was hit hard by hurricane Irma, but has bounced back quickly and still offers all of the fabulous reasons why it has become one of the top charter destinations in the world with fewer crowds!
Overall BVI Charter Readiness
Throughout the BVI there is a buzz of activity as resorts, restaurants, and bars spring back to life. Newly planted palm trees are everywhere. Restaurant owners are painting and re-roofing their beloved establishments. The foundations for chartering are all back in place and working:
Yachts – fleet owners quickly fixed the yachts that had minor damage, ordered replacements for those that were total losses, and moved yachts from other ports in the Caribbean. There are plenty of yachts for charter in nearly all categories.
Provisioning – Provisioning stores are open for business and well stocked. You should be able to get everything you need.
Beaches and Snorkeling – There is no problem finding a great beach or snorkeling area on any of the islands. Coral and Fish were unaffected by the storm, and the beaches have been brought back to life. White Bay (JVD) and Devils Bay (Virgin Gorda, next to the Baths) are pristine and gorgeous. The beach at Deadman's Bay is fine, but many of the palm trees have been destroyed and there is work being done on the Peter Island Resort so it's not as pretty as it once was. That will no doubt be improved as the Peter Island renovations are sure to bring in new Palm Trees.
Trees and Plants – Irma was the most powerful storm to ever hit North America – with sustained winds above 180 MPH. This force blew nearly every leaf off of every tree and bush, and destroyed many of the tallest palm trees. The green islands were completely brown right after the storm and many buildings that were unnoticeable now are clearly visible. The good news is that these plants are growing back quickly, and most will soon be in full foliage. Many of the missing palm trees are being replaced by imported new ones, which will take a few years to grow back to their original height. But the good news is that nature renews quickly, and has made major progress already.
Resorts – All resorts on the island are still essentially closed – including sailor friendly ones such as Bitter End and Peter Island. So many of the amenities they offered – spas, massages, fancy restaurants, etc. are harder to come by. On the positive side, Oil Nut Bay, which used to be exclusive and off limits to charterers, now serves a daily lunch and if you eat lunch you can use their pool and beach facilities for free, including their hobie cats. Well worth a visit!
Bars and Restaurants – Excellent news here – most of the famous beach bars are now back open, including Pirates, Myetts, Foxy's and the Soggy Dollar. The Soggy Dollar Bar has been completely rebuilt, including bringing in many new palm trees. The Painkillers haven't changed, and there are fewer day tourists from other islands so you can actually get a seat on the beach or chat with the bartender. They released an amazing book that chronicles the rebuilding process they went through. As mentioned above, most resort restaurants are still closed, so upscale dining is not what it once was, but will be coming back by next season. Corsairs on JVD is being completely rebuilt, so for now it's best to dine at Foxy's. Willy T #3 has been ordered and will soon be replacing Willy T #2, which is sadly still beached at the Bight.  ** New – we have a page that lists all BVI resorts, bars and restaurants that are open and closed, for each island **
Status of the Major Islands
Tortola
Road Town is still visibly damaged and recovering from the storm.  You can still see many destroyed catamarans and monohulls in the harbor (see above).  Cane Garden Bay sustained damage but Myetts is back open with live music, food and drinks.  Sopers Hole and the West End is best avoided, although Pussers is back open while it continues to rebuild.
Norman Island – 1/2 of Pirates is open and in great shape!  The second half is being actively worked on and should be open very soon. You can definitely get fritters and great drinks at sunset. As mentioned above – Willy T's is still beached, but a whole new boat has been built and is arriving soon.
Peter Island
Because the Peter Island Resort is essentially the only business on the island, the fact that it is closed means that the island is a bit desolate. Deadman's bay is not as beautiful as it once was because many of the palm trees are gone (see above), and there are signs warning people to stay away from the resort.  There are still plenty of sea turtles to see, but I'd be reticent to stay there until the resort re-opens – which is currently scheduled for late 2018.
Virgin Gorda
The Baths and Devils Bay are still as gorgeous as ever, as shown on the picture at the top of this article. Unfortunately, however, Virgin Gorda was hit directly by the full force of Irma, and many parts are just beginning to rebuild.  The iconic Bitter End was a total wreck, and they are only now beginning to rebuild. Most of the resort will need to be reconstructed from the bottom up.  Saba Rock began reconstruction in April when we were there, and there are hopes it will go quickly, although no timeline has been announced.
Don't be discouraged, however!  For a fantastic day by the pool in a luxury resort, head over to gorgeous Oil Nut Bay Resort, pictured above.  If you eat lunch there, you can use their facilities including the pool and beach toys.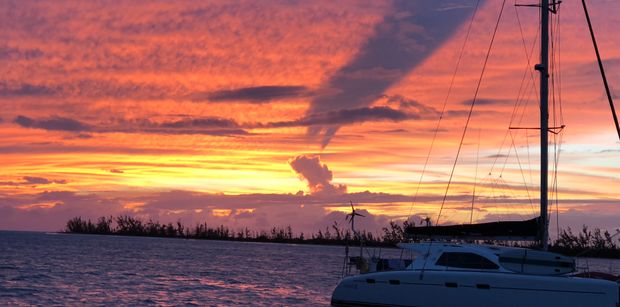 Anegada
Surprisingly, Anegada shows the least damage of any of the main islands in the BVI. It's basically back to normal. The restaurants are all open and fully functional and Cow Wreck Bar is happily serving Dark and Stormy's.  When we were there, the harbor was full of catamarans, and the restaurants were full and lively.  Plus we saw the above magnificent sunset!
Jost Van Dyke
Foxy's is open and fully functional, in fact we spoke with Foxy and he was in great form! The Saturday night barbecue was in full swing. In White Bay, the famous Soggy Dollar Bar has been fully reconstructed.  You have to play ring toss on a newly erected post instead of the famous old tree (see above), but the charm of the bar is still there and the beach is as beautiful as ever.
Summary
The BVI is up and running and still has all of the attractions that have made it one of the most beloved charter areas in the world. It took a massive hit, and is bouncing back.  It's not perfect, however, and will still take many months to restore all of the resorts. It was special for everyone in our group to observe the power of nature, the resilience of the people, and the fundamental beauty of the islands. And we knew that every dollar we spent was helping with the rebuilding process. We highly recommend heading to the BVI as soon as you can – it's fine and getting better every day!