Summer is one of the most anticipated times of the year to visit the Bahamas! Families are out and everyone is on vacation so it's the perfect time to head to the Bahamas with your family and friends and enjoy the cultural experience of the Junkanoo Festival. During the month of July the liveliest of these festivals takes place in Nassau but you can also experience the intoxicating carnival atmosphere in the Exumas as well as the Abacos.

Although there are many stories on how the Bahamas Junkanoo Tradition got started, many believe it was established by John Canoe, a legendary West African Prince, who became a local hero after outwitting the English. Others suspect the Bahamas Junkanoo Tradition derives from the French 'gens inconnus,' which translates as 'unknown' or 'masked people'.

However the most popular belief is that it developed during the days of slavery as the influx of Loyalists in the late 18th Century brought many enslaved people who were given three days off at Christmas.  During this time they celebrated by singing and dancing in colourful masks while travelling from house to house and often on stilts.
After slavery was abolished the Junkanoo nearly vanished but the revival of the festival in The Bahamas now provides entertainment for thousands to experience during this festive occasion.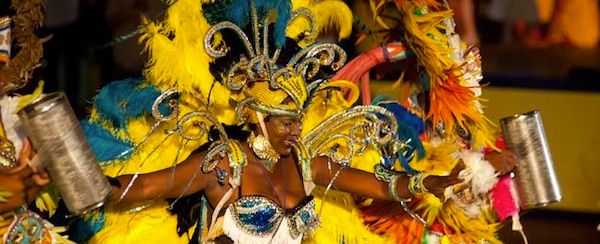 Now is the prefect time to book your Bahamas Yacht Charter so you're sure to have a front row seat for the Junkanoo Festival which takes place every Saturday in Nassau live on Arawak Cay from 12:00 noon until 12:00 midnight.  Watch as the Major Junkanoo groups leave from the shacks and march down the streets to Arawak Cay, West Bay Street, for spectacular rhythmic cultural competition.
Contact us now to book your summer holiday in the beautiful Bahamas and enjoy the fun-filled excitement of the Junkanoo Festival!