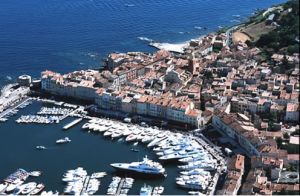 St Tropez is synonymous with glamour and luxury, especially in July with celebrities from all around the world flocking to the famous Club 55. Club 55 is renowned for being a celebrity hot spot, with Kate Hudson and Victoria Silvstedt recently choosing to holiday in St Tropez, thanks to the natural beauty of the Riviera, including its impeccable weather.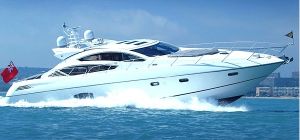 There is no better way to arrive in style at Club 55, than a luxury yacht charter, departing from prestigious ports such as Cannes or Antibes.(Recently demonstrated by Cristiano Ronaldo) One of our most popular choices for a day charter to St Tropez is the Cranchi Zaffiro 32, or for a more luxurious day on the water, VIBE Sunseeker Predator 74 offering vast spaces to relax, as well as a great selection of water sports.
Club 55 oozes quality in all that it does. Whether you are soaking up the rays on the golden sand of Pampelonne beach or enjoying the very best in local seafood and the famous Rosé wine, Club 55 is the place to be. A luxury yacht charter and a full day at Club 55 will provide a truly unforgettable and unique experience that can only be sampled by a the Luxury Yacht charter in the French Riviera.