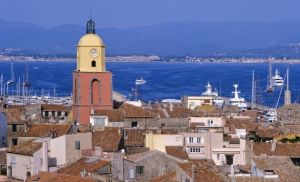 We're often asked to recommend itineraries around the French Riviera for boat rental Cannes and surrounding areas, taking in the best bays and islands this golden stretch of coast has to offer. You can find an exclusive list of boat rental Cannes at boatbookings, but if you are looking for some hidden secrets please read our recommendations below.
From the glamour of a lunch at St Tropez's Club 55, to the tranquil swimming spots off the Lerins Islands, the Cote d'Azur is a paradise for anyone looking to charter a yacht for a day. Below we've listed our personal top go to spots to take in if you're chartering from Cannes, St Tropez, Antibes or any of the other popular French Riviera ports.
Iles de Lérins
The Iles de Lérins, made up of Ile Sainte-Marguerite and Ile Saint-Honorat, are found just off the coast of Cannes and are a popular choice for those who prefer to anchor their boat and spend a few hours swimming in turquoise waters before indulging in a relaxing lunch at one of the restaurants on Sainte-Marguerite, or sampling the local wine produced on Saint-Honorat.
Mooring your yacht between the Iles de Lérins is one our our hot spots for a Sunday afternoon, relax in the tranquil waters. This is recommended early on in the season as after June the narrow stretch of water becomes overcrowded with a variety of yachts.
St Tropez + Club 55
Made famous by Brigitte Bardot in 'And God Created Woman', St Tropez is now recognised worldwide as one of the most extravagant and spectacular summer resorts. Aside from the A-listers and nonstop summer events, the town itself is set in stunning surroundings, with views across the bay to the Maures mountains. The bustling Pampelonne beach is home to perhaps the most famous restaurant on the whole of the French Riviera, St Tropez's Club 55, where you can enjoy the local Rose wine before checking out the hedonistic lifestyle of Nikki beach later in the evening.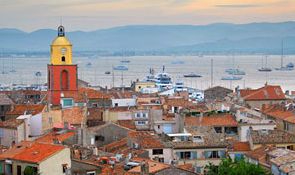 Port Grimaud
On the north shore of the Golfe de Saint-Tropez lies Port Grimaud, a truly unique village in a Venetian style designed so that each house could have it's own personal boat mooring at the end of their garden. The village is made up of four islands, linked by canals and bridges, and visitors to this charming and popular town can explore it by barge or by chartering a small day boat. With it's own sandy beach looking out over St Tropez, this is a fantastic destination for day charters.
Antibes
Home to the Chateau Grimaldi which houses the Picasso Museum, Antibes is a thriving port town with all sorts of attractions for day visitors. From the impressive Fort Carre to the charming winding streets of restaurants and bars, Antibes is a fantastic destination for those wanting to spend a day soaking up the sun on the sandy beach before enjoying a pastis in the bustling weekend market square.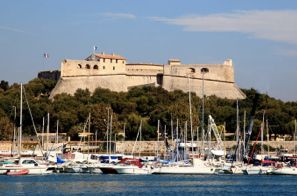 Check out our great boat charters to book your charter for entertaining and celebrating in the South of France.