Learn About the Luxury Yacht Business in the Boatbookings Intern Program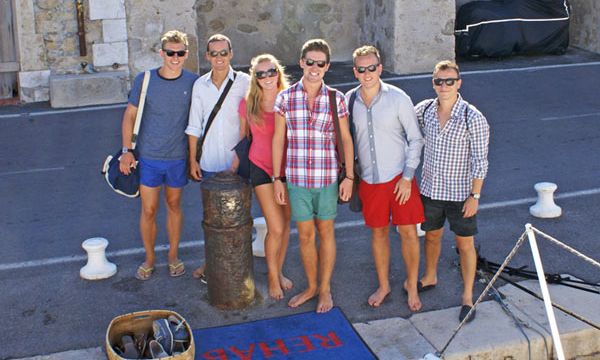 The Boatbookings Intern Program - South of France Yacht Charter Experience
Would you like to learn about one of the most exciting luxury businesses in the world - Luxury Yacht Charter - while learning French and working for the leading online yacht charter company in the South of France?
Boatbookings has been a leader in online yacht charter since 2005, and we have created a unique opportunity for bright, motivated University students to join our team and learn about yacht chartering and luxury online marketing. Our internship program provides the perfect environment to learn about how technology can be combined with great customer service can make a difference in this luxury market.
If you're interested in a career in yachting, see our current job openings here:
During our 6 month program, you will cover the likes of:
Selling and communications skills required to be an entry-level yacht charter broker
How to manage charter operations and customer service
How to work with the fleet managers
How to speak business French to customers and suppliers at a proficient level
How to write content for our website, blog and newsletter, using html coding and SEO
How we apply social media and other technology to the art of chartering a yacht
What it feels like to be in an energetic, startup organisation that is run like a silicon valley company!
Here's what some of our recent interns have to say about their time with Boatbookings:
Elisa (Summer 2018)
My internship at Boatbookings has been an extremely formative experience, an enriching opportunity that has exceeded my expectations.From the very beginning, the team made me feel very welcome and this made it easier for me to fit in well. The yacht charter industry in summer is very frenetic end exciting, so following initial training, I was given some of my own responsibilities. The work to be done turned out to be really dynamic and the feeling of being useful to the company was extremely gratifying and motivational. Furthermore, the enthusiasm and the positive attitude with which the team works has been a real surprise for me. From this experience I've learned so much, I tested my personal skills and I discovered that I possessed particular aptitudes that I did not know. I would definitely recommend the internship at Boatbookings to anyone who wants to add to their studies a true experience in the working world.
Eleanor (Spring/Summer 2018)
Working as an intern for Boatbookings for the past 6 months has been an amazing, and hands-on experience! The team are very welcoming, young and dynamic, and interns are given their own responsibilities from the very beginning, making you feel like you are really contributing to the company. Working in a high-end industry such as Yachting has given me experience which you would rarely find in your average internship, whereby you are given opportunities to network and learn about the ins and outs of the industry. By having a role in Marketing, I have gained so much knowledge into the common platforms used, and developed content-writing skills. Living in Cannes and having stunning towns along the French Riviera on our doorstep to explore has been a treat, with weekends at the beach having become a norm and my appreciation for French food and wine having developed immensely. Highlights have been company days out on yachts and an unforgettable team Ski Trip we took altogether!
Anna (Spring/Summer 2018)
At the end of my first year at the University of Bath, our placement officer gave us an introductory lecture about our year abroad in France. As soon as I saw Boatbookings (Yacht Charter and in the South of France), I knew this was the placement for me. Safe to say, my friends are very jealous after enduring 6 months of Côte-d'Azur Spam. I was welcomed into the Boatbookings Team with open arms at the beginning of February. Everyone made us feel very welcome and have been excellent mentors. February to August was the perfect time period for me as it got increasingly busier as my internship went along. If you are looking for an internship with varied tasks, a dynamic environment and which gives you responsibility - this is the right place for you! After all my previous internships, this is the one where I felt my work was valued. During my 6 months at Boatbookings, I have gained so much knowledge and experience in Sales, and the Yachting Industry, that I can now walk away knowing what I look for in my career and work environment!
Rob (Spring/Summer 2018)
My experience as a Boatbookings intern has been truly unforgettable! Spending 6 months working in the yachting industry has been fascinating, as I knew little about the industry before I joined. I was warmly welcomed by the whole team and offered to go to a Superyacht Brokers' Seminar, which massively improved my knowledge of all aspects of the industry, including laws, practice and customs. This set me up for my time in sales, organising both smaller day charters and luxurious weeklong-crewed motor yacht charters. We were given our own responsibilities from very early on, allowing an experience and opportunities that would be difficult to match in other internships. However, I have not been limited to the office, accompanying brokers to yacht shows and spending days on the yachts, both of which further fuelled my growing passion for the industry. We were integrated into the industry, benefitting from a team ski trip with others in the Yachting industry in nearby Auron. This internship has really inspired me and helped me improve and learn a huge number of skills!
Sophie (Spring/Summer 2017)
After studying for four months at EM Strasbourg Business School, the South of France seemed like the perfect place to enhance my knowledge in marketing and business and to get some sun during my Erasmus year abroad! It has been a wonderful experience working in the Boatbookings team as a Marketing/Sales Assistant. I have learnt so much about writing website content, creating marketing newsletters, using social media as a marketing tool, communicating with clients and the sales process. The yachting industry is fast paced in the high season, giving the office a great buzz and excitement, and you couldn't get a better setting than in Cannes! Having lived in the centre of Cannes for 5 months through both the Cannes Film Festival and Cannes Lions Festival of Creativity, I can say it is a fantastic place to live with some great bars and restaurants (great for foodies!). It is perfectly located to explore the French Riviera; I have enjoyed weekends in St Tropez, Nice, Monaco and even popped over to Italy for a couple of days.
Alex (Autumn/Winter 2016/2017)
I have thoroughly enjoyed my time with Boatbookings and would recommend it to anyone interested in marketing and sales. The experience gained from time spent within a friendly, welcoming and hard working office has been invaluable and will be so useful for future ventures. The range of skills learnt has far surpassed what I could have imagined before joining, while the internship also allows you to excel in pre-existing skills such as creative and descriptive writing. As an area Cannes is a fantastic place to live with as many bars, restaurants and surrounding places to visit as you could wish for. For football fans out there, Nice and Monaco are now European football hotspots! There aren't many better places imaginable to spend the winter months and I already know that I will be back to visit in the warmer weather.
Eve (Spring/Summer 2016)
My experience as a Boatbookings intern has been amazing! Spending 7 months working in the glamorous yachting industry has been as exciting and informative as it sounds! I have spent my internship as an assistant in the sales department, assisting the brokers on both smaller day charters and luxurious superyacht charters. I have also accompanied them to yacht shows and sailing days which have been amazing! I was lucky enough to accompany charter broker Ben to spend a day on the world's first Wally sailing yacht, sailing around the Cap D'Antibes and sampling the chef's canapés and cocktails - an indescribable day at work! I have spent the duration living in Cannes, one of the most exciting spots along the Riviera, and the perfect place to experience all the exciting summer events such as the Film Festival and the Monaco Grand Prix. Attending the Monte Carlo Tennis Masters was also a highlight!
Lily (Spring/Summer 2016)
I joined Boatbookings after studying in Paris, keen to explore as much of France as possible. I already know that my experience of both working at Boatbookings and living in the South of France will undoubtedly continue to pull me back year after year! From very early on during my internship, I noticed that interns are made to feel welcome and encouraged to use their strengths within the company. The past few months have been so exciting, not only being able to practise my spoken French and attend the Cannes Film Festival, but also in gaining invaluable knowledge about the yachting industry! Working as part of the marketing team has allowed me to develop my creative writing skills as well as to make use of one of my passions in film through editing a series of video advertisements. My internship at Boatbookings so far can only be described as wonderful and I can only look forward to working with the team throughout my summer along the glamorous French Riviera! 
Anna (Summer/Winter 2015/2016)
I joined Boatbookings after previously working as crew on a luxury yacht in my gap year. I loved my time in the industry but wanted to make use of my passion, knowledge and degree, and Boatbookings was the ideal internship to combine them all in a shore-based position. My degree is Business at University of Bath; I speak very little French but this did not pose a problem in the French Riviera. I was involved in the marketing department which helped develop my creative writing and technology skills tremendously. Rather than just being 'another cog in the wheel' of a corporate company you are given responsibility from the offset, and they play to your strengths making you feel valued. This placement has been unrivalled, allowing me to gain international work experience with the perks of the yachting industry. So join the Boatbookings family in one of my favourite parts of the world!
Niall (Autumn/Winter 2013/2014)
I came to Boatbookings knowing very little about yachting yet I am leaving with an in depth understanding of the industry and a much enhanced sense of how a business like Boatbookings works. Working alongside both the Managing Director and the Founder of Boatbookings, I have gained invaluable business and technological knowledge in a fast-paced yet focused office environment. Whilst working for Boatbookings, I was given the opportunity to work on a multitude of marketing and technical projects all of which interested me and provided me scope to introduce my own innovations to previously established processes in the company. My internship at Boatbookings has been a truly thrilling experience that I would recommend to anyone who has the motivation and desire to contribute and get to know about a burgeoning, global business.
Ed (Spring/Summer 2013)
I have had a fantastic time here at Boatbookings! A summer I will remember for a very long time. Not only have I learnt all about the yacht charter industry but I have also picked up so many skills that will be indispensable when applying for jobs after university. With such a young, dynamic and flourishing business I had the opportunity to try my hand at everything from marketing and social media to sales and content and business development. Believe it or not, you will want to work, even on the weekends! Yet you also get the opportunity to live in Cannes, and like I did, go to the Monaco GP, see the stars at the Cannes film festival and go cruising on a luxury yacht!
Charlotte (Winter 2012, Spring/Summer 2013)
The Boatbookings internship has been amazing. I have learnt all about the yachting industry, in a fantastic hands-on environment. The internship has taught me plenty of skills which will be unbelievably useful in the future, such as sales, content and website maintenance and marketing. I have had the chance to discover what I excel at and have been given plenty of responsibility to work with the rest of the team on the newsletter campaigns. At Boatbookings, you are welcomed in to a lively atmosphere with great people, get to improve your French and spend time in the stunning south of France; what more could you want?!
Ben (Summer/Autumn 2012)
My internship at Boatbookings has been nothing short of spectacular. If you are looking for hands on experience in a real office environment, this internship is for you! Each internship is completely unique and offers the ability to learn about sales and marketing, as well as the opportunity to speak French in a business environment. I have been given great responsibility in every area and have been lucky enough to attend both the Cannes and Monaco Yacht Shows. This internship is completely inspiring and gives you the opportunity to live in one of the most exclusive destinations in the world!
Adam (Summer/Autumn 2012)
The internship at Boatbookings has been truly fantastic. From start to finish my time was unforgettable. Within the first two weeks of joining, I was attending the renowned yacht shows of Cannes and Monaco. For those looking for a great atmosphere in a dynamic office environment, Boatbookings is the place for you. It has taught me a plethora of skills that will be useful for all aspects of my future career. Not only have I learnt key marketing and sales techniques, but my spoken French has improved greatly. To top it all off, the internship is based on the luxurious French Riviera!
Krisha (Spring/Summer 2012)
My internship with Boatbookings has been fantastic! Going into an industry that I knew nothing about and coming out having learnt so much and having met some great people, gives you quite a feeling of accomplishment! The office ambiance is lovely, the high season keeps you on your toes and some of the yachts you deal with are breathtaking. Overall, I would say that not only has my French improved but my selling and negotiating skills have too and I have achieved things that I did not think possible at my age! I would recommend this internship to anyone with an interest in a fast-paced and exciting industry and what better than doing all this in the south of France!
Izzy (Spring/Summer 2012)
I have loved my time at Boatbookings! I've learned crucial sales and marketing skills and worked with some truly inspirational people, as well as improving my business French by speaking to clients and suppliers. Boatbookings is a fantastic learning experience no matter what career you're interested in; not only does it teach you key business skills in a fun and dynamic environment but you are actively encouraged to develop in the area which interests you, whether that be sales, marketing or social media... and all this while living on the French Riviera!
Please see our blog posts "A Day in the Life of a Yacht Charter Intern":
Part I Part II Part III Part IV Part V Part VI Part VII Part IX Part X Part XI Part XII
Interested?
If this sounds like the right intern position for you, please email us at [email protected]. We hope you have what it takes to join our team!
See you in the South of France!
Krisha meeting a luxury yacht captain at the Antibes Yacht Show.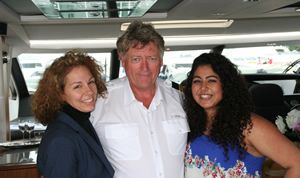 Other Articles of Interest
Charter destinations