Tahiti Fishing Yacht Charter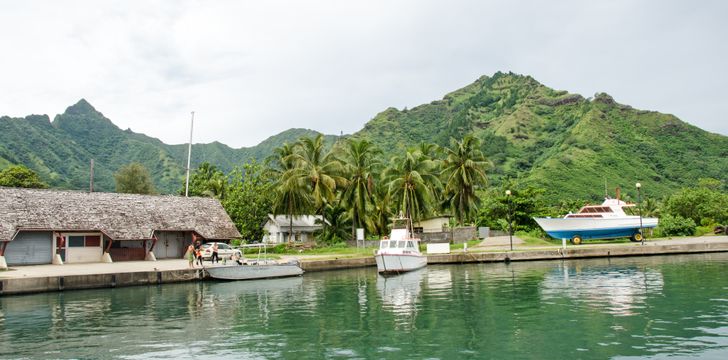 Tahiti is a lush tropical paradise that boasts an extremely rich marine life, idyllic landscape and relaxed way of living. There is no better place to test your strength against some of the world's largest fish in turquoise waters than in Tahiti. Charter a luxury yacht into the open ocean, to embark upon a game of cat and mouse with these beautiful underwater creatures. Deep-sea fishing in Tahiti and her surrounding islands is a highly rewarding, sought after experience. A mouth-watering selection of big game fish can be caught in this region of French Polynesia with yellowfin tuna, marlin, mahi-mahi, sailfish and barracuda on offer.
Tahiti is an exquisite island that receives an inviting tropical climate all year round. Anglers are greeted with long sunny days, clear skies and gentle seas which makes the day fly by. Temperatures regularly reach the mid 20's to low 30's providing perfect fishing conditions for all. After tuna which is inexplicably the most prized fish, the swordfish and marlin are the most sought-after game fish in this region. Whether it is trolling for marlin, fly-fishing for the energetic bonefish or reef fishing for barracuda and snapper, Tahiti is a world-class fishing destination for anglers of any age or expertise.
What's more, anglers in the Tahiti can sample some of the more traditional fishing techniques of the islands'. Stone fishing is a centuries-old tradition in Tahiti that is still occasionally practiced today. In the past, this particular method of fishing allowed these small French Polynesian islands to supply food for the whole community. Known as 'te tautai taora ofa'i' in Tahitian, locals thrash at the water from their canoes creating a frenzy that frightens the fish towards the shore, woven coconut palm baskets and sharp stone spears are then used by the locals to catch the fighting fish.
If big game fishing from onboard a luxury yacht charter sounds tempting, please feel free to contact us and we shall provide you with a suitable yacht and itinerary to create the holiday of a lifetime.
JOY
Lagoon Seventy 7 - 4 Cabins - French Polynesia - Tahiti - Bora Bora - Raiatea
Lagoon Seventy 7 Luxury Crewed Catamaran
Length: 23.28 m
Year: 2018
Cabins: 4
Berths: 8
From $55000 to $69000 per week
VIEW 1 REVIEW
Berths: 8
Cabins: 4
Crew: Crewed
Type: Catamaran
Length: 23.28 m

(79' )

Year: 2018
From $55000 to $69000
per week
BOATBOOKINGS SAYS:
"The best Lagoon Seventy 7 on the charter market with a service orientated crew and fantastic chef."
1 charter yachts found: Currently displaying 1 to 1.
Other Articles of Interest
Charter destinations