Langkawi and Malaysia Yacht Charter Guide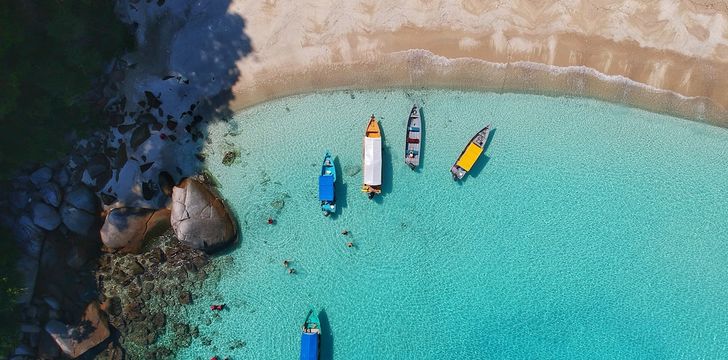 Boatbookigns Expert Charter Guide for Langkawi, Tarutao National Park & Penang
About Langkawi | Charter Destinations & Itinerary | Langkawi Attractions | Getting There | Climate | History | Malay Cuisine | Our Malaysia Charter Yachts
---
Overview
Officially known as 'Langkawi, the Jewel of Kedah', Langkawi is an archipelago of around 100 islands that lies 30km off the mainland coast of northwest Malaysia. This spectacular group of islands is the ideal place for a yacht charter vacation; they are rich in history, boast beautiful white sandy beaches, unique aquatic life and fantastic duty-free shopping!
Set on the border of Thailand with the breathtaking Islands of Tarutao and the Butang Group just to the north, Langkawi is perfectly located for you and your charter group to enjoy a cruise in both Thai and Malaysian waters, you can easily explore more than one culture and destination in one trip!
Pulau Langkawi is easily the largest island in the group, and easily accessible with a large international airport and countless 5-star resorts. Langkawi was given a World Geopark status by UNESCO in 2007, due to the amazing natural spectacles and landscapes, including Mount Machincang Cambrian Geoforest Park, Kilim Geoforest Park and Pulau Tasik Dayang Bunting (Island of the Pregnant Maiden Lake).
See our Malaysia Charter Yachts Enquire Now
---
Destinations around Langkawi
Tarutao National Marine Park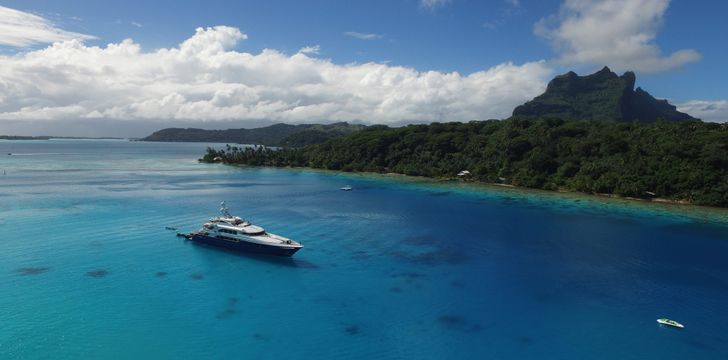 Located along the Straights of Malacca, this group of 51 Thai islands is split into two groups; Tarutao (East) and Adang-Rawi (West), providing a vast area for you and your charter group to discover the most breathtaking aquatic life! This is one of Thailand's most beautiful and unspoiled regions, boasting acres of rugged rainforests, stunning coral reefs, and glistening white beaches. Ko Tarutao, Ko Lipe, and Ko Adang are all wonderful islands for you to explore whilst chartering in Malaysia and Thailand; they are easily accessible and just a short trip from Langkawi.
Penang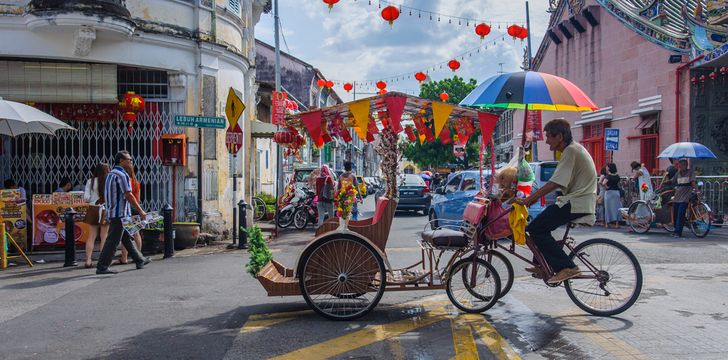 Penang is a bustling and multicultural island, rich in British colonial history - a great destination for you to visit whilst chartering from Langkawi. The Island has long served as a link between Asia's two halves and an important connection to the markets of Europe and the Middle East, meaning it provides a wealth of culture that epitomizes the exotic east. The island's capital, George town, perfectly combines old-world Asian charm with new and modern luxuries – a truly dynamic place!
Phuket to Langkawi Crewed Motor Yacht Itinerary
---
Top Attractions in Langkawi
Langkawi Cable Car & Sky Bridge
Located 660 meters above sea level at the peak of Gunung Mat Chinchang on Pulau Langkawi, there is a 125-meter curved pedestrian bridge that provides spectacular views of Langkawi's lush mountains and the Andaman Sea. Why not ride up on the cable car, where you can see some equally breathtaking panoramic views, and then look in awe at the view from the top and capture some fantastic photos!
Gunung Raya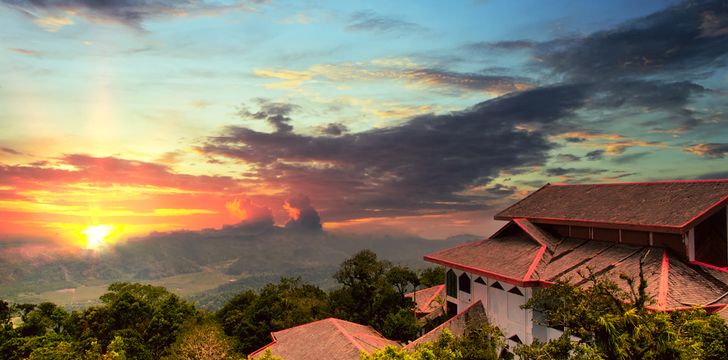 With an altitude of 881 meters, Gunung Ray is the highest peak in Langkawi and the best place to see some spectacular views of the Island and take in its unique natural beauty. The mountain is covered with dense rainforest which is full of wonderful flora & fauna. If you are a keen adventurer, you can trek to the top of the mountain with an organised tour, or if you prefer a more gentle approach, you can hire a car or taxi to the summit!
Pulau Tasik Dayang Bunting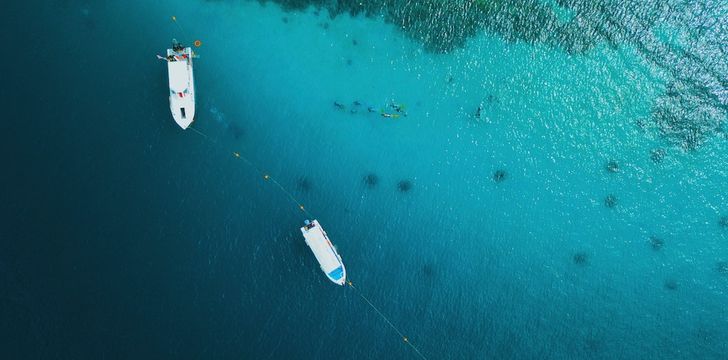 Meaning "Island of the Pregnant Maiden Lake" as it resembles the silhouette of a reclined pregnant lady from afar, this smaller island is located 20 kilometres from Kuah town, Pulau Langkawi and is virtually uninhabited on the side of the lake. The lake is absolutely beautiful; surrounded by exotic mangroves and limestone formations it is the perfect spot for an afternoon swim!
Langkawi Crocodile Farm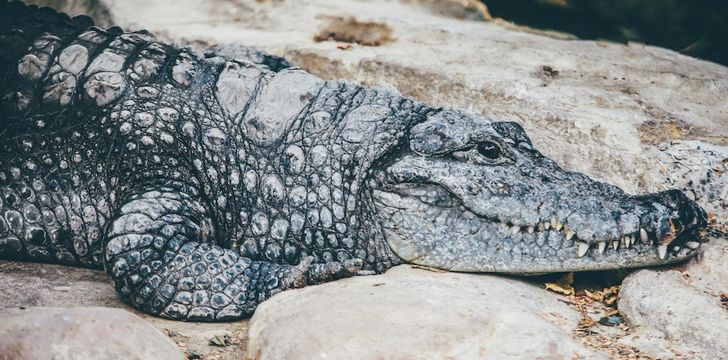 The Crocodile farm in Langkawi is a brilliant day activity for both adults and children. You will get to view these magnificent creatures in there natural habitat and even interact with them - a simply exhilarating experience for all!
---
Getting to Langkawi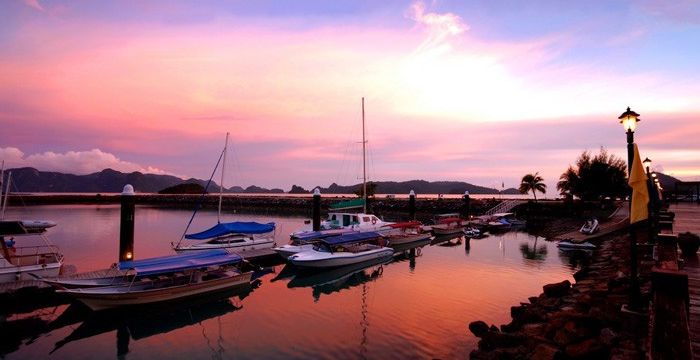 Langkawi International Airport has several flights a day from Malaysia's capital city, Kuala Lumpur. It also has domestic flights from Penang and Kota Kinabalu. International direct flights are available from Bangkok and Singapore all year round, as well as from Japan and several European cities in the high season.
Alternatively, high-speed ferry connections are available from Kuah to mainland Malaysia and Thailand. You can easily cruise down to Langkawi if you are coming from the South West islands of Thailand such as Koh Phi Phi, Koh Lanta, the Butang group and Tarutao.
---
Langkawi Climate and Weather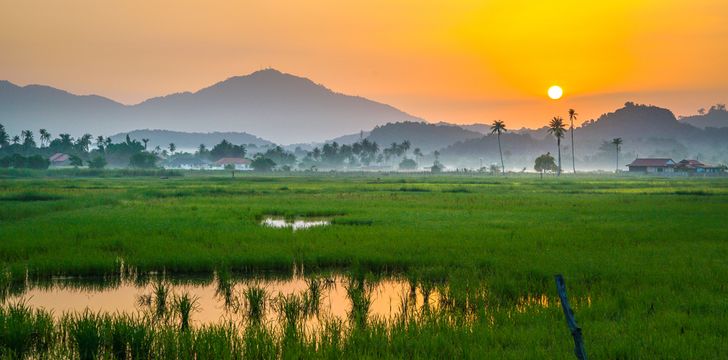 Despite the fact that Langkawi falls into the tropical weather zone, its climate is far sunnier than most of Malaysia, the island enjoys many more dry spells and stable weather for most of the year. This is mainly due to the fact that the island is well protected on both sides with the Indonesian island Sumatra on its west and Malaysia's mainland on the east side.
There are two main seasons for yacht charter in Malaysia, which are called the wet and dry season, or the South West or North East monsoon seasons, respectively. The SW monsoon takes place from May to October, where there is slightly more wind, making sailing a bit more exhilarating than the NE season. During the NE monsoon, from November to April, there are wind speeds of force 2 to 5 from the NE. The winds are quite light during this period and temperatures are stable and usually in the region of 30° C.
---
History of Langkawi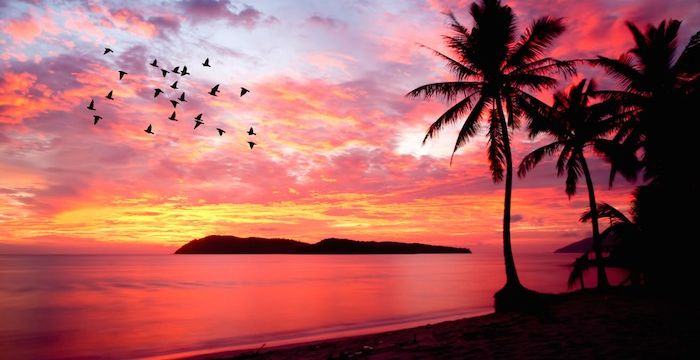 Langkawi is rich in history and mythology, providing the Islands with an enigmatic charm that has attracted tourists in recent years. The most well-known legend of the region is that of Mahsuri, a beautiful young woman who was wrongly accused of adultery and executed in the 18th Century. It is said that moments before her death Mahsuri cast a curse of bad luck over the islands for seven generations.
Numerous locals swear the legend to be true, telling how decades of failed crops followed Mahsuri's death. Many also owe the growing success of the Island's tourist industry to the passing of the curse in the early 20th century, which was, in fact, seven generations later! Langkawi has absorbed much of the modernisation that has developed quickly throughout Malaysia, with its landscapes being revamped and making the land much more accessible to travellers and yachties alike!
---
Malay Cuisine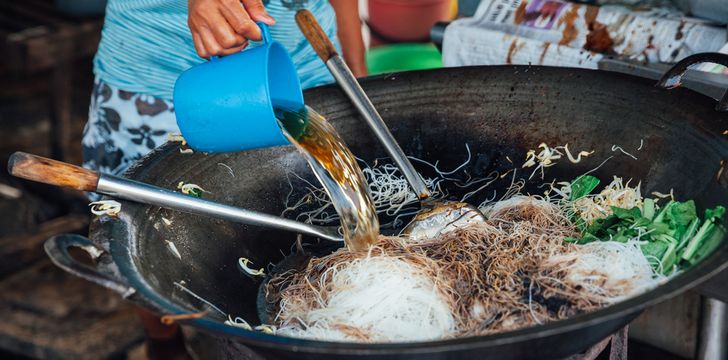 Langkawi enjoys a vast array of culinary delights, made up of Malay, Thai, Chinese and Indian cuisine. As the island is within the state of Kedah, which is the principal rice-producing region of Malaysia, it is no surprise that rice is the main staple here. The most common Langkawi speciality is nasi tomato (rice cooked with tomato and spices), which is often served with curried vegetables, beef or chicken.
Fish also features on every menu as well as the exotic local fruits. There are fresh coconuts available all year round as well as plenty of starfruits, ciku, pomelo, jackfruit, rambutan and mangosteen. The spiky green durian fruit that looks and smells rather unpleasant in fact tastes delicious and is a national favourite, perhaps not least because of its powerful aphrodisiac qualities!
---
The Best Malaysia Charter Yachts
Malaysia is a yacht charter destination that is rapidly growing in popularity for all of the reasons above. Boatbookings is extremely knowledgeable on the region and the boats available, so we can help to find you your perfect charter yacht, be it bareboat, crewed, sailing, motor, or catamaran.
Contact us for a Malaysia Charter Proposal
---
Other Asia Charter Destinations: Thailand | Myanmar/Burma | Malaysia | Indonesia | India | Singapore | Tahiti
Other Articles of Interest
Charter destinations