Over the years, we have loved seeing the developments of the crewed charter catamarans we offer, especially from the builders who prioritize sustainability – such as Lagoon catamarans.
The Lagoon brand of catamarans is part of the Beneteau Group and has been committed to preserving our oceans for years ever since the brand was launched in 1984. Here are three key initiatives that Lagoon is incorporating into its catamarans to make them more environmentally friendly.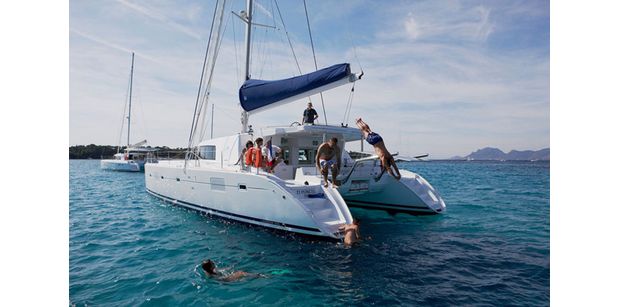 1. Greener propulsion systems 
Many clients that charter a Lagoon tend to sail in remote areas, so energy autonomy is crucial. Lagoon has focused on energy efficiency for some time, using solar panels and wind turbines, carefully selecting energy-efficient equipment and appliances while maintaining a high level of comfort onboard.
In terms of propulsion, they are a pioneer in offering hybrid propulsion, as well as solar panels integrated into the coachroof, which is why we have been offering them with Boatbookings for many years. They have also invested heavily in studies to improve hull shapes and their models' efficiency continually. 
2. Sustainable materials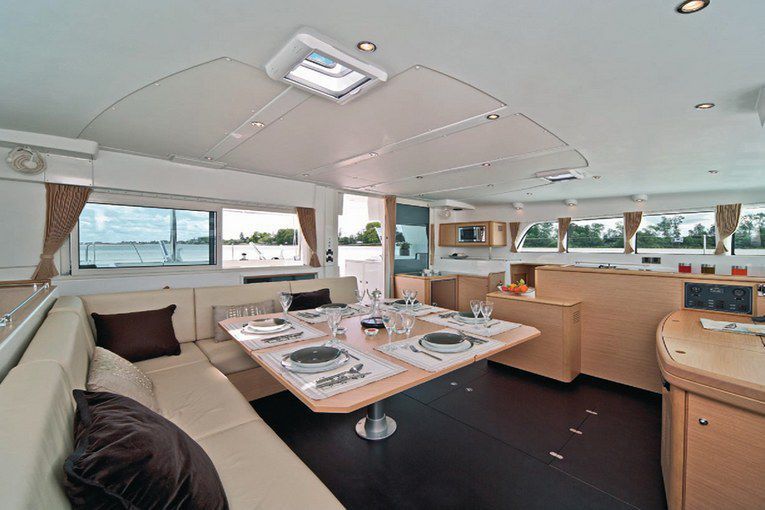 They are also built better! Lagoon now uses many more sustainable materials within its build process. For example, the wood is derived from FSC-certified forests, and the upholstery is made entirely from recycled materials. Plans for Lagoon include replacing all glass fiber with natural hemp fiber. They have also made substantial technological advances in resin and fiber, which looks promising for their future models – watch this space. 
3. Sustainability is high on their agenda
Lagoon continuously innovates to improve, and sustainability is a key focus. Aside from enhanced energy efficiency and greener materials, Lagoon also includes ecological and biodegradable boat maintenance kits with each catamaran.
Another commitment that Lagoon has made is to Anima Mundi, and their partnership is seeking to create the first complete database of plastic waste on the coastline with the assistance of Lagoon owners. Lagoon has also partnered with Escape to Nature. Their expert cinematographers are onboard a Lagoon 55 in remote areas of the Pacific to highlight the importance of preserving the underwater world.
Lagoon takes a holistic approach. The Research and Development team is constantly researching construction methods to improve the sustainability of their yachts. They have also invested in their facilities, which are certified to high standards of environmental management and energy performance. This year the yard's Bordeaux site has officially been certified in recognition of their efforts. 
---
How about a beautiful Lagoon for your next charter? While Lagoon catamarans are the epitome of comfort and performance in the catamaran world with their spacious interiors, stability, versatility, and sailing capabilities, they are also helping sailors minimize their impact. Contact one of the team at Boatbookings today to learn more about our crewed charter catamarans with Lagoon.