It is no wonder that the powdery white beaches of St Barthelemy (often spelled St Barth's, St Barts or St Barth) continues to attract the rich and famous yearly as they congregate for their Winter Caribbean holidays. This small, free-spirited island is more rugged and less lush than some of the other Caribbean islands, but it has culture, shopping, and all the amenities that cater to the jet set. Expect to find secluded beaches, fine restaurants and fashionable shopping hotspots on this mountainous island.
St Barths is an overseas territory of France and offers excellent cuisine generally derived from its French roots. There is a wide range of choice from hip brasseries in the Port of Gustavia, to local beach restaurants serving Creole food, and sophisticated French gourmet restaurants overlooking the sea. In the wake of 2017's devastating Hurricane Irma, St. Barths rebuilt at an astonishing rate and high cost to get the island back close to what it was.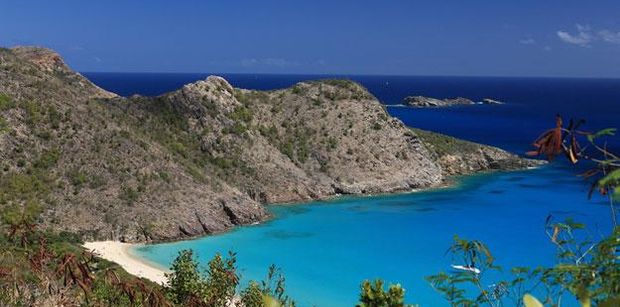 The Sand, The Eden Rock
A table at Eden Rock's restaurant and bars is a priority reservation for epicureans.  The Sand Restaurant and Rémy Bar and the Bar on the Beach nearby, gleam in the reflected blue of the Caribbean. Cuisine is masterminded by world-famous Master Chef Jean-Georges Vongerichten who exemplifies a career made stellar with the successful development of Michelin-starred kitchens and restaurants from NYC to Chicago to Tokyo and São Paulo and by writing seminal cookery books plus presenting TV cooking shows.The Sand is the culinary heart of the hotel and its unique setting represents St Barths' character and its laid-back beach style. Signature Sand classics include truffle pizza, crispy salmon and new vegan matcha crème brûlée. In the evening, enjoy caramelised foie-gras with black-olive seasoning.
Le Tamarin
Le Tamarin has been newly renovated and is set within a shadowy garden near Saline Beach. Scenery is lush and relaxing – water features, low lighting and breezy palms and grasses. The restaurant is cosy with intimate tables tucked away along the walkway. Dishes include yellow fin tuna, wild shrimp ravioli with octopus in in lobster broth and taste aux pommes. This fabulous menu is accompanied by a fantastic wine list, including a 2006 Pétrus and a cocktail list with modern and classics cocktails. Be sure to visit during your Yacht Charter!
Shellona
Overlooking Shell Beach, Shellona is a Greek lunch Restaurant & Beach Club. Enjoy an exceptional setting facing the Caribbean Sea. With its unique location, have lunch while listening to the DJ or live music bands, relax on one of our sun beds or a cocktails admiring the most beautiful sunset on the island. Chef Yiannis Kioroglou and his team offer an authentic Mediterranean cuisine, acclaimed for their flavoured grilled food seasoned with the best aromatic herbs and marinades. Chef Yiannis bridges cultures and styles with cuisine that injects creativity into classic recipes featuring coconut milk-infused mahi-mahi fish or raspberry and watermelon lemonade.
Contact one of our Brokers today to book your St Barths Yacht Charter.