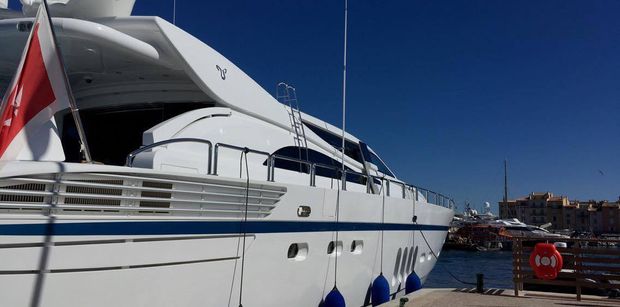 Whoever said the life of an intern was filled with those horrible jobs that nobody else wants to do? A sunny September's day saw broker Ben and I heading off to the glamorous St Tropez for an amazing day at sea aboard the beautiful KIDI ONE.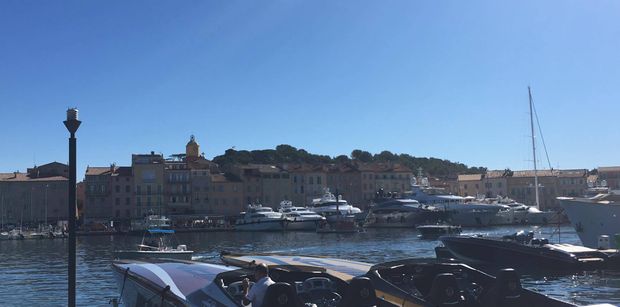 Strolling through St Tropez, it's not hard to see why so many return to this stunning town year after year. St Tropez is a beautiful little fishing village at first glance, however, through the windy cobbled streets, lined with charming terracotta buildings lies a vibrant shopping capital. Designer boutiques nestled into petite, classically French buildings with shuttered windows and golden walls. Eventually the narrow, windy streets open up to the port, a fascinating juxtaposition of beautiful, quaint buildings against immense, modern Super Yachts and bustling bars. St Tropez truly is a sleepy, fishing village that has been brought to life and doused in glamour and I was instantly enchanted.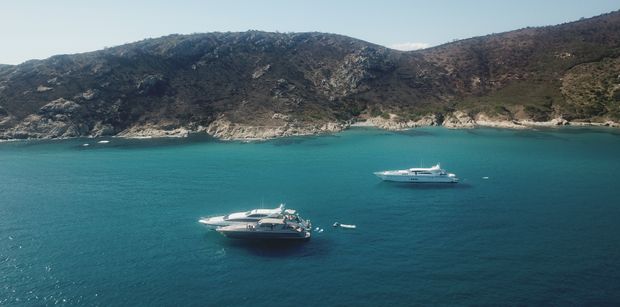 Upon meeting our fellow travellers, a lively and welcoming group of brokers from other companies, I was gifted with a beautiful little bracelet to commemorate my day at sea in St Tropez! We were all split between 3 beautiful yachts NEGARA, OF VILLA ROMANA and ours, KIDI ONE. KIDI ONE glided toward us, effortlessly cutting through the water, a vision in sparkling white with royal blue detailing. KIDI ONE was beautiful, with the theme of turquoise running throughout the exterior, hints of blue in the salon and then glossy, cherry brown and crisp white with splashes of gold spreading elegance and class throughout the guest cabins and bathrooms, the photographs truly do not do it justice.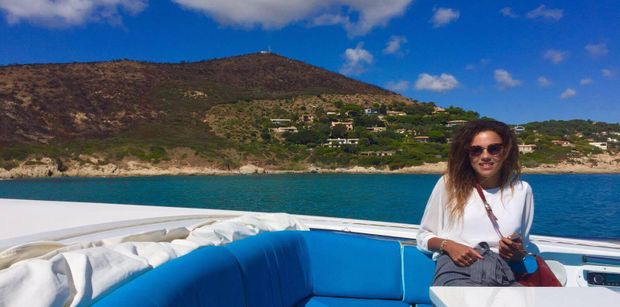 Ben and I sat on the sun pads on the bow of the yacht and the views were breath taking, stunning yachts, towering mountains flourishing with green and the sparkling sea, St Tropez is paradise. Finally, we came to a halt and anchored beside Plage de L'Escalet, the hillside teeming with lavish villas and the sea, an incredible shade of turquoise. Now it was time for water toys! My first choice, the humble paddleboard – easy! Or so I thought. My first attempt at standing up resulted in my first plunge into the icy cold water, the September Sea is beautiful and wonderfully energising. I powered through, yet round 2 was still unsuccessful and resulted in another soaking, perhaps paddleboarding is not for me. On to the big boy toys, the Sea Bob, whizzing across the surface of the sea was the most incredible feeling, though I didn't dare dive beneath the surface, it was an amazing rush to skim across the surface of the water like a human jet ski, that's a new one for the Christmas list!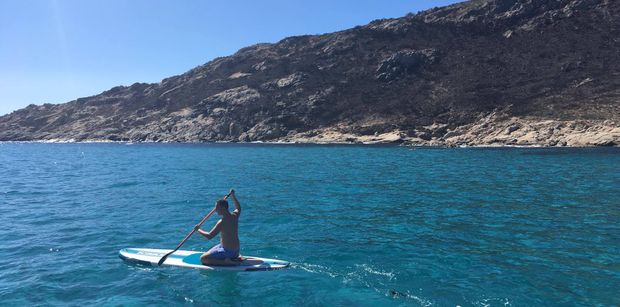 The afternoon was spent munching on Foie Gras sandwiches, sipping wine and getting to know everyone in an incredible setting. Too much food and too much fun resulted in a quick power nap on the sundeck in the warm glow of the sun – bliss. After an amazing day in dazzling St Tropez we finally cruised back to dry land.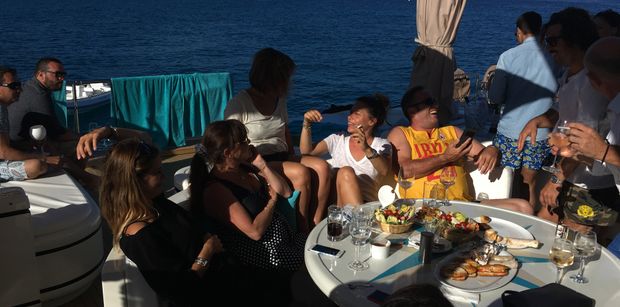 Being able to meet so many wonderful people and experience such an incredible yacht in the most enchanting place was truly surreal and an experience I will never forget! Boatbookings internships are definitely not your average internship, with so much responsibility making way for valuable experiences and, of course, it doesn't hurt getting to charter for the day on a stunning luxury yacht!