Italy is CHARMING!! As a matter of fact, yacht charter in Italy is exceptionally popular this summer and the most attractive area to cruise is indisputably the Amalfi coast! Situated almost in the middle of the West Italian Coast, 100 miles from Rome, the Costiera Amalfitania  and the nearby islands of Capri and Ischia, along with the even smaller Procida are the cruising ground of our Amalfi Coast Yacht Charter.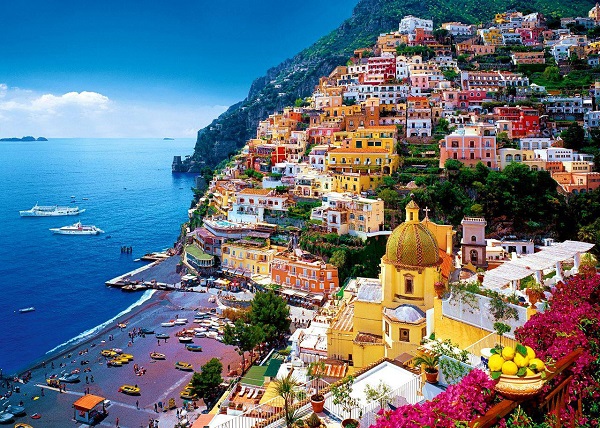 These beautiful and unique places are super trendy at the moment. Since the time of the Roman Empire, the islands have been the preferred seaside getaway of fashionable Romans — including their mighty Emperors! Nearby are the famous ruins of Pompei, the Roman town that was destroyed by the Vesuvius volcano and are definitely worth a visit during your Amalfi coast yacht charter!
All three islands, along with the picturesque cities of Sorrento, Positano and Ravello combine the best of what the Mediterranean has to offer: lovely and tranquil ambiance, pristine architecture, warm climate, exquisite views, a cosmopolitan character, and above all an unfaltering sense of eternity. These are among the most posh places in the world, and have been for thousands of years! The Amalfi Coast is not all about ruins and history: the whole area is renown for the plethora of great restaurants and lovely bars.
Picture-perfect as the various ports might look, they do have a small drawback: docking space is restricted. What we advise our clients is to get a boat that will fit the existing berths – mega yachts will have to stay at anchor! ANNE MARIE, launched in 2007 by the renown Ferretti group is maybe the largest motor yacht that is permanently based in the area: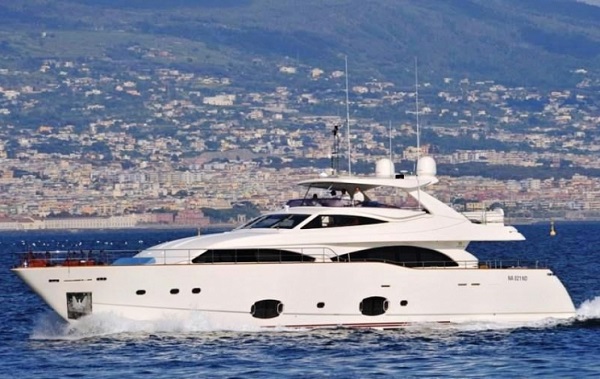 ANNE MARIE boats the characteristic two-and half deck layout of Ferretti Groups flagship series, with extra shade on the fly bridge offered by a huge, retractable "sun roof". Accommodating up to 10 guests in supreme style, ANNE MARIE is also equipped with stabilisers at anchor – which means that even if there is a rough sea, the boat will not heave.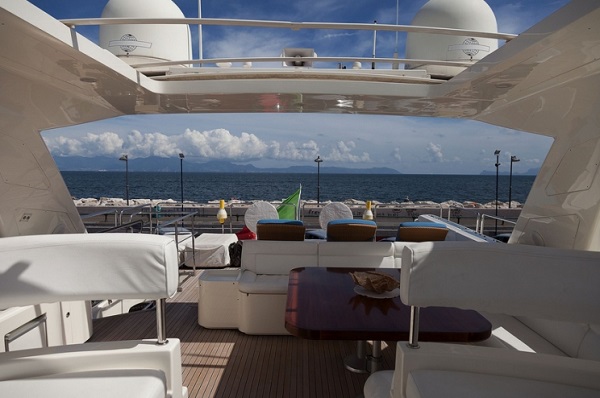 See above a panoramic photo of ANNE MARIE's fly bridge with the retractable sunroof open.
If you are considering an Amalfi Coast Yacht Charter for this summer, ANNE MARIE we would advise that you please contact our team of expert brokers as soon as possible as availability will not last for long!