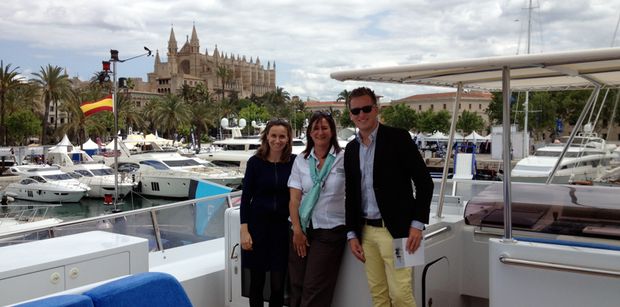 Last week, multiple members from our team went to the prestigious Palma de Mallorca Yacht Show. The show is located at the foot of the stunning cathedral and invited brokers to see a host of yachts, ranging from luxury sailing to super yachts. Chartering a luxury yacht in the Balearic Islands provides endless opportunities to snorkel and swim with dolphins, as well as great flexibility. You can wake up in Palma and be in Ibiza or Formentera in just a few hours! Below, you will find the favourite yachts of Nieves Morales, charter manager and Ben Sutton, charter broker from this years show.
The Best Yacht of the Show: TIGER LILY OF LONDON – Pershing 90 – 3 Cabins – Ibiza – Formentera – Palma de Mallorca
TIGER LILY OF LONDON is a stunning Pershing luxury motor yacht, accommodating up to 6 guests in 3 sumptuous cabins. She can take up to 8 guests overnight with her cinema room converting into an extra bed. The quality of the fixtures and fittings on this yacht are second to none, with no expense spared on the maintenance and upkeep. You would think she has just come out of the factory! Her decks are simply superb, with a sunbathing area on the bow, dining area to the aft, as well as a private area on her Flybridge. The deciding factor that made this our favourite luxury charter yacht on show was the crew.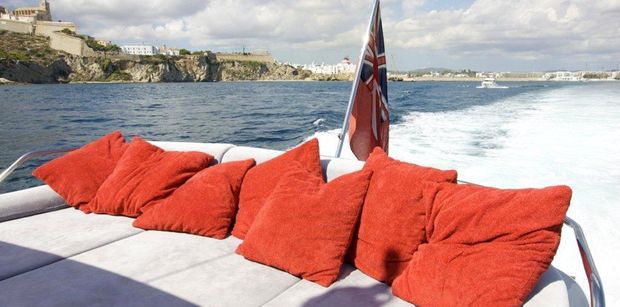 A charter boat can be in great condition and offer the latest toys, but it is the crew who will leave their lasting impression on your experience and memories.  Hanns had everything and more that you would look for in a captain. He is extremely experienced, possessing thorough knowledge of the Mediterranean, from Turkey to Spain. Not only was Hanns extremely professional, but he was also charismatic and had a way about him, which ensured that his clients automatically felt at home on board. If you fancy chartering a luxury yacht in Ibiza for a week this summer, look no further than TIGER LILY.
The Family Yacht Charter – ALCOR – Heesen 35m – 6 Cabins – Palma de Mallorca – Ibiza – Formentera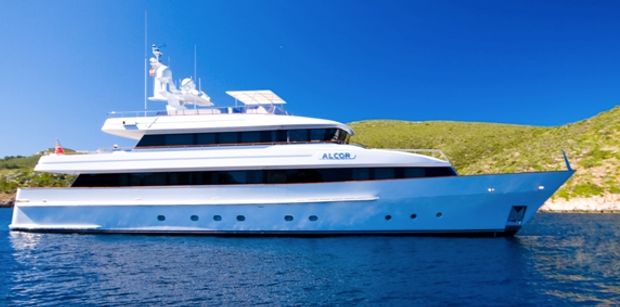 M/Y ALCOR is a prestigious 35m luxury motor yacht from Heesen, accommodating up to 12 guests in 6 cabins. She is a yacht fit for a king, with luxurious accommodation and deck spaces throughout. Whether you want to charter this yacht for a week around Mallorca or are looking to host a luxury cocktail or birthday party, look no further than ALCOR! With 6 cabins, we would recommend gathering your family together for an unforgettable holiday.
Her crew are very diverse, bringing together multiple cultures from Peru, Cuba and Europe to create a unique and memorable charter experience. Get ready for some of the best food, drink, scenery and landscapes aboard ALCOR.
The Classic Yacht Charter – S/Y SEA SHUTTLE – 3 Cabins – Palma de Mallorca – Ibiza – Formentera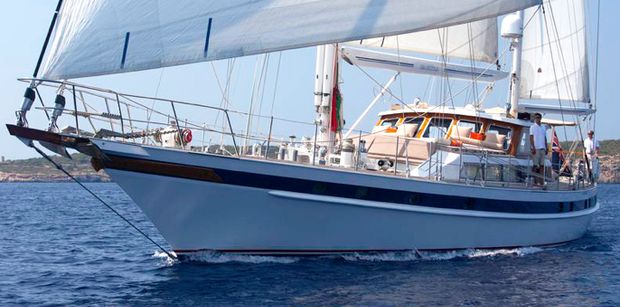 S/Y SEA SHUTTLE was born in 1983 and has since successful completed over 50 Atlantic crossings. She is an extremely famous and popular 28m classic Jongert sailing yacht, accommodating up to 7 guests in 3 cabins. She has always been looked after and in 2012, she received a full interior and exterior refit, bringing her in line with the latest and best luxury sailing yachts of today.
This can be illustrated by her stunning tender, which is capable of reaching speeds of 50 knots! Whether you fancy a quick lunch in Ibiza or Formentera, anything is possible on board this sailing yacht. She has a brilliant English captain, who will ensure that every single wish is successful achieved during your boat charter. She also features a Thai chef, who will bring the very best in Asian cuisine, as well as your favourite Mediterranean classics. We look forward to helping you with your enquiries!
Check out our website, www.boatbookings.com, and start searching for your luxury yacht charter in the Balearic Islands for this summer. We have a team of highly skilled professionals who are extremely knowledgeable in their destinations and will be able to help you bring together the yacht, the crew and all the other aspects that make your charter special.
At Boatbloggings we will keep you updated on the latest industry show releases, news and gossip in the yachting world. If you are looking for more information on yachts, charters and other yachting gossip, please become a fan and like our Facebook page to receive up to date information on our publications. Follow us on Twitter and Google Plus too.