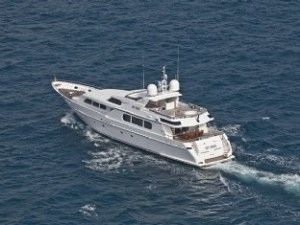 It's that time of year again, and the Cannes Film Festival 2013 is upon us! Wednesday 15th May marks the grand Opening Ceremony, and the screening of the Festival's first film, the long awaited and highly anticipated Great Gatsby. Directed by Baz Luhrmann, who has already wowed us with works such as Moulin Rouge!, Romeo & Juliet and Australia, The Great Gatsby stars Leonardo DiCaprio, Carey Mulligan and Tobey Maguire and brings F. Scott Fitzgerald's novel to life.
The Festival de Cannes is a fantastic event to be part of, and one of the most popular things to do during the Film Festival is charter a luxury yacht. Whether you are looking to host a business meeting, party or just a day out at sea, your own luxury yacht gives you a taste of the glitz and glamour that Cannes thrives on.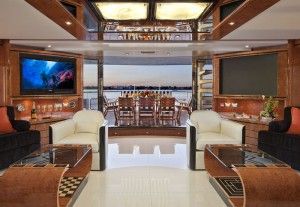 So, in keeping with the 1920s theme of The Great Gatsby, our
nominee for the perfect Great Gatsby Yacht is  MIMU a Codecasa 113 with 1920s style Art Deco interior.
She has offers highly polished wood panelling and contrasting black lacquer, complete with popular geometrical patterns worked in to the panellings, which give it that art deco edge. The furnishings are contrasting in colour, creams and whites against black, with strong reds thrown in here and there. The furniture also embraces the 1920s style, for the pieces are bold and eye-catching. MIMU's design is certainly highly stylised, with a strong handle of the Roaring Twenties.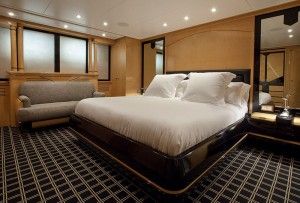 MIMU of course has a first class crew, who are guaranteed to look after you in opulent style worthy of the Great Gatsby. With 5 cabins accommodating up to 10 guests, she also has a fantastic array of water toys to keep the old and young entertained! She is currently in New England and the Bahamas, so you can get your own taste of the American flair, and she also heads to the Caribbean and Mediterranean for different charter seasons.
Click here to see all of our Cannes Charter yachts, and please recommend others that would fit right in with the Great Gatsby theme!
Tomorrow, what yachts will be nominated for Sofia Coppola's The Bling Ring? That should be interesting in the luxury yacht business!