Day 2 of the world famous Cannes Film Festival sees the premiere of 'The Bling Ring,' a highly anticipated American crime-drama film that is based on true events. The film was directed, written and produced by Sofia Coppola, who previously won an Academy Award for the Best Original Screenplay for 'Lost in Translation' and who became the first American woman to be nominated for an Academy Award for Best Director.
The film is set around a group of celebrity obsessed teenagers who cunningly use the Internet and social media to track celebrities' whereabouts and then steal all their personal possessions. The group called themselves the 'Bling Ring Gang' and stole continuously from celebrities such as Paris Hilton, Megan Fox and Orlando Bloom. The groups' ringleader was sentenced to 180 days in jail after stealing an estimated 3 million dollars worth of designer goods and jewellery.
The film stars Emma Watson, Taissa Farmiga and Leslie Mann, as well as newcomers Israel Broussard and Katie Chang. It will open the 'Un Certain Regard' section of the 2013 Cannes film Festival. This section was introduced in 1978 by Gilles Jacob. Each year it presents a selection of films with varying visions and style that seek international recognition.
The International Cannes Film Festival is an extremely glamorous affair. It is the perfect time to charter a luxury yacht of your choice on the gorgeous French Riviera.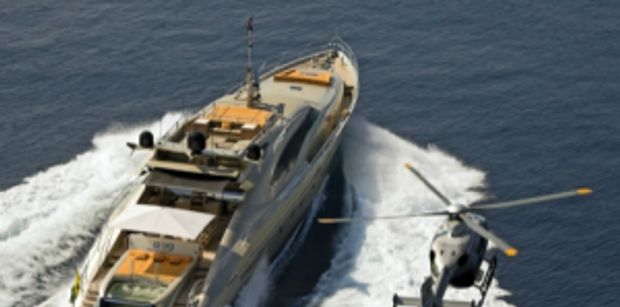 Our nominee for "Blingy" Yacht? DB9 – Palmer Johnson 36 meter – offers lavish furnishings an an amazing jacuzzi!
In keeping with the blingy, celebrity induced and luxurious theme of the 'Bling Ring;' why not charter DB9, a modern and elegant Palmer Johnson 36m super yacht. She boasts lavish accommodation for 9 guests with 4 spacious cabins. The attention to detail is exquisite with all the furnishings complimenting each individual room perfectly.
DB9 has an extremely well designed salon with a fabulous seating area. Here enjoy a freshly prepared 5-course evening meal or simply let one of the very welcoming and experienced crew members rustle up an exotic cocktail for you. Each of the en suite cabins are faultless, with king size beds and beautiful ornate decorations scattered neatly around the bedroom.
The spacious upper deck provides ample room for sun bathing and admiring the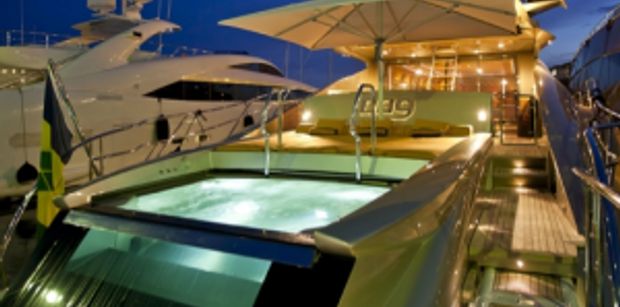 breathtaking French Riviera. Why not relax in the boat's ultra sleek Jacuzzi or let yourself loose with a spot of water skiing. DB9 is a luxury super yacht that will wow you.
At www.boatbookings.com, we are here to help you plan your perfect luxury yachting holiday. We have a team of highly skilled professionals who are extremely knowledgeable in their destinations and will be able to help you bring together the yacht, the crew and all the other aspects that make your charter special.