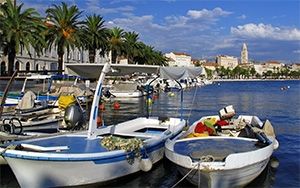 The Croatian coast on the Adriatic Sea is well-established on the holiday scene. The coast is ideal for a boating holiday, with so many islands and ports there are plenty of places to travel around, to and from. Yet along with these, there are still plenty of secluded areas where you can escape from the rest of the world. Choosing to explore the sea on your own boat gives you a far better chance to see more, as the ferries will not stop off at every small island, whereas with your own luxury yacht you can!
The 350km worth of Dalmatian coast welcomes you with medieval towns, impressive landscapes and beaches ranging from sandy to pebbly. Add to this picturesque ports and peaceful coves, Croatia cannot help but to entice you to come and visit. With more than 1400 islands at your fingertips, many of these are still unspoiled and offer a pristine island to explore. Croatia's beaches are ranked as some of the cleanest in Europe, so it only makes sense that its seas are clean and clear too. Take the chance to cut through the waves on your luxury yacht charter today!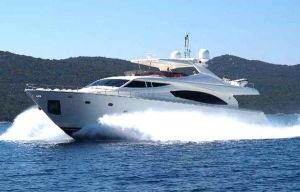 Chartering TUGARKA, a gorgeous Ferretti 881, is a fantastic way to explore the Adriatic Sea around Croatia. She can accommodate up to 10 guests in 4 cabins, so is a great choice if you want to enjoy a Mediterranean holiday with your friends. TUGARKA has a well experienced crew, who know the Croatian waters like the backs of their hands, so they will know the best spots for tourism and the bustling beaches, but they will also be able to take you to the islands which are visited by fewer people, so you can see escape the hustle and bustle and visit the almost untouched areas of Croatia. She also has a great range of water toys, ranging from towable toys to jet skis, so you can also make the most of the warm seas.
Looking to charter a yacht? Head to www.boatbookings.com, the leading online yacht charter broker, or email us at [email protected] and one of our Charter Specialists will get back to you shortly.
Watch this space for the latest industry show releases, news and gossip in the yachting world. If you liked the content on this page and our previous posts, please become a fan and like our Facebook page to receive up to date information on our publications.