Croatia's 1,800km coastline is scattered with picturesque islands and tranquil coves. The Adriatic Sea, engulfs the coast of Croatia and is a fabulous chartering location during the summer months. The coastline is very accessible, thanks to the abundance of natural harbours and well designed ports. The warm climate is just an added bonus!
Explore the medieval towns with their stone pebbled walkways and beautifully designed buildings. Why not cruise around the islands of Mljet, Brac or Hvar, where it's possible to enjoy the freshest caught fish or partake in some adrenalin-fuelled water sports. Croatia has some of the world's most breathtaking  natural parks;  where wild bears, boars, lynx and wolves roam free.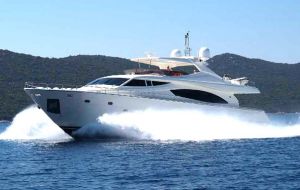 With more than 1400 islands at your disposal, many of which remain deserted. Why not charter a luxury yacht along this glorious coastline today!
TUGARKA, is a beautifully constructed Ferretti 881. Boasting 4 lavishly designed cabins, accommodating up to 8 guests along with an additional 2 pullman berths. The flagship of the fleet, the new Ferretti 881 combines innovative design  and extravagant interior. The upper sun deck of TUGARKA is ladened with silk cushions an provides an excellent sun-lounging area. A grand, wood-panelled dining table sits on the lower aft deck, which is both spacious and elegant. It is the perfect place for light alfresco lunches or viewing the turquoise blues of the Croatian coast. What's more, she has
a very luxurious Jacuzzi and reclining area, an ideal place for relaxing and socialising amongst guests. One must not forget the impressive array of on board water sports and toys including a RIB, jet ski and water skis. TUGARKA, is the ultimate in luxury chartering. Explore the magnificent Croatian coastline today.
At www.boatbookings.com, we welcome everyone from sailing professionals to complete novices and will help you at every step of the way to make your dreams a reality. We have a team of highly skilled professionals who are extremely knowledgeable in their destinations and will be able to help you with any questions you may have.
Watch this space for the latest industry show releases, news and gossip in the yachting world. If you liked the content on this page and our previous posts, please become a fan and like our Facebook page to receive up to date information on our publications. Follow us on Twitter and Google Plus too.