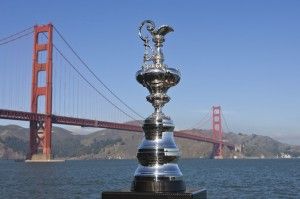 In September 2013, the America's Cup is returning to America for the first time in 18 years. The America's Cup, the oldest trophy in international sport, will take place in San Francisco from the 7-21st September 2013. The 34th edition of the AC is hosted in the home town of the defending champions, the Golden Gate Yacht Club, making for an even more exciting race! The AC is returning to America with style; this year includes new boats and new rules (and better media coverage for those who aren't quite lucky enough to be there for the real thing!).
The AC72 rule for the construction of the catamarans leads to a revolutionary design that can travel at extreme speeds and potential danger, as the new foils can cause the hull to lift out of the water; a risk of capsizing! The new classes of boats will be more powerful and therefore even more demanding to the crews on board. The new AC72s are to be used in both the Louis Vuitton Cup and the America's Cup; this could mean some very exciting races for anyone who is watching!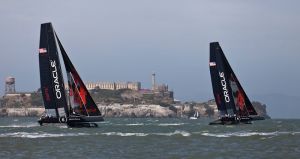 The 2013 America's Cup also prioritises bringing racing to the people. The races are to follow near-shore courses, so those that are watching will be able to get even better views. The television and internet coverage shall also be improved, with new graphics for on board footage and microphones, along with exciting commentary on the coverage. It might be more exciting to watch the races from the comfort of your own home than from the shore!
The Five Competing Teams and Their Clubs:

Oracle Racing representing the Golden Gate Yacht Club
Artemis Racing representing the Kungliga Svenska Segelsällskapet (Royal Swedish Yacht Club)
Emirates Team New Zealand representing the Royal New Zealand Yacht Squadron
Luna Rossa Challenge  representing Circolo Della Vela Sicilia
Team Korea representing Sail Korea Yacht Club
Watch this space for the latest industry show releases, news and gossip in the yachting world. If you liked the content on this page and our previous posts, please become a fan and like our 
Facebook page
 to receive up to date information on our publications.