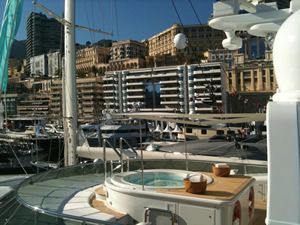 Tomorrow marks the start of the 2012 Monaco Yacht Show, the most exclusive event on the luxury yachting calendar. There will be over  500 exhibitors and 100 superyachts on display, ranging between 25 and 90 meters. Over the course of the four-day event which runs from Wednesday to Saturday, 19-22 September, an expected 30,000 visitors will visit the show to see the latest trends, technology, designs and yachts in the luxury yacht industry.
Boatbloggings.com will of course be at the show and will keep you up to date on the hottest yachts and news from the show.
Below the super yachts on display at the show this year. You can also read more about the show and see a map of the port on our Monaco Yacht Show page.
| Yacht Name | Brand/Shipyard | Length Overall | Type | Year |
| --- | --- | --- | --- | --- |
| 2 LADIES | Rossinavi | 46.30 m | Motor Yacht | 2012 |
| 60 YEARS | Royal Tuzla – Istanbul | 44.70 m | Sailing Yacht | 2012 |
| ACHILLES | Sanlorenzo | 46 m | Motor Yacht | 2012 |
| ALLOYA 40 | Sanlorenzo | 40.80 m | Motor Yacht | 2012 |
| ALMAGORES II | Southern Wind Shipyard | 31.42 m | Sailing Yacht | 2012 |
| ALTER EGO | WGB Werft Berlin | 34 m | Motor Yacht | 1992 |
| ANDIAMO | Feadship | 42.56 m | Motor Yacht | 2003 |
| ASLEC 4 | Rossi Navi | 45 m | Motor Yacht | 2012 |
| ATHENA | Royal Huisman | 90 m | Sailing Yacht | 2004 |
| AUDACIA | Feadship | 48.50 m | Motor Yacht | 1987 |
| Auspicious | Leopard | 46.2 m | Motor Yacht | 2009 |
| AXANTHA II | JFA Yachts | 42.98 m | Motor Yacht | 2011 |
| AZIMUT GRANDE 100 | Azimut Benetti | 31.04 m | Motor Yacht | 2011 |
| B30 | B YACHTS SRL | 8.88 m | Sailing Yacht | 2011 |
| BEL ABRI | Amels | 52.30 m | Motor Yacht | 2010 |
| BELLE ANNA | ISA – International Shipyards Ancona | 50 m | Motor Yacht | 2012 |
| BETTER PLACE | Wally | 49.90 m | Sailing Yacht | 2012 |
| BLACK & WHITE | Sunseeker | 33.91 m | Motor Yacht | 2010 |
| Bluegame 40 | BLUEGAME | 11.95 m | Motor Yacht | 2012 |
| CANDYSCAPE II | Viareggio Superyachts | 61.80 m | Motor Yacht | 2009 |
| CAPE ARROW | Southern Wind Shipyard | 30.26 m | Sailing Yacht | 2011 |
| COMO | Alloy Yachts International | 41.14 m | Sailing Yacht | 2007 |
| CONTINENTAL 50 S | CNM | 16 m | Motor Yacht | 2012 |
| CUOR DI LEONE | Benetti Spa | 50 m | Motor Yacht | 1999 |
| DALFA | Ferretti Spa Custom Line | 29.50 m | Motor Yacht | 2008 |
| DARLINGS DANAMA | CRN | 59.50 m | Motor Yacht | 2011 |
| DIAMONDS ARE FOREVER | Benetti | 60.95 m | Motor Yacht | 2011 |
| DOMANI | Benetti | 44.20 m | Motor Yacht | 2004 |
| FAR AWAY | Canados International | 36.22 m | Motor Yacht | 2012 |
| FARIBANA V | Amels | 54.40 m | Motor Yacht | 1998 |
| GALAXY | Benetti | 56 m | Motor Yacht | 2005 |
| GARCON | DAMEN | 67.15 m | Motor Yacht | 2012 |
| GO | Feadship | 39 m | Motor Yacht | 2010 |
| GRAZIADIU | Italyachts | 43.12 m | Motor Yacht | 2012 |
| GRENADINES III | Gulf Craft | 38.40 m | Motor Yacht | 2010 |
| HAMILTON | Wally | 30.48 m | Sailing Yacht | 2012 |
| HAMPSHIRE II | Feadship | 78.50 m | Motor Yacht | 2012 |
| HANA | CRN | 43 m | Motor Yacht | 2008 |
| HARBOUR ISLAND | Newcastle Shipyards | 55 m | Motor Yacht | 2011 |
| I AMSTERDAM | OY Nautor AB | 25.08 m | Sailing Yacht | 2012 |
| IDOL | Austal | 58.90 m | Motor Yacht | 2007 |
| ILLUSION | Benetti | 45.60 m | Motor Yacht | 2010 |
| IMAGINATION | Benetti | 47 m | Motor Yacht | 2010 |
| IMPERIAL PRINCESS | Princess Yachts | 40.16 m | Motor Yacht | 2012 |
| INCLINATION | Maiora – Fipa Italiana Yachts | 38.60 m | Motor Yacht | 2010 |
| INEVITABLE | Feadship | 49.80 m | Motor Yacht | 1990 |
| INFINITI YACHTS | Danish Yachts | 10.98 m | Sailing Yacht | 2012 |
| ITHAKA | Jongert | 26.70 m | Sailing Yacht | 2007 |
| JBH | Lubeck Yacht Trave Schiff | 35.50 m | Motor Yacht | 2011 |
| KAI | Benetti | 36.58 m | Motor Yacht | 2008 |
| KANGA | Wally | 26.23 m | Motor Yacht | 2012 |
| KARIA | RMK MARINE | 45 m | Motor Yacht | 2011 |
| KISMET | Luerssen Yachts | 68 m | Motor Yacht | 2007 |
| LA PELLEGRINA | CNC – Couach | 49.50 m | Motor Yacht | 2012 |
| LADY ALLISON | Feadship, C Van Lent & Zonen | 45.70 m | Motor Yacht | 1991 |
| LADY LINDA | Trinity Yachts | 56.90 m | Motor Yacht | 2012 |
| LADY PETRA | Heesen Yachts | 46.70 m | Motor Yacht | 2012 |
| LARISA | Benetti | 44.20 m | Motor Yacht | 2006 |
| LAUREL | Delta Marine | 73.15 m | Motor Yacht | 2006 |
| LAZY Z | Oceanco | 51.40 m | Motor Yacht | 1997 |
| LE CAPRICE IV | Pershing | 33.23 m | Motor Yacht | 2011 |
| LITTLE FISH | Heesen Yachts | 39.80 m | Motor Yacht | 2001 |
| LYANA | Benetti | 60 m | Motor Yacht | 2011 |
| M OCEAN | Arcadia Yachts | 35.02 m | Motor Yacht | 2012 |
| M&M | Bilgin Yachts | 48.70 m | Motor Yacht | 2012 |
| MAKIRA | Italyachts | 43.10 m | Motor Yacht | 2010 |
| MARGHERITA | Costruzioni navali Tigullio | 33 m | Motor Yacht | 2009 |
| MARIPOSA 3A | Vitters | 28.90 m | Sailing Yacht | 1994 |
| MARY JEAN | Campanella Motor Yachts | 48.82 m | Motor Yacht | 1981 |
| MISUNDERSTOOD I | Overmarine Group | 39.65 m | Motor Yacht | 2010 |
| MOGAMBO | Nobiskrug | 73.51 m | Motor Yacht | 2012 |
| MONDANGO | Alloy Yachts | 51.70 m | Sailing Yacht | 2008 |
| MONI | Vicem | 32.60 m | Motor Yacht | 2012 |
| NASSIMA | Acico Yachts | 49 m | Motor Yacht | 2012 |
| NILO | Moonen Shipyards | 28.90 m | Motor Yacht | 2007 |
| NIRVANA | Oceanco | 88.50 m | Motor Yacht | 2012 |
| OKKO | Mondo Marine | 40.80 m | Motor Yacht | 2012 |
| OURANOS | Admiral Tecnomar Group | 44.50 m | Motor Yacht | 2012 |
| PAMELA V | Hakvoort Shipyard | 44.90 m | Motor Yacht | 2011 |
| PAOLYRE | Ocea | 32.70 m | Motor Yacht | 2008 |
| PASSE PARTOUT | Jongert | 42 m | Sailing Yacht | 2001 |
| PASSION | Swedeship | 52.75 m | Motor Yacht | 1986 |
| PRINCESS TOO | Feadship | 47.55 m | Motor Yacht | 1999 |
| PROJECT 12 | Cantieri Di Pisa | 46.57 m | Motor Yacht | 2012 |
| RAHIL | Mariotti Yachts | 53.80 m | Motor Yacht | 2012 |
| RAINBOW | Holland Jachtbouw | 40 m | Sailing Yacht | 2012 |
| RED DRAGON | Alloy Yachts | 51.77 m | Sailing Yacht | 2008 |
| RENAISSANCE | Castagnola | 39 m | Sailing Yacht | 2012 |
| Revolver | | 13 m | | |
| ROMA | Viareggio Superyachts | 61.80 m | Motor Yacht | 2010 |
| Sacs strider 15 | | 15.5 m | | |
| SATORI | Heesen | 49.80 m | Motor Yacht | 2011 |
| SHOOTING STAR | Danish Yachts | 38 m | Motor Yacht | 2011 |
| SILENCIO | Perini Navi | 50 m | Sailing Yacht | 2001 |
| SIROCCO | Heesen Yachts | 47 m | Motor Yacht | 2006 |
| SMERALDA | Hanseatic Marine | 77 m | Motor Yacht | 2012 |
| SMILE | Benetti Vision 145 | 44.20 m | Motor Yacht | 2006 |
| SMILING T | Jade Shipbuilding Co., Ltd. | 28.22 m | Motor Yacht | 2012 |
| SNOWBIRD | Hakvoort Shipyard | 39 m | Motor Yacht | 2011 |
| SOLEMAR | Amels | 61.50 m | Motor Yacht | 2003 |
| STELLA | Sunseeker | 34.50 m | Motor Yacht | 2011 |
| STEP ONE | Amels | 55 m | Motor Yacht | 2012 |
| STIG | Baltic Yachts | 24.35 m | Sailing Yacht | 2012 |
| STREAMLINE | Mondo Marine | 49.30 m | Motor Yacht | 2009 |
| TIARA | Alloy Yachts | 54.27 m | Sailing Yacht | 2004 |
| TURQUOISE | Proteksan | 55.40 m | Motor Yacht | 2011 |
| VERTIGO | Alloy Yachts | 67.20 m | Sailing Yacht | 2011 |
| WERE DREAMS | Amels Holland B.V. | 52.27 m | Motor Yacht | 2008 |
| ZEEPAARD | JFA Yachts | 37.18 m | Motor Yacht | 2003 |