Our Gulet charter : Blue Cruise charters in the Aegean Sea provide guests with a trip of a lifetime aboard our gorgeous, luxurious Gulets. Gulets were originally designed as fishing trawlers in Southern Turkey, but they have been transformed into modern motor-sail boats, renowned for their build quality and space. These qualities provide guests with amazing comfort on the water for sunbathing and al fresco dining, giving guests the opportunity to enjoy amazing vistas of the Aegean.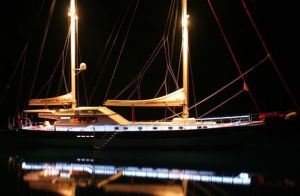 , an exclusive yachting centre which caters for the ever-changing tastes of true boating enthusiasts. Within twenty-five minutes' reach of Dalaman Airport and unspoilt by mass tourism it is an ideal place to start your holiday. Dotted with islands and indented by coves, it has many anchorages with stunning scenery – Cleopatra's Bay (where Cleopatra entertained Anthony and actually had a sandy beach built for her), Wall Bay and 22 Fathom Bay – to name just a few.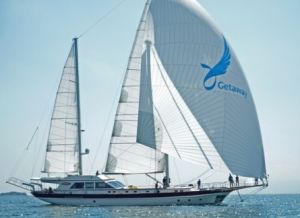 SERENITY 86 is one of our favourite Gulets, offering fantastic accommodation for 8 guests. She is designed for both luxury, comfort and safety, incorporating large terraces and plenty of space for entertaining friends and family. GETAWAY Luxury Gulet is another of our favourite luxury Gulets, possessing great decks and an unbeatable saloon, with 360 degree panoramic views. She has 4 magnificent state rooms, including a master with a Californian king sized bed.
Either of these luxury Gulets would be the ideal choice for your summer vacation in the Aegean.
If you would like to find out more information about any of these Gulets or a luxury yacht charter in Turkey, please enquire via our website or send an email to: [email protected].
We look forward to talking to you to create the perfect holiday.