Yacht Charter to Nioulargo Beach Club in St Tropez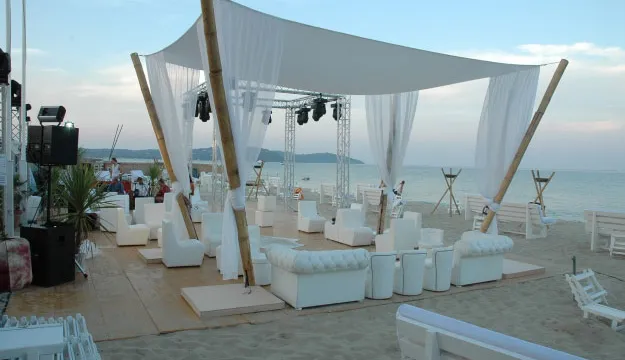 Charter a yacht to Nioulargo Beach Club, Pampelonne Beach
Nioulargo Beach Club is located at the heart of Pampelonne Beach, one of the most beautiful and prestigious beaches on the Côte D'Azur. The Pampelonne Bay benefits from a current that creates crystal clear waters, similar to those of the Caribbean. Like any other beach club, guests will find sun loungers (Matelas) with parasols and a bar. However at Nioulargo, guests will enjoy privacy in an elegant and discrete environment, making it a very popular location with celebrities. Just close by is the infamous Club 55, if this beach club does not take your fancy.
A Day at Nioulargo
A typical day at Nioulargo Beach Club, assuming you're coming by yacht and not by the horribly congested road into St Tropez from the A8 Motorway via St Maxime, begins after a 1-2 hour cruise from Cannes, Antibes or Monaco past the beautiful Esterel red rock coastline. Mangusta's, Leopard's, Sunseeker's and a variety of Super Yachts literally line up to anchor just off the beach, where the Club's tender zips out to meet your party and bring you to the dock. You will need to make reservations well in advance if you are planning on eating in high season (we can make them for you), and you also need to reserve mattresses on the beach, which fill up as well.
The Restaurants at Nioulargo Beach Club
Nioulargo Beach Club benefits from being able to offer two restaurants. The first, specialising in Mediterranean and Provencal Cuisine, along with a host of delicious wines. The second, Kailargo offers the very best in Indo-Chinese and Asian cuisine in an exotic environment. Both restaurants are open for the months of July and August and we would definitely recommend making a reservation well in advance.
Chartering a Yacht to Pampelonne Beach and Nioulargo Beach Club
We have hundreds of great yachts for you and send people nearly every day in high season - we know how to get you there! Click here to see our French Riviera Charter Yachts.
Already in St Tropez? See our selected St Tropez day boat rentals. Remember, Nioulargo is just one of many restaurants in the French Riviera!
See our St Tropez Yachts Contact us!
St Tropez Beach Clubs
You may also be interested in Club 55, the original (and most famous) beach club in St Tropez, or one of the other clubs, depending on your taste and budget. Here's the current list of beach clubs on Pampelonne Beach, from North to South:
Tropezina
Millesim Beach
Manureva
Tahiti
Bora Bora
Moorea
Le Lagon
Sun Force Beach
Pago Pago
Le Liberty
Neptune Plage
Cap 21 - Les Murenes
Key West Beach
Maison Ocoa Plage
Plage de L'Orangerie
Nioulargo - Kai Largo
Plage des Jumeaux
Polynesie
Team Water Sports
Coco Beach
Les Palmiers
Aqua Club
Cabane Bambou
L'Esquinade
Tropicana
Les Bronzes
You're sure to find what you what - call us for recommendations!
Related events in the South of France and Monaco: Cannes Film Festival, Monaco Grand Prix, MIPIM, Voiles St Tropez
Chartering a Yacht in the French Riviera See our Charter yachts
Other Articles of Interest
Charter destinations